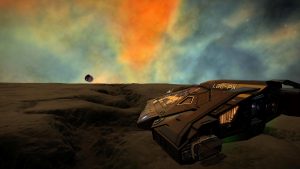 Space Legs McSpaceFace would be a Riri Krait name for an expansion
Aired 24 July 2018
Audio versions
Download the episode directly from here.
---
Crew Members
Station Commander : Allen Stroud
Director of Pest Control : Ashley Devine – DrToxic
Head of health and safety : Ben Moss-Woodward – Cmdr Eid LeWeise
Chief Archivist : Colin Ford – Cmdr phoenix_dfire
(In)Human Resources Director : Shan – Cmdr Shanaeri
Lavian Space Program Director : Andy Barnes – Cmdr Kurgol
Show Notes
Development News

In Game Events

Aisling Duval Wedding Date announced 25th Aug
Missing Lottery Ticket. One billion credits going to one lucky owner.

Main Discussion – Hot topics for Hot weather…

Speculation for gamescom content
Current in game storylines. Have they improved the engagement levels or do people still find them meh

Community Corner
Shoutouts

Lavecon 2019 is 4th – 7th July.