Lavecon: The Science Fiction and Fantasy Festival
Lavecon is a growing event celebrating all aspects of Science Fiction and Fantasy with Elite: Dangerous at its centre. This annual event is a chance to meet up with fans, gamers, writers, developers and anyone else interested in Science fiction, Fantasy and Gaming.
This year we had Board Gaming, Live Roleplay sessions and Jugger matches, Cosplay, LAN Computer Gaming, Tabletop Roleplay, X-Wing Miniatures, Readings from Authors, Chaos Reborn Tournament, Workshops, Demos and interactive activities, Oculus Rift, Q&A sessions, Talks, Panels, Special Guests and of course Elite Dangerous!
We had five themes: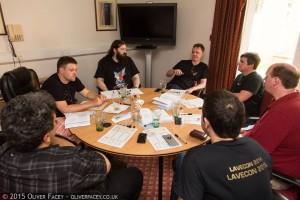 Computer Games
Tabletop (RPGs), Board and Card Games
LRP/Cosplay
Books and Writing
Tournaments
So there was a little bit of something for everybody and Elite: Dangerous content in more than one theme!
You can stay in touch with future Lavecon plans via Facebookand Twitter or follow #Lavecon
A few comments from our feedback survey
"Lavecon 2014 was my first ever gaming con – and the range of activities and the friends I made brought me back for 2015 and will bring me back again in future."
"I brought my whole family and we all had a wonderful time! Everyone was very accommodating to younger participants, thanks!"
"I'm hoping that if/when you organise Lavecon 2016 you will be able to use the same venue as I thought it was an excellent place to hold the event."
2015 Guests
We were delighted to have a number of special guest who came to enjoy the weekend with us: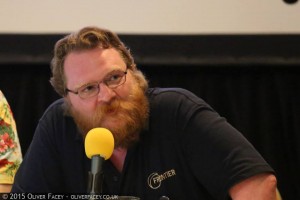 Representing Frontier Developments were Michael Brookes – Executive Producer, Chris Gregory, – Art Director, Sandro Sammarco – Lead Designer, Edward Lewis – Community Manager and Zac Antonaci and they really wowed us by bringing exclusive news, a personal message from David Braben and a totally unique Lavecon decal and skins just for the attendees of Lavecon 2015! It was also lovely to be able to relax and have a beer with the team with lots of informal chats.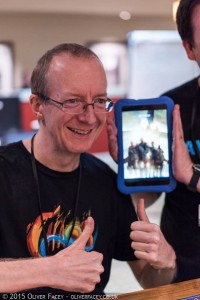 We also welcomed Mike Evans and Sarah Jane Avory (the Elite:Dangerous AI Queen) which was brilliant.
Julian Gollop, CEO of Snapshot Games and Chaos Reborn came all the way from Bulgaria just to spend the weekend with us, which we were totally thrilled about. He gave lots of people advice in the Chaos Reborn Tournament and even joined in a game of XCOM the boardgame!
Ian Whates, Author and Indy Publisher Newcon Press came along and had a stall of fabulous science fiction books, but also took part in a number of panels.
Donna Bond (Scott), Chair of the British Science Fiction Association joined our Data Slate panel.
Tim C Taylor, author of the Human Legion joined us. It was really great to get his perspective on the convention and how it compares to the traditionally literature orientated Science Fiction Conventions. He wrote about his experience here.
Kate Russell, BBC technology reporter and Author, totally blew us away with her fabulous cosplay as Aislin Duval (one of the characters from Elite: Dangerous Powerplay) and her own fictional character Commander Angel Rose as well as a multimedia book reading.
Drew Wagar, Author, gave us his take on Worldbuilding as well as a fabulous book reading
Traders and promoters selling us all sorts of wonderful and essential games and gaming items:
ED Tracker
Happy Otter Games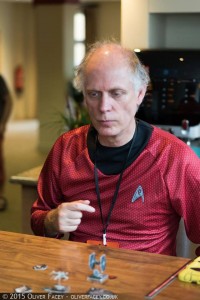 CCG and Boardgame Social
Elite Encounters RPG
Uncle Art Kickstarter
RepublicOf1
Lisa Voo of the Orange sidewinder that is Lave Radio has written up the event here
Some of the fun (from the main room) was streamed live on Twitch and can be viewed via YouTube:
Welcome to Lavecon 2015
Kerrash Landing Saturday
Lave Radio – Live from LaveconDataslate presented by Allen Stroud with Ian Whates, Tim Taylor and Donna Bond.
Author Book Readings from Michael Brookes, Allen Stroud, Ian Whates and Tim Taylor
Midnight Dockers – Warning Bad Language and Smutty Humour!
Sunday Morning Welcome
Kerrash Landing Sunday
AbrakaDrabble
Current Trends in Modern Gaming
Chaos Reborn Q&A, John Stabler gets the update from Julian Gollop and Allen Stroud
Author Book Readings from Drew Wagar and Kate Russell
You can also find the excellent Artemis recordings from John Richardson's brilliant starship simulator.
Team Spaceballs
Team Lave Radio
Team The Pink Protruders
More information on Artemis can be found on the Starfleet Comms website.
Thank you so much to all our wonderful Volunteers, Guests, Traders and Attendees, you are all amazing and we could not do it without you… or as Allen said at the event "These are the people I want to play Elite: Dangerous with."
Still to be added… more information about all the wonderful activities, talks, panels etc, details of the Charity Raffle and how much we raised, about the venue and how fab that was!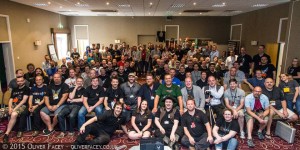 Fabulous photos by the lovely Oliver Facey Official Lavecon photographer.