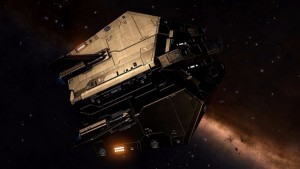 Zac Antonaci joins us to discuss the latest changes in the frontier store and the future road map for the horizons season.
Aired 9th February 2016
Audio versions

Download the episode directly from here.
Show Notes:
"SAY IT AINT SO! Was reading an article that really disturbed me.
http://www.mmorpg.com/gamelist.cfm/g…After-All.html
We'll be collecting rocks on planets etc to be able to upgrade your ship"These won't be vertical upgrades – you won't get better lasers, for instance – but rather cosmetic upgrades, like different colors for your lasers. Can I get mine in plaid?"
You have to be joking. So we are going to continue with the trend of "lack of substance" and "all flash no meat"??? So crafting won't allow us to increase damage on our weapons? It won't allow us to boost our shields? Add different effects to our missiles?I thought they finally "got it" and were going to start putting effort back into substance and the core mechanics of the game? More cosmetics?Please tell me this guy is not fully informed.."
"Just to let you folk know: Loot and crafting is not cosmetic – modules will obtain real benefits (and potentially drawbacks)."
Eagle Tactical Paint Job Pack
Male Pilot Bobblehead
Can also get the Pilot Starter pack stand alone for £10 https://www.frontierstore.net/game-extras/elite-dangerous-game-extras/pilot-starter-pack.html
People who bought ED: Horizons on steam will have their steam playtime wiped
Everyone who already has ED: Horizons gets a Golden Asp
2.0 – Planetary Landings
Available Now
A whole new angle on the galaxy. Journey from the stars to the surfaces of strange worlds, and hit the ground running in the new Scarab Surface Recon Vehicle.2.1 – The Engineers
Coming Spring 2016
Everything changes. Introducing an expanded mission system and game-changing loot. Craft exotic weapons and modules for your spacecraft and build a ship unlike any other.2.2 – Guardians
Coming Summer 2016
Take what comes and strike back with double. Bring a second ship to every combat encounter with Ship-Launched Fighters and defend your passengers against the deadliest threats in the galaxy.2.3 – The Commanders
Coming Fall 2016
Team up and stand together. Forge your own identity with the new Commander Creator, then share your bridge with Multi-Crew and fly with friends.

2.4 – ????
Coming Soon
A secret revealed in Elite Dangerous: Horizons' final expansion.

Community Corner

The Latest Version of the Elite: Dangerous Miniatures game. – Next week maybe.
The search for Starship One

Federal President Zachary Hudson has announced his intention to resume the search for Starship One, which disappeared en route to the Azaleach system in May 3301. A previous investigation into the ship's disappearance was conducted, but the fate of the vessel and her crew, which included then-president Jasmina Halsey, could not be conclusively determined. The president made the following statement during a fundraising event held by Sirius Corp:"Like many others, I was heartened by the Sirius Corporation's success, and I found myself thinking that if the remains of a ship lost fifty years ago could be found, surely a ship lost less than a year ago could also be recovered. I am therefore offering generous reimbursements to pilots who deliver wreckage components to the Federal research outpost at Leoniceno Orbital in the Azaleach system. Once we have gathered enough material, we will analyse the debris to determine if any of it is from Starship One."But it appears President Hudson is not the only person eager to find the ship. In a strange turn of events, an organisation by the name of Daurtu Jet Comms PLC has also announced its intention to search for the missing presidential vessel. Virtually nothing is known about the organisation, but the fact that it is offering even larger rewards than the Federation may convince pilots to lend the company their support.

Lavecon – Hotel sold out. Any ideas on what we can expect this year?

Allen to come in for this bit around 21:45 — Ben

Questions
Shoutouts

Pixels Bandits, XBox One Player group

Jon here from PBSF. We're a well sized Xbox One group (~180 members currently) playing Elite, as well as other games,and have our own minor faction etc. in game.
http://tinyurl.com/laveradio – Discord Channel Please Stress Test
100th Episode – Send us your memories things you have enjoyed about the show / lavecon etc that we could play out on the show send them on .
ELITE MEET!!

Tickets on sale now, 2nd of April 2016 at the Redhurst Hotel in Glasgow, http://tinyurl.com/elitemeet
Thank you for listening and more next week.