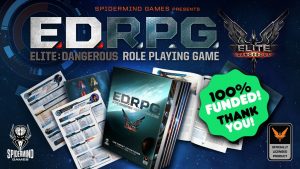 Join the Lave Radio Crew as they embark on a dangerous adventure with Olive Hume of Spidermind Games, as he as our chief guide and games master runs us through an experience powered by his amazing Tabletop Role Play Game.

Download the episode directly from here.
Recently they crossed the line on Kickstarter but currently are working towards their multiple and spectacular stretch goals.
They also have provided a sample play along document to try before you back, but maybe this podcast will make your mind up for you.