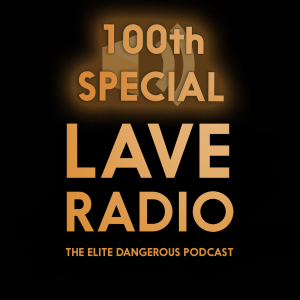 Join us on an amazing celebration of 100 episodes of the Lave Radio podcast, tonight we are going to recall our favourite moments from the last 3 years, take a look at all the things that have happened and also recall some of the features that have yet to make it to the game.  Then we turn our gaze forward to bring you the very best in speculation on what the future holds.
It's a bumper episode so make sure you have your kettle handy, or that you have indeed been to the loo before hand.
Did I mention the interview with David Braben?
Aired 1st March 2016
Audio versions

Download the episode directly from here.
---
Crew Members
Host & 2nd Technician : Chris Forrester : Cmdr Fozza
Station Commander : Allen Stroud : Cmdr Heldaban Kel
Head of Security : Lisa Trott : Cmdr Voo
Head of Entertainments : Chris Jarvis : Cmdr thane
Head of Health and safety : Ben Moss Woodwood : Cmdr EidLeWeiss
Head of station Archives : Colin Ford : Cmdr PhoniexDFire
Chief Bar steward : Grant Woolcott : Cmdr Psykokow
Head of operations Lave Station : John Stabler : Cmd Glyndwrr)
Head of Station Security : Lisa Voo : Cmdr Voo
---
Show Notes:
Announce Minor Faction, big thank you to Frontier
Lave Radio Network is now an in game faction in the Lave System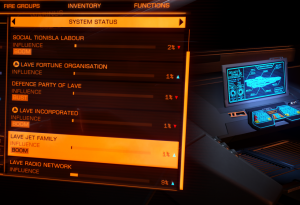 Quick Natter
Each crew member's stand out moment from the history of Lave Radio
First David Braben Interview segment (15 mins)
Discussion 1 – The Present Horizons so far and current community Buzz
Current state of ED/LR.
Minor Faction
CG (starts Thursday!)
Favourite stuff to do in-game
Community events
Elitemeet 2016
LaveCon 2016
Play Runes of Anarchy in the LAN competition
All attendees get a link to John's latest game to play. Help stress test it over the weekend.
Second David Braben Interview segment (18 mins)
Discussion 2 – The Past Kickstarter, Alpha, Beta, Launch Party, Season 1
What did ED get right, straight off the bat?
What is still a Work in progress?
Ideas we had that didn't work for us?
Favourite memories from LaveCon?
Elitemeet 2016
Past of ED/LR? Some nostalgia and looking back
LaveCon 2016
Play Runes of Anarchy in the LAN competition at Lavecon 2016
Final David Braben Interview segment (10 mins)
Discussion 3 – The Future – Wild Speculation and wrap up
The future of ED/Lave Radio/Lavecon?
The Real Orange Sidewinder! – An in game asset that spams local chat with quotes from the podcast.
Major shoutouts for those who have helped us:
Thank all those that took the time to record and send in a message
Thank everybody that has supported the show from behind the scenes Karen for all the extra work she does with Lavecon but also all our better halfs, Hannah, Suzi , Mel, Amy, Claire  and Alison and James !
Community Shoutouts