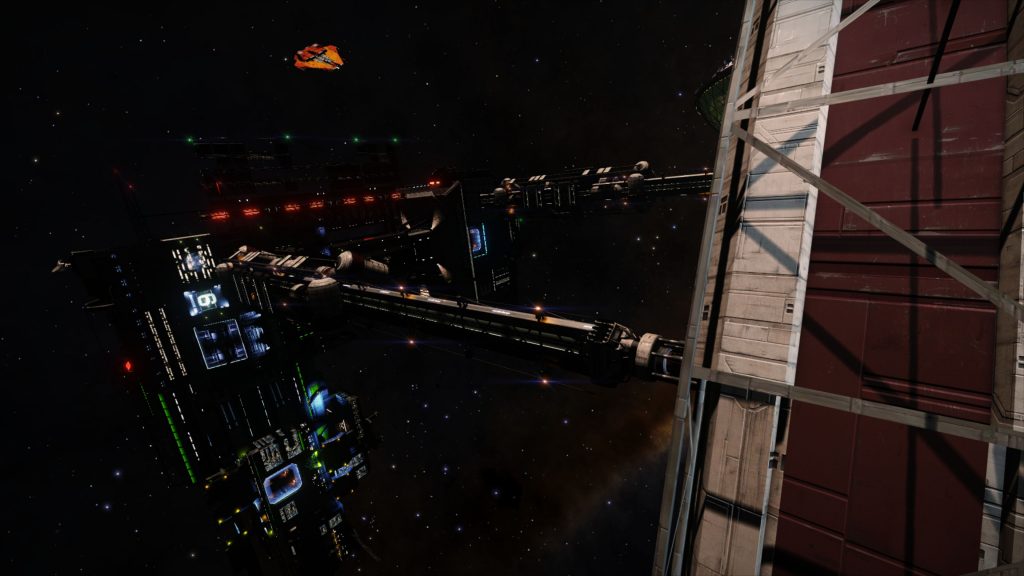 | | | |
| --- | --- | --- |
| Position | Crew Member | CMDR Name |
| Head of Health and Safety | Ben Moss-Woodward | Eid LeWeise |
| Chief Archivist | Colin Ford | Phoenix_Dfire |
| (in)Human Resources Director | Shan | Shan |
| Deputy Trade Attaché | Souv | Souvarine |
| Tech Monkey | Norman MacArthur | Ventura_ |

Download the episode directly from here.
Development News – what have the devs said this week?
In-Game Events – what's happened this week?
AXI – Their 'Unofficial' Community goal continues there are (Check the number before the show) hearts remaining.
Operation I.D.A. – They've finished repairing every thargoid damaged station out there. They are pushing the 'Haul to end it all!'.

Turning the Wheel – The Dark Wheel. managed at the last instant to save their expansion effort and arrive at the intended system HR 4979. They have also got our conflict for control in Anyanwu (this is pending at time of recording) The Dark Wheel's influence levels have stabilised in LFT 926 and Shinrarta saw a small increase in influence.

Kai Zen would like to point out, that despite Cmdr Wotherspoon's allegations, Elite Week is NOT using The Dark Wheel to take over Lave or Alpha Centauri
Newsletter
Main discussion(s)
Should VR players have to pay for a VR upgrade to Odyssey?
With the amount of Salt regarding the LTD fix, do you think the community can take the changes which would be required to 'Fix' the economy?
Community Corner
Congrats to the Bur Pit for reaching 10,000 Subs on youtube.
Congratulation to Obsidian Ant for reaching 200,000 Subs on YouTube
If anyone wants to visit the Gnosis as it does it's Autotour; Cmdr Darvin is offering a shuttle service on his fleet carrier. For details go to here on Inara.
Buckyballer Rejoice! The "Keys to the Carrier Race" is on at the moment and runs till the 26th of July. There is a new race planned in November. Speedball 4 is in the planning stage and the usual Ne'er-Do-Well Cmdr Alex Turner and PrimetimeCasual will supply the details closer to the time. However, we would recommend starting to strip down your ships and work out your racing builds now because these guys are fast.
M Lehman has written some unofficial sequels to Drew Wagar's Elite Dangerous: Premonition

There's is a forum post about them and they are hosted on Drew's Site https://drewwagar.com/elite-dangerous-saga/
Shoutouts
Our sister station, Hutton Orbital Radio, Broadcasts on Thursdays from 20:30. You can tune in at tv.forthemug.com/ or, for just the audio, at radio.forthemug.com/.
For the discerning Commander who likes a bit of CQC action, check out the CQC Discord at "discord.me/elitedangerouscqc".
Thanks to those who have chipped in on Twitch chat and in-game commanders