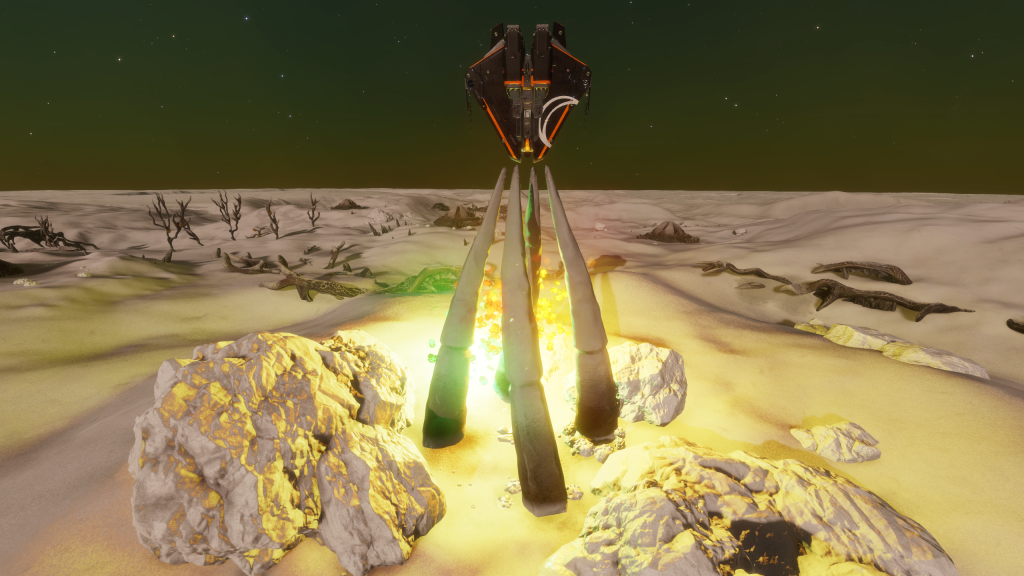 | | | |
| --- | --- | --- |
| SRV Banksy | Alec Turner | Alec Turner |
| Head of Health and Safety | Ben Moss-Woodward | Eid LeWeise |
| Staff Liaison Officer | Clare Good | Psykit |
| Chief Archivist | Colin Ford | Phoenix_Dfire |
| | | |
| Tech Gibbon | Chris Mk IV | Newell Turner |
| | | |
| Guest | | |
| ECM and huttton orbital person | Dave Pearson | Vingtetun |
Download the episode directly from here
Development News – what have the devs said this week?
Friday 11th Frontier posted 'Our Stance on Hacking and Account Imitation/Manipulation

"we want to acknowledge this and let you know that our investigation teams have been working hard to monitor and take necessary action against such unacceptable behaviour. As with such cases, we take care to ensure that the tools, methods, and action used against suspicious activity and behaviour remain discreet, to prevent those with disruptive intent finding ways to avoid them."
Community news – what is the community up to??
If you have a community event taking place soon and would like for us to shout about it across the airwaves tweet the crew @laveradio or email info@laveradio.com
In-Game Events – what's happened this week?
Main
Question of the week. (See Below)
Any other business
I will be continuing my F1 manager stream with my son this Thursday night.
Flame Tree Fiction by Allen Stroud
Questions
QOTW – What's your Elite Origin Story

Frank EightySeven
I read about "Elite" in "Popular Computing Weekly". I was jealous that the BBC owners were playing such a great game. I got my copy as soon as it came out for the ZX Spectrum
I bought all the sequels but they were never as good as the original
…until Elite: Dangerous
Cyus Resi
From hours of playing the original and months of Frontier: Elite 2. I think 8 year old me even sent a design of the Viper Mk.2 to Mr. Braben. It let my imagination grow and enhanced my game experience.
Talgehurst
Watched my dad play the Wing Commander series in the 90's. By the time I was old enough to manage a sim and had a Thrustmaster, GOG didn't exist and sims died out. Jump ahead to late college and I move back to PC games, a friend showed me Horizons. Bought it the next Steam sale.
Darkminded
Actually it was the fact that I was following @DavidBraben on a social networking, I'm not sure of witch one, and he posted about the long lasting Dream of bringing back the Elite Series! Found @ObsidianAnt on YouTube and I was hooked!Bought the Backers Pack I could afford 😃
Kesinik
I was a 1984 veteran, always have loved my space games and played them all throughout the years. I'd been playing Eve Online for 8 years when the kickstarter was announced and decided to go back to the game that started it all. Still here and as much in love
Davidche
Elite+, Amiga, fourteen years old, no booklet, wiki or reddit, low vocabulary (french), strange but striking encounter. Next was frontier. A new milestone passed with Elite dangerous, VR space trucking, voiceattack and listening lave radio musics and ads as it was available.ty O7
Phillip Coutts
My brother bought it for our Acorn Electron. First memory is I couldn't dock! I could do the flying fine but had to get my brother to dock until we had enough credits for the auto pilot. Got involved with ED during the kickstarter thanks to the BBC article and still playing.
Pat Pettett
Used to play the original on the Amiga, me and a mate used to see if we could get to competent before lunchtime.. followed by Frontier elite 2- loved the rubbish cheat that meant you could get an eagle fighter with 655ly jump range!
Then moved on to ED on the ps4, then pc…
Cmdr Anaander Miaani
I used to get micro-related computer magazines and knew about it from those. I occasionally got to experience the posh BBC version on a school computer, but my own copy of Elite was on the ZX Spectrum – I don't think I played any game more, not even Worlock of Firetop Mountain 😀
Tala
A good friend of mine was playing it, so I decided to check it out, and naturally I got hooked because I have a very deep interest in space, and I love the scope of Elite's galaxy.
Happy Moon Monkey
During COVID. Looking for a game to play with a friend. He suggested Elite. I realised I'd got it for free on Epic months earlier. We spend a couple of hours wondering why we couldn't see each other in game to eventually realise there was no crossplay. Both played on pc after.
CMDR Zulu Romeo
I had heard of Elite from the BBC Micro days. I was too young to even try it back then. Then Frontier: Elite II came out, and as I was into space games at that point I gave it a shot and loved it, building great memories. Then the ED Kickstarter and I jumped at the chance.
Phil Blackwell
At the after school computer club we had Elite on the school's bbc computer. I was offered the chance to be a gunner for another lad who would steer the ship from system to system. Hours of joy just pressing one bloody key. Phil
Chebs Will
I'm old enough to remember the 8-bit versions, playing on the BBC Micro at a friends then ending up with my own copy on the spectrum. So much time on that game 🙂 We made our own stories up about the systems to add to the few lines on each. I missed out on the next two not having a computer to run it on, but I did see frontier at a friends. The landing on mars (i think it was) seemed amazing, a whole city! I missed out the early elite dangerous only joining around the time horizons came out. I do like the 'load new commander' in the inter astra stores on concourses as a tribute to the original game.
CMDR Valaryc
I was pretty oblivious to the universe of Elite until the leadup to its introduction to the Xbox Game Preview Program in June 2015 or so (I was aware of it since about 2013/2014, though, I think). I'm a huge fan of most things space and flying, but what drew me in was the inclusion and use of scientific data and the ability to look out into the sky IRL, then find that point in game (or vice versa), then actually go and fly to it, then go BACK outside and imagine my ship,… just there, at the point I was physically looking at,… I've always loved flying my ship above where I live IRL before going on expeditions, and stepping outside for scale and giving a salute, as sort of a sendoff. It has brought me to tears many times just thinking about flying to places we, in all seriousness, will likely not reach in our lifetimes or countless more.
CMDR DuckDuckOne
I bought a copy of Elite Dangerous for both myself and a friend for Christmas 2020 but soon after trying to get my pilot's license I figured I would need a HOTAS before being able to play and lost interest. A year later I caught wind of a free-fly in Star Citizen and gave that a go and got interested in the genre again. Bought a HOTAS and a VR headset only to give Elite another go but in VR.. and I've been playing Elite ever since 😅
Indigo
I came across a review entitled, "Elite: Dangerous — space travel is boring … but it's addictive as hell." Always been a bit wary of fast-twitch games, scarred by the invasion of conquering 9yo's at my local video arcade when I was in high school, so the idea of a beautiful space simulation that wasn't afraid to be slow was right up my alley.
Atrus5060
I got into the game due to an article in PCGamer on the discovery of the guardian ruins. After that and a whole series of YouTube videos to learn more about the game, I bought it and loved almost every minute of it
Shoutouts
Our sister station, Hutton Orbital Radio, Broadcasts on Thursdays from 20:30. You can tune in at twitch.tv/huttonorbitaltruckers or, for just the audio, at radio.forthemug.com/.
For the discerning Commander who likes a bit of CQC action, check out the CQC Discord at "discord.me/elitedangerouscqc".
We're also giving a shout outs to the following Elite Dangerous podcasts which have appeared over the last year or are standard regular contributors;-

The Guard Frequency (who do other space games )

Following this we have the latest Galnet News Digest as provided by Cmdr Wotherspoon and Cmdr BeetleJude.
Thanks to those who have chipped in on Twitch chat and in-game commanders
Special Thanks to Cmdr ToCoSo, Jn Tracks and Allen Stroud who created the music used on the Show.