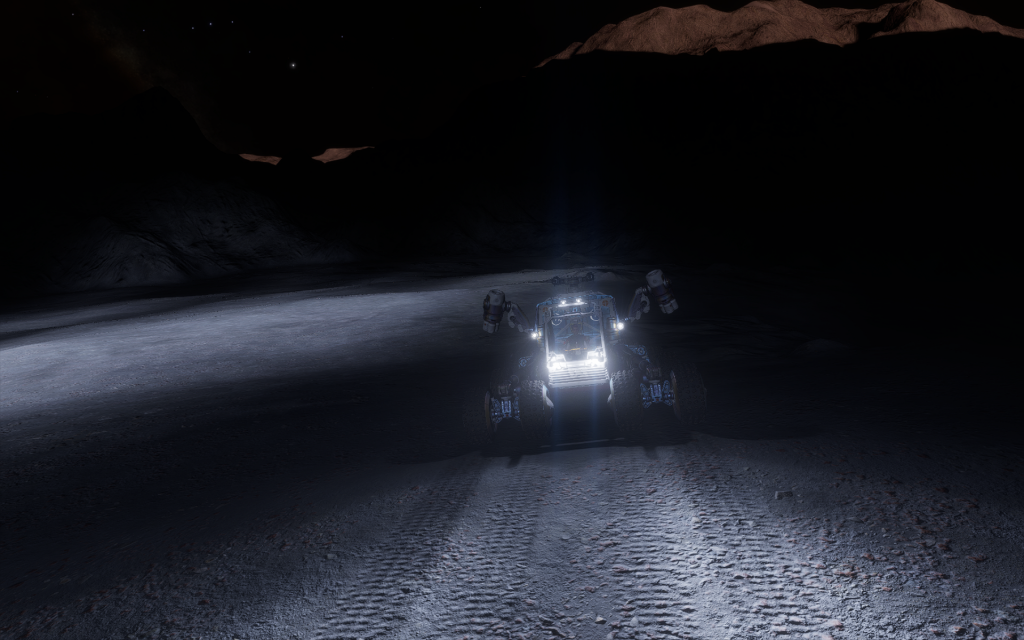 | | | |
| --- | --- | --- |
| Position | Crew Member | CMDR Name |
| Staff Liaison Officer | Clare Good | Psykit |
| Chief Archivist | Colin Ford | Phoenix_Dfire |
| (in)Human Resources Director | Shan | Shan |
| Squee'er In Chief | | CMDR Kerrash |
Download the episode directly from here.
Development News – what have the devs said this week?
Not Much. We had the flight assist challenge.
6.01 beds in. (POI missions appear to be working completely).
The Burrs were back on the Live Stream using the new Camera suit.
Supercruise News 44, new details of Update 7 ;-

Shown off the Apex redirect.
Shown off the Issues Tracker Report.
Update 7, sometime in September.
In-Game Events – what's happened this week?
5/08/3307 – Federal Forces Combat New Rebellion – https://community.elitedangerous.com/galnet/uid/610be2390e80ab3bc4372348
6/08/3307 – Thargoid Cultists Prepare for Religious Voyages – https://community.elitedangerous.com/galnet/uid/610d242dfdc64465f07c4f85
Store Alert!
Adder Speedway Paintjob
Raider Pitfall Suit
KARMA AR-50 DRAKON
Main discussion
Main discussion – I'm making the assumption that whatever the state of Odyssey, people still want Elite to continue. Most of the detractors of Odyssey have said, "Right, I'm off to play NMS or Star Citizen etc", which, of course, lowers player numbers in protest. However, the problem is with most Live Service games, if the numbers fall too much, then the game gets pulled. So "How do you protest about bad updates without losing your live service game?"
What happens if the developer doesn't take heed?

Star Wars Battlefront II got changed because people refused to buy the game. WOW is having a crisis due to several lackluster updates and then the revelations about their working culture. SWG is the prime example of what happens after an update goes wrong and the community deserts it.
Mostly Clueless
From The manure Man. :- We don't need to board ship with the SRV to transfer Inventory , you just need to stand in the boarding spot , go to right side menu , and on the inventory panel there is a option to transfer , and you can manage all your inventory both ship and srv on the fly
Community News.
For those interested in the new Sport of Guardian Ball. Ghost Giraffe and Maas did a full game and you can see how the match played out here. https://www.youtube.com/watch?v=EK7KAYUcY9U
Psykit can mention her new race here. https://forums.frontier.co.uk/threads/fill-the-glass-a-time-trial-race-12-22-august-3307.587739/
Beetlejude does more artwork here :- https://www.youtube.com/watch?v=wP37UzdIbd8
Colin For Colonia continues :- The clipper is down to 56% after a Disastrous Landing, can he make it safely through another 30 systems to a safe port. Twitch Stream
On the subject of exploration, the best guide I've found for those wanting to go searching for life is CMDR Sheehy's Odyssey Biological and Geological Guide, which can be found on the forums.
Any other business
Alex and his ship balls explanation?
Shoutouts
Our sister station, Hutton Orbital Radio, Broadcasts on Thursdays from 20:30. You can tune in at twitch.tv/huttonorbitaltruckers or, for just the audio, at radio.forthemug.com/.
For the discerning Commander who likes a bit of CQC action, check out the CQC Discord at "discord.me/elitedangerouscqc".
We're also giving a shout outs to the following Elite Dangerous podcasts which have appeared over the last year or are standard regular contributors;-

Algorab AM: An Elite Dangerous Podcast
Black Sky Legion (who also do other space sims as well as 'RL' science and tech bits)
Cannon Podcast
For Spanish Speakers there is the Elite Cast
The Guard Frequency (who do other space sims)

For those who want a literary discussion about Sci-fi and fantasy books. Please subscribe to the Dataslate podcast created by station commander Allen Stroud.
Following this we have the latest Galnet News Digest as provided by Cmdr Wotherspoon and Cmdr BeatleJude.
Thanks to those who have chipped in on Twitch chat and in-game commanders
Special Thanks to Cmdr ToCoSo who created the music for the Introduction of the Show