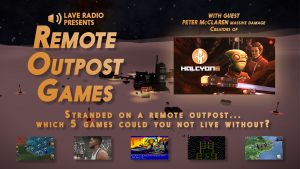 Remote Outpost Games is a podcast celebrating the best video games in history, stranding industry figures on a remote getaway and asking them to justify which 5 games they would take with them to await rescue.
In this episode, hosts Christopher Jarvis and John Stabler talk to Peter McLaren, Creative Director of Massive Damage, to talk through his favourite games as well as own game: Halcyon 6. H6 was funded through Kickstarter and has recently had a massive update in the new "Lightspeed Edition." Listen now and enjoy!
Audio versions
Download the episode directly from here.
Related Links