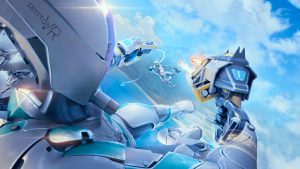 Lave Radio EGX 2018 Sunday
Aired 23 Sep 2018
Audio versions
Download the episode directly from here.
---
In theory I had all day at EGX again, however I might have lost a couple of hours to Sunless Skies in the morning before I set off! I interviewed them last year and it's come on leaps and bounds since then, and is a very easy game to get lost in!
However I did make it to two panels. The audio for these are not available yet, but hopefully will be out "soon"
The 1st was on the power of gaming and creation vs bullying where 2 You Tubers chaired a discussion with the audience about how gaming and online communities have improved lives whilst acknowledging that cyber bullying is a thing. It was a nice and mostly positive discussion that touched on many aspects, from being bullied at school or online, having a teacher recognise your you tube channel through to how gaming and streaming can help with mental health issues for example depression.
The second panel I went to was on the Future of VR I enjoyed it but I didn't find it particularly enlightening. For example anyone who's tried VR knows that the goggles need to improve, made more comfortable and breathable, lighter, not being tethered etc. We also need better ways to move around in VR, but equally does anyone really want to run on an omni-directional treadmill for 10 miles to get to their next way point! Of course costs need to get more consumer friendly and haptics need to be improved. There are some truly amazing VR experiences that have been set up but these are obviously things you go and see as opposed to something you have at home. They also felt that VR needs to move away from "a gaming thing" to a tool that we all can use in our day to day lives. Teaching for example would be a great use of VR if done right.
Following on from this panel I went to play Skyfront VR which (as far as I know) is one of the 1st VR multiplayer shooters and I was able to get an interview with one of their community management team after the game.
I really enjoyed Skyfront, I wish I'd been able to play it "un-tethered" Although I know that technology is in its infancy. The game is a zero g shooter, where you use your gun to get around. This is a nice way to solve the movement issue that some VR games have, whilst not "planting" you in one spot, and jumping… The controls felt very natural, although I wasn't a fan of where the grappling hook button was, though this is more a fault of the vive controller rather than the game! I am probably bias, but I found the environment being a castle but a zero g environment is a bit of a missed opportunity, since obviously one of the key benefits of being in zero G is that there's no limitation of "up or down" and you could be incredibly creative with your maps. However their next map will be set in space, it will be very interesting to see how the game develops. It certainly has a lot of potential.
Finally I'd like to take this opportunity to thank Euro Gamer for allowing me to come to their event. As ever their support has been amazing. So that wraps up our coverage of EGX 2018 I hope you enjoyed it and until next time, fly safe and if you can't do that, fly dangerous.