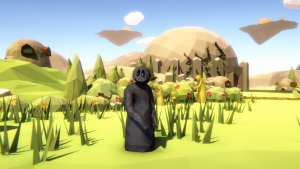 Lave Radio EGX 2018 Thursday
Aired 20 Sep 2018
Audio versions
Download the episode directly from here.
---
I didn't have a lot of time today due to "real" work but I did have a chance to re-visit one of my highlights from last year the National Film and Television School Game Development Students.
Firstly I spoke to Rose and Dr Timothy Kalifmann who are producing a game called MISFOLDED which is a delightful and dark story of Alzheimers.
Secondly I spoke to OIC (Obviously Inappropriate Content) The Game.
MISFOLDED had some really touching moments in it and beautiful graphics I don't want to say too much less I spoil it. The game-play is a fairly straight forward, and a little slow with the game waiting for you to maybe take in the scene fully before moving on. However the story and the emotions it makes you feel definitely makes it worth your time.
http://www.misfoldedgame.co.uk/
OIC is a very unique game as well as a bit of a satirical political statement on Censorship in a less liberal society. The idea of the game is that you're a game tester and have to spot potential inappropriate content as directed by your company's management as well as "the supreme leader". The actual game-play is divided in to 2 halves. The 1st part where you're playing a fairly compelling if basic side scroll-er whilst looking for and taking screenshots of issues. The second part is unique as far as I am aware in that you're at your desktop logging the bugs whilst getting instant messages or emails from people as well as news from your government's political office.