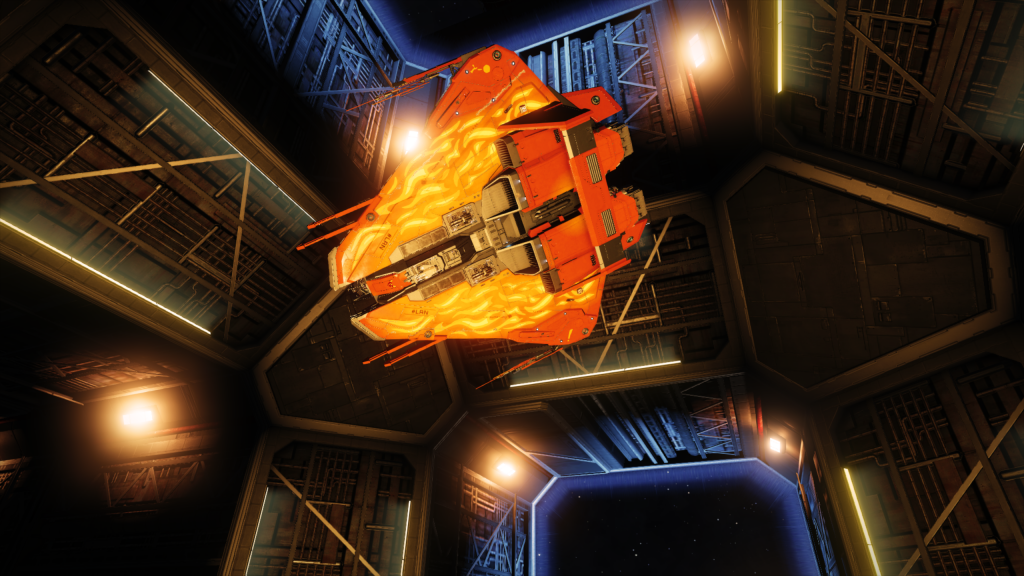 | | | |
| --- | --- | --- |
| Position | Crew Member | CMDR Name |
| Head of Health and Safety | Ben Moss-Woodward | Eid LeWeise |
| Chief Archivist | Colin Ford | Phoenix_Dfire |
| (in)Human Resources Director | Shan | Shan |
| Deputy Trade Attaché | Souv | Souvarine |
| Tech Monkey | Norman MacArthur | Ventura_ |
Download the episode directly from here.
Development News – what have the devs said this week?
Game Balancing Pt.2 – Combat

AX and Power Play will be looked at as part of the whole balancing thing
FD are happy (happier?) with mining – but feedback is welcome
NPC Bounties will pay out between 4 and 10 times as much

IMPORTANT NOTE: the number of credits shown immediately in your HUD when you destroy a criminal ship won't display the newly increased amounts. This will need to wait until we're certain of the final numbers. Accurate bounty figures can be found in the Transactions tab in your left panel.

Massacre and Assassination missions should be about double
Wing Mission payouts are not changing

Mission Board Clarification – Dominic Corner has been on the forums this week to clarify some misconceptions about the mission board. Al lot of people are under the impression that even a harmless commander can take on an Elite Mission, get millions and then jump several ships in one go. According to Dom, when the 2.1 mission board update when in, you can only see missions from a couple of ranks above your rating. So Harmless Commanders can't start with Elite missions.
Tuesday stream

Bruce dropped that FD would be having a Christmas Stream
Bruce can see an expanded CQC with racing rings (THIS IS NOT CONFIRMATION THOUGH!!!)
In-Game Events – what's happened this week?
Build up CGs. Both the Federation and Empire have 2 CGs running at the moment. Empires appear to be complete!
The Alliance has four new bases opened in the Coalsack Nebula. All of these bases are offering high prices for Thargoid 'Parts'. The bases are ;-

Betancourt Base in the Musca Dark Region PJ-P b6-1 system.
Cole Point in the Coalsack Sector VU-0 B6-6 system.
Hannu Arena in the Musca Dark Region IM-V C2-24 system.
Bering Port in the Coalsack Sector KN-S B4-9 system.

Bounty Rewards Review.
Lakon rejects takeover bid
Newsletter (every second show)
Store Alert 100 – Midnight Black but Stygian paint jobs 15% off.
Community Corner
New Sanctimonious Stories at https://forums.frontier.co.uk/threads/sanctimonious-ongoing-3306.559152/
Sagittarius Eye edition 31 is out tomorrow, featuring:
– The Quarantine Cup races
– Ships you wanted to forget: The Sidewinder
– The Cygnus Constellation
– Hard look at Hardpoints: Multicannons
Mercury's Wings expedition, to deliver a DSSA carrier (Shepard's Dream) to the arse end of the galaxy passed Waypoint 2 on Sunday – Black Treasure (some 5.2kLY from the bubble). Only three people crashed their ships and lost their exploration data at the meet-up…
Kai Zen's latest "totally not an open letter". This month: crime and punishment
The Brigade are holding a Fighter Frenzy event: December 5th at 2000 UTC in Sharamo system. Fighter Frenzy is a ship launched fighter PvP event where competing teams of fighters defend their mother ship while trying to destroy the enemy team's mother ship. The event is open to everyone, regardless of skill level, and you only have to worry about fighter resupply costs – no big rebuys! All you need to join is a size 6 fighter hanger stocked with fighters – any variant allowed except the ones with beams lasers. The Brigade is led by CMDR Baize who streams Fighter Frenzy events on Twitch – https://www.twitch.tv/cmdr_baize For more details, check out the Discord – https://discord.gg/F8UrsJD
Questions
What Star Wars Quote do you find saying to yourself when playing in Elite Dangerous and Why?

It's a trap… (Ben)
Shoutouts
Our sister station, Hutton Orbital Radio, Broadcasts on Thursdays from 20:30. You can tune in at twitch.tv/huttonorbitaltruckers or, for just the audio, at radio.forthemug.com/.
For the discerning Commander who likes a bit of CQC action, check out the CQC Discord at "discord.me/elitedangerouscqc".
For those who want a literary discussion about Sci-fi and fantasy books. Please subscribe to the Dataslate podcast created by station commander Allen Stroud. Episode 20 was well received and Allen is working on editing issue 21.

Further we would like to congratulate Allen on his new contract with Larian Studios. Where he's going to be working on Baldur's Gate 3
Thanks to those who have chipped in on Twitch chat and in-game commanders