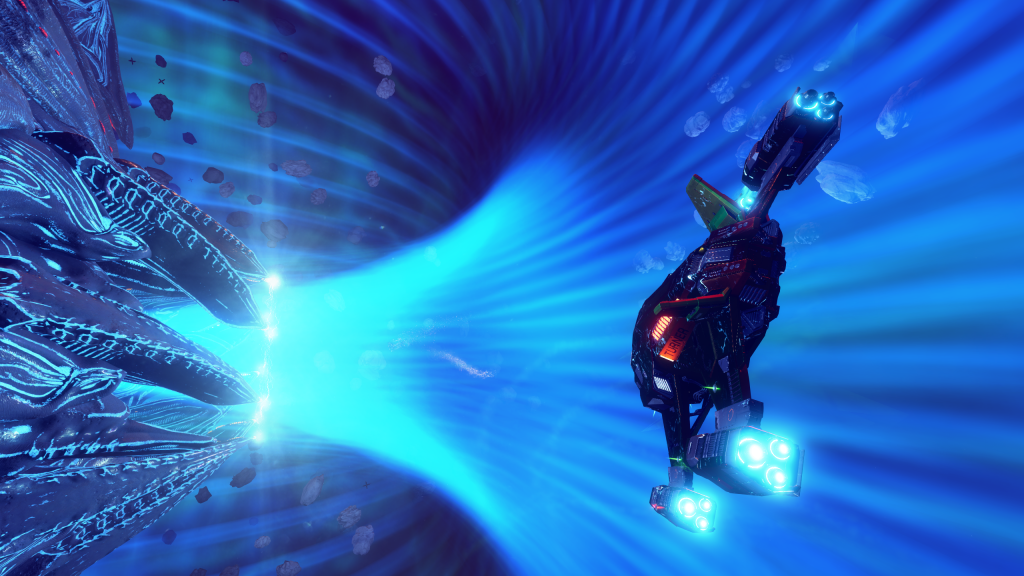 | | | |
| --- | --- | --- |
| Position | Crew Member | CMDR Name |
| SRV Banksy | Alec Turner | Alec Turner |
| Staff Liaison Officer | Clare Good | Psykit |
| Chief Archivist | Colin Ford | Phoenix_Dfire |
| | | |
| Tech Gibbon | Chris Mk IV | Newell Turner |
Download the episode directly from here.
Tonight's activity in-game
Drops available!

You can earn the 'Snake Wrap Desert' paint job bundle for the Anaconda, Mamba, Asp Explorer and Cobra MkIII.
These paint jobs are extra special, as they include a "low light effect" when out in the deeper black!
Watch us for 30mins for Mamba Snake Wrap Desert & the Partner programme Cobra MkIII Snake Wrap Desert paint job.
Watch us for 30mins more for Anaconda Snake Wrap Desert
Watch us for another 30mins for Asp Explorer Snake Wrap Desert
​​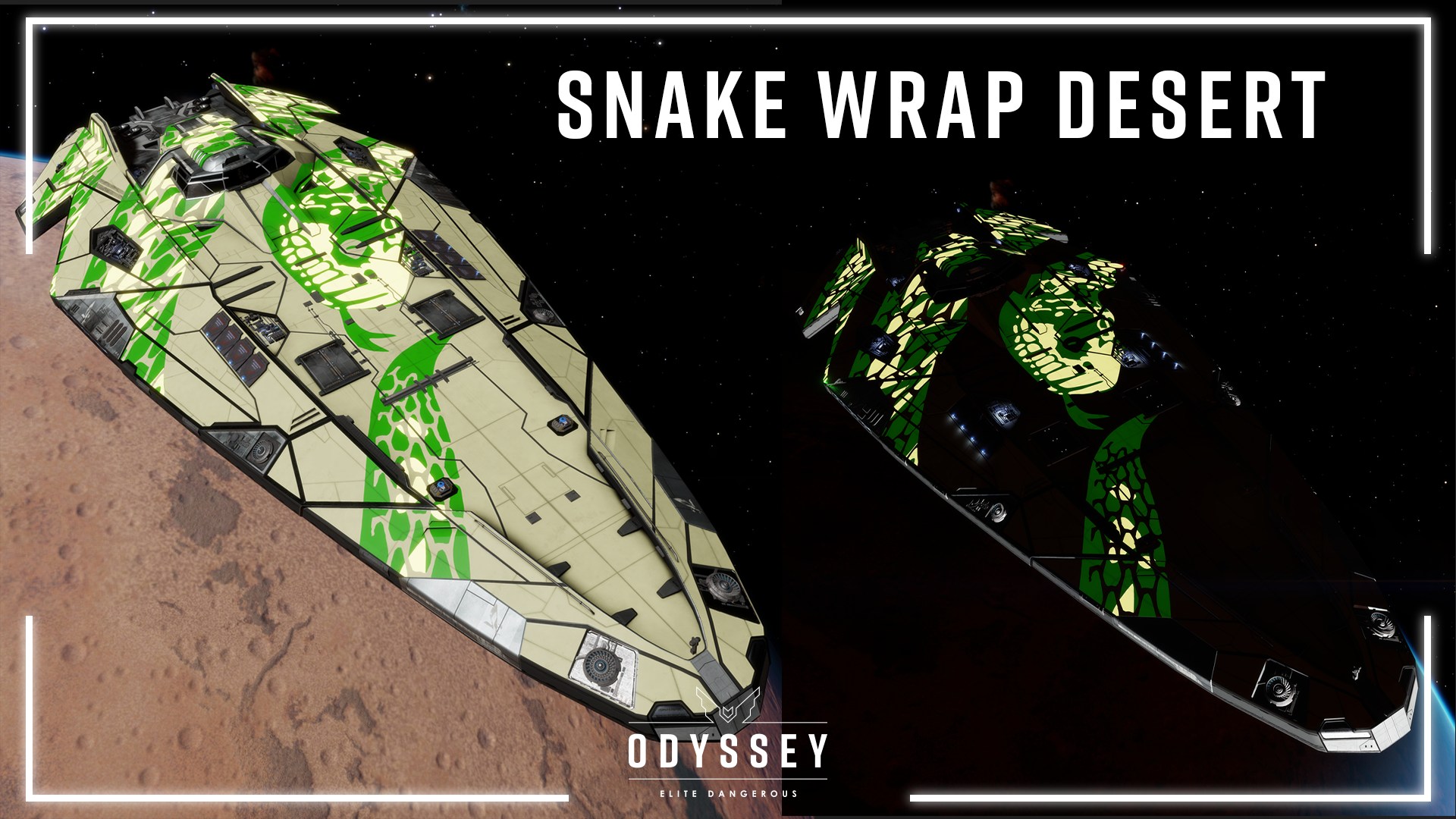 Development News – what have the devs said this week?
Wednesday it was announced a extended downtime would be in place Thursday for the deployment of update 15.01 [See below]
Thursday: Update 15.01 dropped with FIXES
Frameshift Live Episode 30 with dev guests, Designer Curtis and Senior Audio Designer Robin
– Titan is approx. 3x the size of the old crashed variants
Community news – what is the community up to??
In-Game Events – what's happened this week?
Thu 18th – THARGOID 'HUNTER' VESSEL CLASS CONFIRMED
Mon 22nd – PRESIDENTIAL CAMPAIGNS TARGET FEDERAL VOTERS
Tue 23rd – HEAD OF AEGIS MAKES PUBLIC ADDRESS

In game messages from Aegis
Store Alert
Nothing new in the store this week but a reminder about twitch drops.
STEAM SALE :- Elite/Horizons is £4.99 but Odyssey is £10.49 (65% off) until the 30th of May.
Main discussion
Shall we just have a bit of banter about Update 15?

Is the Titan a mothership/ hive ship, or is it a portal to witchspace or the thargoid homeworld?
Glaves hyper-dicting, have they appeared in any CZs next?
Any thoughts on what Arf meant by "you'll have to find it for yourselves"?
Mostly Clueless
Alec: There's been a lot of FUD surrounding whether the system map accurately reflects the current day/night situation on planets (e.g. if you want to pick settlement missions that are in daylight). It was definitely wrong but thanks to some science in the Buur Pit I can confirm that it's pretty much exactly 180° out so if you fly to a settlement that's shown as being in the dark in the system map then it should be in daylight and vice versa, and a settlement on the day/night terminator should pretty much still be on the terminator.
Questions
QOTW – with prizes this time! We have some of the snake wrap ship paint packs to give away.
Give us your best ship tag line

CMDR Greybeard Seawolf

The Alliance Chieftain – When you can't afford a Fishstick
Type 6 – Scratching "Flying a Brick" off your bucket list

CMDR Homburger

The Krait! Not Arf

Kaytianna

The Diamonback Explorer, for those who like to wait to scoop fuel
Asp Scout, why?
Anacondas, free at Hutton Orbital

ElvisKremmen

Imperial Cutter, bask in style

Commander Exorcist

The Lakon Asp Explorer, the only "ex" you should ever go back to!

Rocky Star

The Imperial Cutter, for when you absolutely have to haul 750t of biowaste in style…

CMDR indigo

Asp Scout: for the simple joy of flying (and literally nothing else)
The Vulture: sometimes two big guns is enough

Rockingchairboy

Keelback. The only ship you'll ever need.

CorbynRed

Moray Starboat – neither a star or a boat

Hathorjan

"Krait or Chieftain?" Doesn't matter! – As long as you don't choose the latter 😉

Kym Angel

The Sidewinder, it's a start.
Forget what's in your pants, get a Fer De Lance.

CmdrR3ACToR

"Saud Kruger, Where Raxxla!?!"

Martin Herbert

End the debate, get in a Krait!

Girlscout88

The Type-10: For when you want to force the planet to land on YOU.

MWeeble

The Core Dynamics Federal Corvette, why compensate with just one huge hardpoint, when you can have two?
The Type 7 Transporter. For when you need reminding that the Asp Scout isn't the worst ship.

CMDR Marina Oatmeal

The Alliance Crusader, when you want to be more than just a liability.

CMDR P Jarenstad

"Imperial Cutter – haul in style!"
"Sidewinder – no rebuy, just fly!"
"Imperial Clipper – because size matters!"
"Lakon – feel the wind in your hair!"

CMDR LiveWeyer

Why shout, when you can Mamba it out.

Epaphus

The Keelback, It gives you little wings
Life is great in a Krait 😉

Jyn Erso Lives – Mastadon

Imperial Cutter – some call it drift, we call it slide in style!

HappyMoonMonkey

The beluga, definitely not a giant flying penis

Also some of the crew had a go themselves

Ben

The Sidewinder – what else do you need?

Psykit

Krait Phantom, NICE ARSE

Alec

.Nothing says exclusive like a Cobra Mk IV! (they don't need to know it's a piece of shit)

Chris Mk IV

The Anaconda. For the CMDR that's compensating for something.

Colin

The Cobra Mk IV- The only ship that's pay to lose!