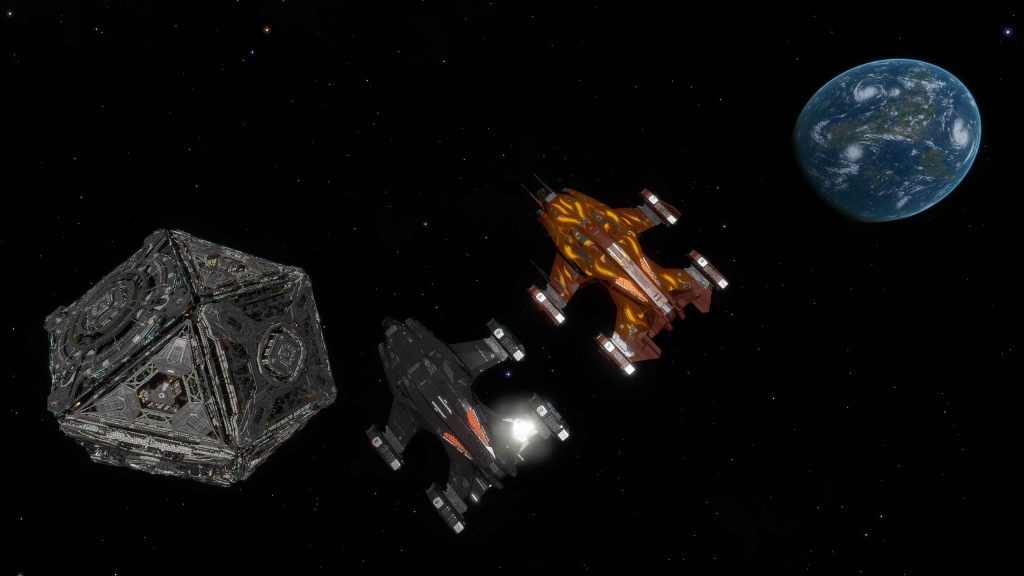 | | | |
| --- | --- | --- |
| Position | Crew Member | CMDR Name |
| Head of Health and Safety | Ben Moss-Woodward | Eid LeWeise |
| Staff Liaison Officer | Clare Good | Psykit |
| Chief Archivist | Colin Ford | Phoenix_Dfire |
| Apprentice Stunt Diver | Alec Turner | Alec Turner |
| | | |
| Tech Gibbon | Chris Mk IV | Newell Turner |
Download the episode directly from here.
Development News – what have the devs said this week?
Changes to the Progress in Thargoid Invasion and Controlled states. Instead of the progress bar being reset every week (to Simulate Thargoid reinforcement),the progress bar will get knocked back by 33%. This effects are slightly different for each state.

Invasion, you still have the time limit for the system, depending on how many stations/ ports the thargoids have to knock out. E.g. So for a system that would normally take three weeks for the thargoids to conquer; you used to have three chances to get the progress bar over 100%. In the new system, (Lets assume that the players achieve 50% every week), you have three weeks to get it over the line but you get to 50% on the first week, the players start at 17%, the following week they'd archive 67%, which would be knocked back to 34%, so the last week they'd need 66% to stop the invasion. (So 50% a week wouldn't save the system!)
Controlled – As there is no time limit for a controlled system, they'll take away the 33% every week. So in order to make any progress, players must keep the progress bar above 33%.
(Pause for Crew reaction)

Thu 9th Feb Frameshift Live #25
Mon 13th Feb – New Discovery Scanner https://www.elitedangerous.com/news/discovery-scanner-13022023
Tuesday 14th Feb – Paul Crowther's #CreepyValentines

Don't cry if you are single this Valentines Day. You are never truly alone as T̗̻̪̥̜̂͂̃̎̿̉͡h̵̦̣̬͇͖̦̪̫̋̃̏̀̔̅̄͛͗̕ͅe̸̫̝̙͚͈̹̽̀̆͑̆̉̑ͅÿ̡͖̲̟̼̰̘̓̽̒̎͋͌͞͞͞ͅ are always with you.

Sally has been asking for more information about Hero Ferrari not inviting commanders to her lair (sorry), Laboratory when she should. If you're having trouble with engineering invites, please drop your experiences over on the issue trackers, so they can try and track this one down. https://forums.frontier.co.uk/threads/hero-ferrari-failing-to-invite.614334/
New Partners are announced :- https://www.elitedangerous.com/news/welcome-new-partners-elite-dangerous-partner-program

Eralm_237 | www.twitch.tv/eralm_237
SeleneStardragon | www.twitch.tv/selenestardragon
Cmdr Hatch | www.twitch.tv/cmdrhatch
Grinning_Crow | www.twitch.tv/grinning_crow
FireyToad | www.twitch.tv/fireytoad
Barnardo7_ | www.twitch.tv/barnardo7_
Runwyld | www.twitch.tv/runwyld
Nick_Lambert | www.twitch.tv/nick_lambert
Hawkes Gaming | www.youtube.com/channel/UCwNphtRn-iP0HEZ98YLHAuA
Azghaaar | www.twitch.tv/azghaaar
OrbitalJeffo | www.twitch.tv/orbitaljeffo
LexLagger | www.twitch.tv/lexlagger
LtPsych | www.twitch.tv/ltpsych
In-Game Events – what's happened this week?
Thu 9th Feb – KUMO CREW REBUFFED AFTER ANTI-XENO CAMPAIGN
Fri 10th Feb – FEDERATION PLEDGES RESOURCES TO AEGIS
Mon 13th Feb – AEGIS RETURNS

WTF is: Omega Grid networking
Schucks – who'd have thunk it? "preliminary designs for a method of allowing ships to survive longer within the Maelstroms' corrosive clouds"

Thargoid war updates.

Alert Systems – 87.
Invasions systems – 50
Taken Back – 1
Recovery – 18
Thargoid controlled – 724 (up by 75 from last week)
Humanity is still on Schedule for being wiped out in less than 4 years!
Follow up stuff
Chain Missions in Odyssey
Check SRV controls through a gamepad using the left and right trigger.

Ben's checked it with updating his throttle and gamepad following a suggestion from Cmdr Valaryc. Make sure that drive assist is turned off
Game Pad Controls
T1600 Paddles Controls


Follow up – CLASS 5 EXPERIMENTAL WEAPONS STABILISER RELEASED
from the crew experience
Kinda followup from our control schemes discussion last week:

On Friday Atrus broke one of the hats on his vkb gladiator nxt fighting Thargoids and submitted a ticket

By Monday Afternoon VKB got back to him and let him know they're sending him a new switch completely free of charge (including postage)

3,333,333% heat (this is getting ridiculous!)
https://www.reddit.com/r/EliteDangerous/comments/10yj0k3/33333xx_heat_turns_out_it_gets_harder_to_build/?utm_source=share&utm_medium=web2x&context=3
jnTracks reports that after getting a cheap $20 web cam and then installing open track and trackAI, Elite instantly recognised head tracking and worked right away (the least config he's ever had to do). Approx. 6% CPU overhead.
Store Alert
Cobra Mk3 Hunter Paintjobs
Community Corner
Psykit's released The Lonely Pirate's Handbook | Elite Dangerous Spoof Advert to you tube (and other places??)
Nothing in the community planner for the rest of the month.
David Braben commenting on the latest US downed UFO – https://twitter.com/DavidBraben/status/1625060612832124928
Foonzers show's Ben how a settlement massacre with a SLF should be done :- https://www.reddit.com/r/EliteDangerous/comments/111ne63/settlement_massacre_with_an_slf/
Ghost Giraffe managed to get their guys to walk on Carriers? https://www.youtube.com/watch?v=GF_wJGZdbfk
Absolute genius! (although you can maybe see why FD didn't give them partner 😀)



Thargoid war state flow diagram.

Source: Analysing the Thargoid Simulation
Rubbernuke's – GALNOT 14 FEB 3309 | Aislings Sinister Roots Uncovered
Suspicions have surfaced around 'Princess' Aisling Duval today concerning her motivations for co-chairing the renewed AEGIS.

"When I recall the press photos three weeks ago, it all falls into place" remarked Xavier Vreeland, Imperial Fashion Editor of Bask magazine. "It was a hot rumour on the Omega Fashion Grid that Aisling had roots showing, and that they were ginger- there was panic because new colour treatments no longer disguised this".

He continued- "When Salvations old research showed that Guardian relics glow blue enough to recolour hair, The Princess™ moved swiftly into a lead AEGIS role to produce this dye under the cover of intergalactic war. She appointed the fearsome hair engineer Lou Roreal to replicate this technology and soon her hair will be the bluest its ever been. I'm just afraid Aisling will destroy the galaxy to get it- what people don't know is The Proteus Wave was a hair colouring tool, not a weapon. Salvation was ginger too, and him trying to change that cost millions of lives. Aisling needs to accept who she is, and not let her vanity doom us all."
Shoutouts
While the team on Dex Island take a well earned break before their series 2 return, there's plenty of material to fill the void. Point your auto assistant to your favourite podcast app – including Spotify and audible – and search The Dex Legacy. There you'll find bonus edition interviews with cast members and with the writer, Emily Inkpen! There's also plenty of bonus materials and merch at www.thedexlegacy.com! All proceeds go towards the making of season 2!
Our sister station, Hutton Orbital Radio, Broadcasts on Thursdays from 20:30. You can tune in at twitch.tv/huttonorbitaltruckers or, for just the audio, at radio.forthemug.com/.
For the discerning Commander who likes a bit of CQC action, check out the CQC Discord at "discord.me/elitedangerouscqc".
We're also giving a shout outs to the following Elite Dangerous podcasts which have appeared over the last year or are standard regular contributors;-

The Guard Frequency (who do other space games )

Following this we have the latest Galnet News Digest as provided by Cmdr Wotherspoon and Cmdr BeatleJude.
Thanks to those who have chipped in on Twitch chat and in-game commanders
Special Thanks to Cmdr ToCoSo, Jn Tracks and Allen Stroud who created the music used on the Show.