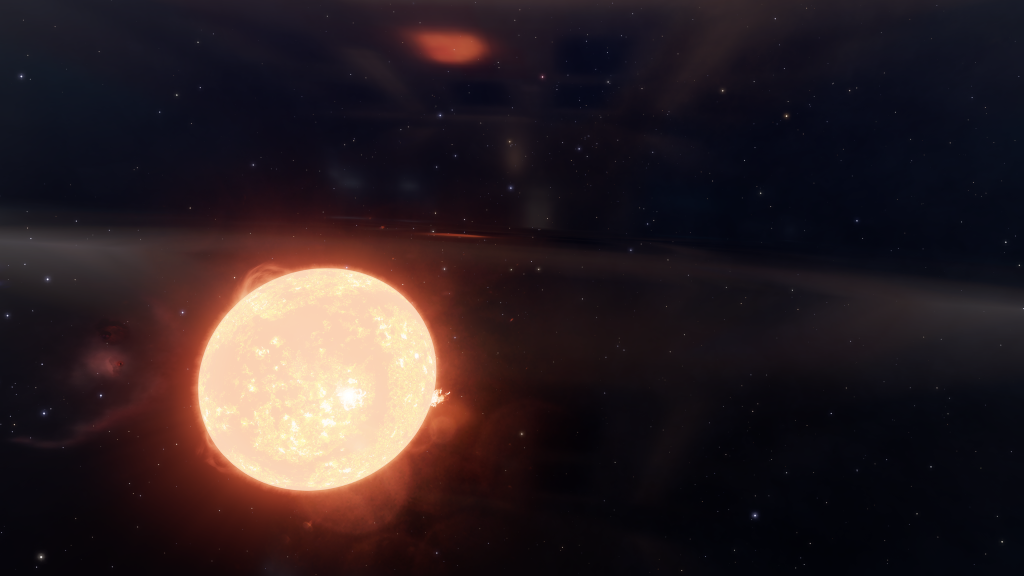 | | | |
| --- | --- | --- |
| Position | Crew Member | CMDR Name |
| Head of Health and Safety | Ben Moss-Woodward | Eid LeWeise |
| Staff Liaison Officer | Clare Good | Psykit |
| Chief Archivist | Colin Ford | Phoenix_Dfire |
| Apprentice Stunt Diver | Alec Turner | Alec Turner |
| | | |
| Tech Monkey | Norman MacArthur | Ventura_ |
Download the episode directly from here.
Development News – what have the devs said this week?
Fri 3rd Feb – Information Regarding AX Combat Bond Reward Revisions
Monday 6th Feb – Discovery Scanner – 06/02/2023
Frameshift Live 25 will happen this Thursday at the usual time, with the Dynamic Duo of Arthur and Bruce!
In-Game Events – what's happened this week?
Wed 1st Feb – CLASS 5 EXPERIMENTAL WEAPONS STABILISER RELEASED
Thu 2nd Feb – PIRATES LEAD COUNTER-ATTACK AGAINST THARGOIDS (Community Goal)
Mon 6th Feb – MAHON: 'ALLIANCE WILL SUPPORT AEGIS'
Tue 7th Feb (Today) – ACTIVISTS BLAME LEADERS FOR THARGOID WAR
Thargoid War State

The Thargoids control 653 systems (up another 50 ish).
88 systems are in Alert.
43 are being invaded.
20 systems are in recovery
0 systems were retaken from the enemy.
The Thargoids have increased their hold to 3.15% of the Human bubble, which still gives humanity 4 years until extinction.
Store Alert
SUIT – VINTAGE REFLECT PACK
Asp Explorer Groove Paintjobs
Main discussion
How has update 14.02 bed in ?

Control System Issue.
Online Settlements when they're not.
Barnacle Sites have yet to be fixed.
Ben – Dunno I've been away / finishing Spiderman Miles Morales and I've just started Horizon Zero dawn (sorry / not sorry)

Control Schemes;-

What did you start with?
What do you use now and why ?
If money was no object, what would you want to use? 
Community Corner
CMDR Nickweb85's Lego Concourse (Built in Lego Digital Designer)
CMDR Quizengine's Elite Feet quiz; do you recognise the landing gear of all the ships in the game? https://www.quizengine.co.uk/elitefeet/

Pixel Bandits UCP Football League

PSBF Pendragon has been sharing this non-canon background simulation for Elite, with football teams spread throughout our galaxy. Each team in the UCP (Unofficial, Completely Pointless) League has their own made up stats and named players, with performance ratings and goals etc. tracked from week to week. All the stats were generated through dice throws, and the simulator basically runs the matches so even he has no idea who's going to end up on top.

DBX Blueprint posters by u/Velko_Vidich

Spatula going over two million percent heat – https://twitter.com/spatula007/status/1622358268776521730?s=20&t=hzEO8_Ig36M5EhfR3ZxwOQ
High Wake video – Arissa https://www.youtube.com/watch?v=zWGHuevSAyQ
Shoutouts
While the team on Dex Island take a well earned break before their series 2 return, there's plenty of material to fill the void. Point your auto assistant to your favourite podcast app – including Spotify and audible – and search The Dex Legacy. There you'll find bonus edition interviews with cast members and with the writer, Emily Inkpen! There's also plenty of bonus materials and merch at www.thedexlegacy.com! All proceeds go towards the making of season 2!
Our sister station, Hutton Orbital Radio, Broadcasts on Thursdays from 20:30. You can tune in at twitch.tv/huttonorbitaltruckers or, for just the audio, at radio.forthemug.com/.
For the discerning Commander who likes a bit of CQC action, check out the CQC Discord at "discord.me/elitedangerouscqc".
We're also giving a shout outs to the following Elite Dangerous podcasts which have appeared over the last year or are standard regular contributors;-

The Guard Frequency (who do other space games )

Following this we have the latest Galnet News Digest as provided by Cmdr Wotherspoon and Cmdr BeatleJude.
Thanks to those who have chipped in on Twitch chat and in-game commanders
Special Thanks to Cmdr ToCoSo, Jn Tracks and Allen Stroud who created the music used on the Show.