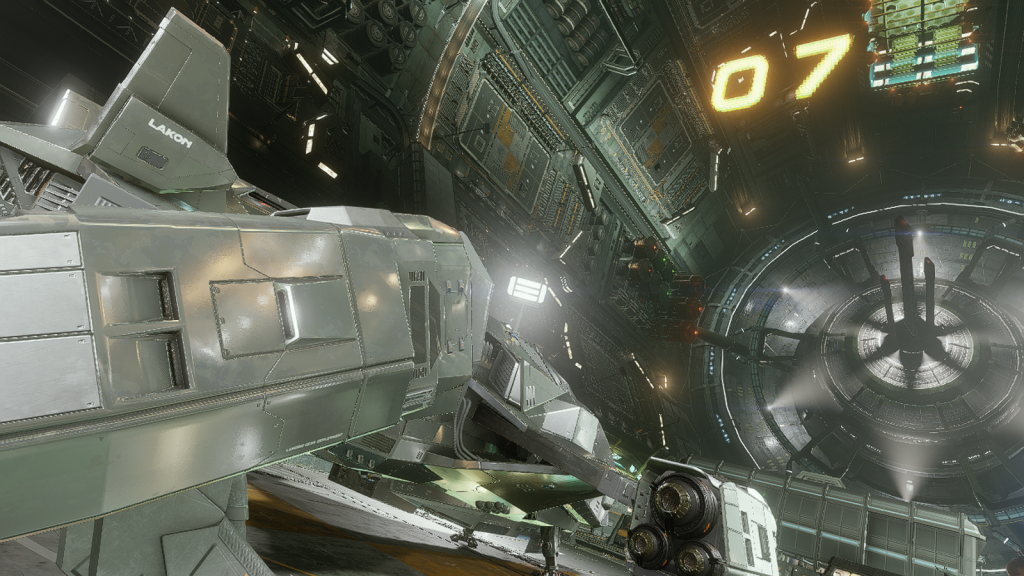 | | | |
| --- | --- | --- |
| Position | Crew Member | CMDR Name |
| Apprentice Stunt Diver | Alec Turner | Alec Turner |
| Head of Health and Safety | Ben Moss-Woodward | Eid LeWeise |
| Staff Liaison Officer | Clare Good | Psykit |
| Chief Archivist | Colin Ford | Phoenix_Dfire |
| | | |
| Tech Monkey | Norman MacArthur | Ventura_ |
| Tech Gibbon | Chris Mk IV | Newell Turner |
| | | |
| Guests | | |
| | Ed Lewis | |
| | Arthur Tolmie | |
| | | |
| Alumni | | |
| Station Commander | Allen Stroud | Heldaban Kel |
| Chief Bar Steward | Grant Woolcott | Psykokow |
| 2nd Technician | Chris Forrester | Fozza |
Download the episode directly from here.
Development News – what have the devs said this week?
The Thargoid War: Thoughts and Feelings Wednesday 15th

Bruce asks us about our feelings

Are you enjoying the Thargoid War?
Are you motivated to engage in the gameplay associated with the war?
Are you optimistic or pessimistic about humanity's chances to win?
What do you think of this direction for the narrative?
In-Game Events – what's happened this week?
Thursday 16th Thargoids Devastate Witch Head Enclave –
Friday 17th Princess Aisling 'Understood Risk of Speaking Out' –
Store Alert
Imperial Cutter Vanguard Iron
Imperial Cutter Vanguard Verdigris

Imperial Cutter Vanguard Bronze

Imperial Cutter Vanguard Hepatizon

Imperial Cutter Vanguard Copper

Imperial Cutter Vanguard Brass

Frontier has been super crazy kind and given us 10 "Blizzard Star" paint jobs to give away to our Podcast Listeners! To get one, Alec has done a "Spot" the difference competition which we'll be sharing on Twitter, Facebook, Mastodon and the Forums for us and the 1st ten entries will be given one.
Main discussion
10 years of Lave Radio!

We've done a lot!

Number of Episodes in the feed: 527 – 895 hours, 23 minutes, 15 seconds
Number of Lave Radio Episodes in the feed: 435 – 818 hours, 42 minutes, 54 seconds
Number of Conclave Episodes in the feed: 9 – 10 hours, 46 minutes, 34 seconds
Number of Retro Episodes in the feed: 11 – 8 hours, 7 minutes, 22 seconds

Friday, 21 February 2014 was the date of the last Retro Lave (9 years)

Number of Writers interview Episodes in the feed: 18 – 14 hours, 19 minutes, 56 seconds
Number of Hosts! (Official and Unofficial)

Fozza
Allen
Jarvis
John Stabler
Kow
Colin
Ben
John Richardson
John Virgo Kerresh
Lisa Voo
Kergol
Alec
Shan
Psykit
Souvarine
Dr Toxic – Ash
Chris G
Shoutouts
While the team on Dex Island take a well earned break before their series 2 return, there's plenty of material to fill the void. Point your auto assistant to your favourite podcast app – including Spotify and audible – and search The Dex Legacy. There you'll find bonus edition interviews with cast members and with the writer, Emily Inkpen! There's also plenty of bonus materials and merch at www.thedexlegacy.com! All proceeds go towards the making of season 2!
Our sister station, Hutton Orbital Radio, Broadcasts on Thursdays from 20:30. You can tune in at twitch.tv/huttonorbitaltruckers or, for just the audio, at radio.forthemug.com/.
For the discerning Commander who likes a bit of CQC action, check out the CQC Discord at "discord.me/elitedangerouscqc".
We're also giving a shout outs to the following Elite Dangerous podcasts which have appeared over the last year or are standard regular contributors;-

The Guard Frequency (who do other space games )

Following this we have the latest Galnet News Digest as provided by Cmdr Wotherspoon and Cmdr BeatleJude.
Thanks to those who have chipped in on Twitch chat and in-game commanders
Special Thanks to Cmdr ToCoSo, Jn Tracks and Allen Stroud who created the music used on the Show.