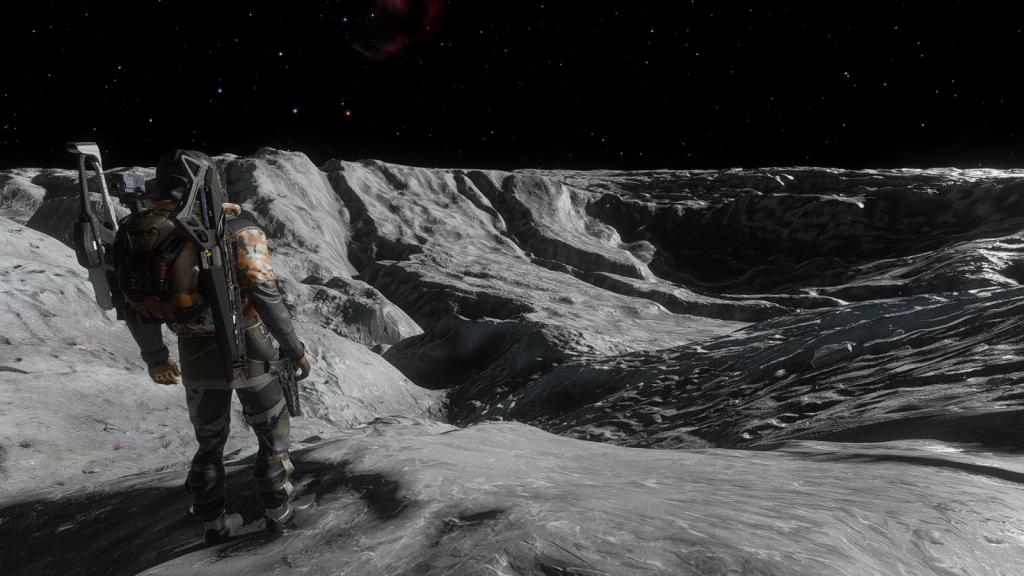 | | | |
| --- | --- | --- |
| Position | Crew Member | CMDR Name |
| Head of Health and Safety | Ben Moss-Woodward | Eid LeWeise |
| Staff Liaison Officer | Clare Good | Psykit |
| Chief Archivist | Colin Ford | Phoenix_Dfire |
| Apprentice Stunt Diver | Alec Turner | Alec Turner |
| | | |
| Tech Sloth | Jan Chlupacek | Poutnik Santiago |
Download the episode directly from here.
Development News – what have the devs said this week?
14th Sept – '4.0' | Launches Tomorrow
14th Sept – Odyssey is £16.50 in the store.
14th September – Jump in players, Steam charts highest player count since February.
20th Sept – Discovery Scanner
20th Sept –https://twitter.com/EliteDangerous/status/1572256287013969920
The original Elite launched on this day in 1984! Celebrate Elite's 38th birthday by sharing your memories of playing the classic wireframe original!

22nd Sept – New Frameshift live?
In-Game Events – what's happened this week?
Store Alert (every second show) [link]
The sale is still on but nothing new this week. (Probably due to the Funeral).
Still up to 45% in the store on cosmetics.
Main discussion
Reaction to Horizons 4.0

Stargoid changes.
Rogue Signal Changes.

Elite's Birthday – 38 years!

Question for the community – I remember a few shows ago someone mentioned a launcher hack which would launch Odyssey in 4.0 Mode, was I imagining it?
Community Corner
Passage to Andromeda started this weekend. It's cmdr Yanick's last big expedition. https://twitter.com/commader_yanick/status/1571444800372748289
Today the CQC discord is doing Plasma Challenge, P63 fighters with plasma cannons only in 3.8 only.
Canon Discord is back! https://canonn.fyi/discord
AXI are doing the great sensor data hunt running now until the 30th Sept.
Buckyball. – The last race of the season – Over to Alec for that one.
OPERATION: REFORGE AEGIS – CONTINUES
ENDS 30 SEP 2022
START TIME: 6:00:00 BST END TIME: 6:00:00 BST
LOCATION: Pleiades Nebula
ELIGIBILITY : Allies of Justice, ,of Aegis, and Humanity.
REQUIREMENTS : None

Operation "Reforge Aegis" is the rallying cry of any remaining Aegis loyalists, fans, or potential financial backers to rally behind creating a independent Aegis through the "Aegis Research" faction.

This initial effort is a two week focused effort to stabilize and strengthen the Aegis Research faction in the Pleiades Nebula. After the initial push, anyone wishing to remain to keep supporting them are encouraged to remain to keep supporting them and their efforts.

The super powers may have abandoned Aegis, but their are those that still believe in the cause. We seek to rally those supporters behind Aegis Research once more!

The galaxy needs Aegis more than ever, are you ready to fight for a independent Aegis? Join us today!
ADDITIONAL REQUIREMENTS:
Bring your passion, heart, and desire to change the galaxy for the better!
Quick message of support to Plater?
Shoutouts
While the team on Dex Island take a well earned break before their series 2 return, there's plenty of material to fill the void. Point your auto assistant to your favourite podcast app – including Spotify and audible – and search The Dex Legacy. There you'll find bonus edition interviews with cast members and with the writer, Emily Inkpen! There's also plenty of bonus materials and merch at www.thedexlegacy.com! All proceeds go towards the making of season 2!
Our sister station, Hutton Orbital Radio, Broadcasts on Thursdays from 20:30. You can tune in at twitch.tv/huttonorbitaltruckers or, for just the audio, at radio.forthemug.com/.
For the discerning Commander who likes a bit of CQC action, check out the CQC Discord at "discord.me/elitedangerouscqc".
We're also giving a shout outs to the following Elite Dangerous podcasts which have appeared over the last year or are standard regular contributors;-

The Guard Frequency (who do other space games )

Following this we have the latest Galnet News Digest as provided by Cmdr Wotherspoon and Cmdr BeatleJude.
Thanks to those who have chipped in on Twitch chat and in-game commanders
Special Thanks to Cmdr ToCoSo, Jn Tracks and Allen Stroud who created the music used on the Show.