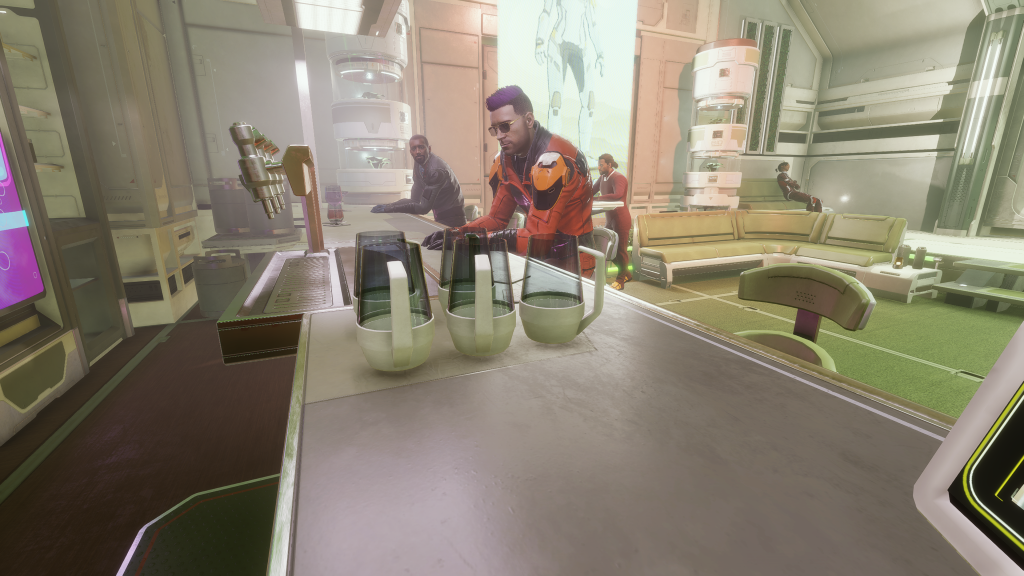 | | | |
| --- | --- | --- |
| Position | Crew Member | CMDR Name |
| Active Crew | | |
| Head of Health and Safety | Ben Moss-Woodward | Eid LeWeise |
| Staff Liaison Officer | Clare Good | Psykit |
| Chief Archivist | Colin Ford | Phoenix_Dfire |
| Apprentice Stunt Diver | Alec Turner | Alec Turner |
| | | |
| Tech Monkey | Norman MacArthur | Ventura_ |
Download the episode directly from here.
Development News – what have the devs said this week?
22 Sep – Frameshift Live #17
26 Sep – Discovery Scanner
In-Game Events – what's happened this week?
21 Sep – Demands for Azimuth to Face Justice
UIA – According to down to earth astronomy,
Store Alert (every second show)
https://twitter.com/EliteDangerous/status/1573706083109158913

Let your passengers experience true elegance with Orca Expressway paint job!
Orca Expressway Voyage
Orca Expressway Journey
Orca Expressway Passage
Orca Expressway Wayfare
Orca Expressway Wander
Orca Expressway Venture

https://twitter.com/EliteDangerous/status/1573372384140214274
"It's time to test your metal! The Scorpion Galvanized paint jobs are now in store!"

Scorpion Galvanised Palladium
Scorpion Galvanised Malachite
Scorpion Galvanised Copper
Scorpion Galvanised Cobalt
Scorpion Galvanised Bronze
Scorpion Galvanised Brass
Main discussion
As someone on the forums pointed out, it is now 4 years since we last had a new ship. So we're going to look over the old ships and see if any of them are relevant or has their original role already been taken by existing ships-

Boa * :
Cobra Mk 1 *
Constrictor *
Falcon,
Gecko
Griffin
Gyr
Harrier
Harris Fighter
Hawk Airfighter
Interplanetary Shuttle

Alec's forum questionnaire – If Frontier were to add a new ship, give three attributes of that ship (and they can be anything from aesthetics to specific ship stat's) that you'd like to see in that new ship.

Mad Mike: I would like a more mining focussed SLF (its still a ship right?) or if that is outside the scope of the question then a full on ship aimed towards mining. Able to equip ALL the mining tools, a decent amount of limpets as well as a mining SLF that i can deploy and scan asteroids with whilst letting mothership wait whilst collecting from a previously mined out rock. Ideally reasonable cargo, but a medium sized ship. I user a T10 now but its a bit sluggish to move around a belt. Probably too much to ask but also have it able to equip a mining machine (cant remember its name) from Frontier 1st encounters that i could deposit and come back to.
Zieman: Moray Starboat, sold only in Dodec Stations orbiting Water Worlds.
Vardaugas: Large short-range-high-volume hauler

Medium short-range-high-volume hauler
Small Alliance Navy
Small Federation Navy
Medium Imperial Navy
Interplanetary Shuttle and Lifter
Medium tourist boat

Cmdr Numa: First and foremost I just want the Panther LX finally out. As for completely new ships:

A large explorer, probably imperial, weak combat stats, big FSD (class 8 ?), plenty of internals, magnificent cockpit view.
A large combat ship with more direct firepower than the Corvette but no fighter bay.

HRDiagram: Here's my dream ship in 3 attributes:

Vertical development (taller than wider), so that it has to enter the mailslot sideways to fit (barely)
Very long, so that it has to fold in half just before landing, to fit on a large landing pad
A distribution of attitude thrusters that would only allow clockwise rolling (for reference, the mailslot rolls counter clockwise when approached from outside)
Community Corner
Buckyball

E.D.I.S.O.N. has been updated to version 5.2 (beta)! https://forums.frontier.co.uk/threads/e-d-i-s-o-n-orbital-and-surface-navigation-waypoints.372326/page-8#post-9904165

Navigation now works while on foot.

Min ED Launcher

How to set it up…

Copy MinEdLauncher.exe to your game folder
Make a shortcut to "MinEdLauncher"
In the "Target" add your arguments

"F:\Program Files (x86)\Frontier\EDLaunch\MinEdLauncher.exe"
/frontier [Profile_Name] – this can be anything but it corresponds to a profile name saved to localAppData
/edo – Play Odyssey (/edh or /edh4 are appropriate alternative arguments)
/autorun – Just go right in to ED
/autoquit – Quit the launcher
/vr – Play in VR
"F:\Program Files (x86)\Frontier\EDLaunch\MinEdLauncher.exe" /frontier [Profile_Name] /edo /autorun /autoquit /vr

Then you can make a copy / move your shortcut to where you want it (i.e. your Windows Start menu)

Mostly Clueless
Nopil3os – FSS: lucrative spectral areas ("ANAL" … but I don't know what's best for atmospheric landables in odyssey yet)

Any other business
Canonn's UIA Tracker – https://map.canonn.tech/route_uia.html
Epic Games Free game this week ARK: Survival Evolved and Gloomhaven.
Shoutouts
Eid wants to give a quick o7 to Cmdr Electro 4ce who he bumped into in the DW2 group while doing the CG
While the team on Dex Island take a well earned break before their series 2 return, there's plenty of material to fill the void. Point your auto assistant to your favourite podcast app – including Spotify and audible – and search The Dex Legacy. There you'll find bonus edition interviews with cast members and with the writer, Emily Inkpen! There's also plenty of bonus materials and merch at www.thedexlegacy.com! All proceeds go towards the making of season 2!
Our sister station, Hutton Orbital Radio, Broadcasts on Thursdays from 20:30. You can tune in at twitch.tv/huttonorbitaltruckers or, for just the audio, at radio.forthemug.com/.
For the discerning Commander who likes a bit of CQC action, check out the CQC Discord at "discord.me/elitedangerouscqc".
We're also giving a shout outs to the following Elite Dangerous podcasts which have appeared over the last year or are standard regular contributors;-

The Guard Frequency (who do other space games )

Following this we have the latest Galnet News Digest as provided by Cmdr Wotherspoon and Cmdr BeatleJude.
Thanks to those who have chipped in on Twitch chat and in-game commanders
Special Thanks to Cmdr ToCoSo, Jn Tracks and Allen Stroud who created the music used on the Show.