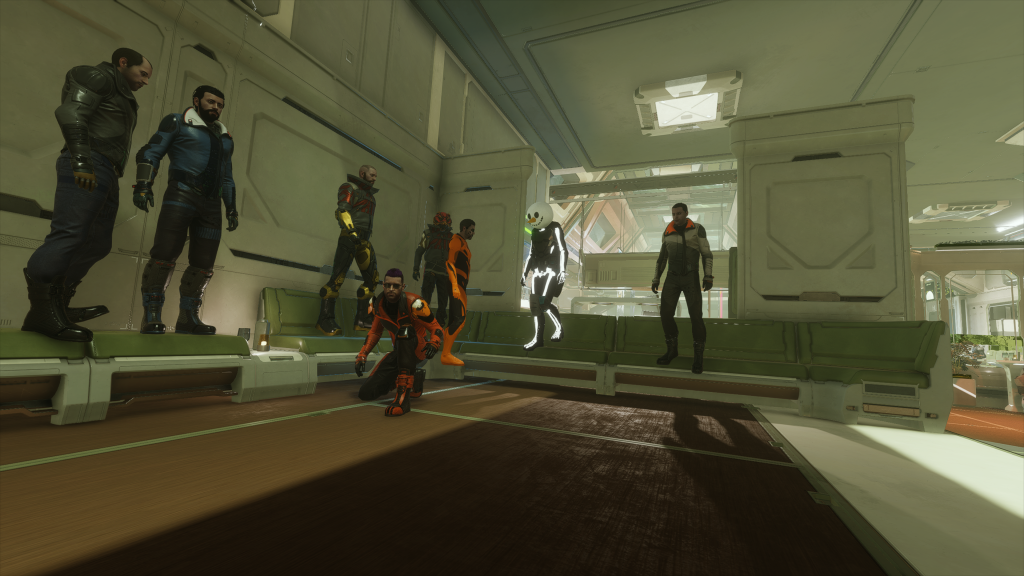 | | | |
| --- | --- | --- |
| Position | Crew Member | CMDR Name |
| Head of Health and Safety | Ben Moss-Woodward | Eid LeWeise |
| Staff Liaison Officer | Clare Good | Psykit |
| Chief Archivist | Colin Ford | Phoenix_Dfire |
| (in)Human Resources Director | Shan | Shan |
| | | |
| Tech Monkey | Norman MacArthur | Ventura_ |
| Tech Lemur | Chris | Hatter |
| Tech Gibbon | Chris Mk IV | Newell Turner |
| Tech Sloth | Jan Chlupacek | Poutnik Santiago |
| | | |
| Alumni | | |
| Station Commander | Allen Stroud | Heldaban Kel |
| Director of Pest Control | Ashley Devine | DrToxic |
| 2nd Technician | Chris Forrester | Fozza |
| Head of Entertainment | Chris Jarvis | Thane |
| Chief of Operations | John Stabler | |
| Lavian Space Program Director | Andy Barnes | Kurgol |
| Chief Bar Steward | Grant Woolcott | Psykokow |
Download the episode directly from here.
In-Game Events – what's happened this week?
16th Feb – Arrisa retakes the imperial throne.
17th Feb – The empire declares war on Darkwater Inc (Wipe them out… all of them)
17th Feb – Colonia Bridge project carries on.
21st Feb – Further Omega Grid Secrets Revealed

Adrian Hugustas Duval found innocent. The Lords of Restoration tried to frame him.

22nd Feb – Hudson Contravention Sparks Federal Protests
Operation IDA – They're current target is Gunn Port – Dan System
AXI three priority systems are ;-

HIP 62154
Lembass
Coalsack Sector VU-O b6-6
Main discussion
LR Episode 1 came out 22nd February 2013

Happy Twos day .. 22/02/2022 for the first time in 900 years, today, the date is a palindromic and an ambigram
Estonia becomes the first country to establish a national system of fast chargers for electric cars
Raúl Castro is elected to a second term as the President of Cuba
Kepler-37b, the smallest known exoplanet, is discovered
Argo won three Oscars at the Academy Awards, including the big one: Best Picture. Jennifer Lawrence, won the Oscar for Best Supporting Actress for her role in Silver Linings Playbook. Daniel Day-Lewis won the Best Actor award for his role as the 16th president in Lincoln.

We have everyone here, so here's a couple of things for everyone to reminisce;-

What is your favourite experience in Elite
Community Corner
New Distance Record

New record: 65,926.34Ly from Sol (279Ly beyond Semotus Beacon) distance reached by Cmdr Vivienne Heliat

Congratulations to Akeyuk who raised £1,475.34 for @macmillancancer in a 24-hour livestream last weekend! This was also Akeyuk's first ever stream! Share kudos and support at twitch.tv/akey_uk or by watching the highlights below: https://www.youtube.com/watch?v=9Td5erDmd8I
YouTube comment from snowstalker36 :-

I don't mind revisiting CG rewards, there's quite a few that really should have been revisited by now. Corrosion resistant cargo bays for example, and a whole bunch of the other early AX stuff. Others, like countering the blight, could have missions in that system that would count towards removing it just like the Blight status has. Maybe the historically afflicted systems like Lave should get the Blight tag again until it's cleared instead of that tag currently only being for factions? I do agree that these special engineered rewards are being revisited to quickly and too often though.
Mostly Clueless
From Domzilla2112 – When using collector limpets you can have them ignore certain items by going to the contacts screen and setting 'add to ignore list' next to the item. Good for collecting materials and ignoring stolen cargo after a battle.
Any other business
Go round the old crew and see what they're going to do next.
I have a thing – promise I'll be quick – psy
Shoutouts
Our sister station, Hutton Orbital Radio, Broadcasts on Thursdays from 20:30. You can tune in at twitch.tv/huttonorbitaltruckers or, for just the audio, at radio.forthemug.com/.
For the discerning Commander who likes a bit of CQC action, check out the CQC Discord at "discord.me/elitedangerouscqc".
We're also giving a shout outs to the following Elite Dangerous podcasts which have appeared over the last year or are standard regular contributors;-

Algorab AM: An Elite Dangerous Podcast
Black Sky Legion (who also do other space sims as well as 'RL' science and tech bits)
Cannon Podcast
For Spanish Speakers there is the Elite Cast
The Guard Frequency (who do other space sims)

For those who want a literary discussion about Sci-fi and fantasy books. Please subscribe to the Dataslate podcast created by station commander Allen Stroud.
Following this we have the latest Galnet News Digest as provided by Cmdr Wotherspoon and Cmdr BeatleJude.
Thanks to those who have chipped in on Twitch chat and in-game commanders
Special Thanks to Cmdr ToCoSo, Jn Tracks and Allen Stroud who created the music used on the Show.