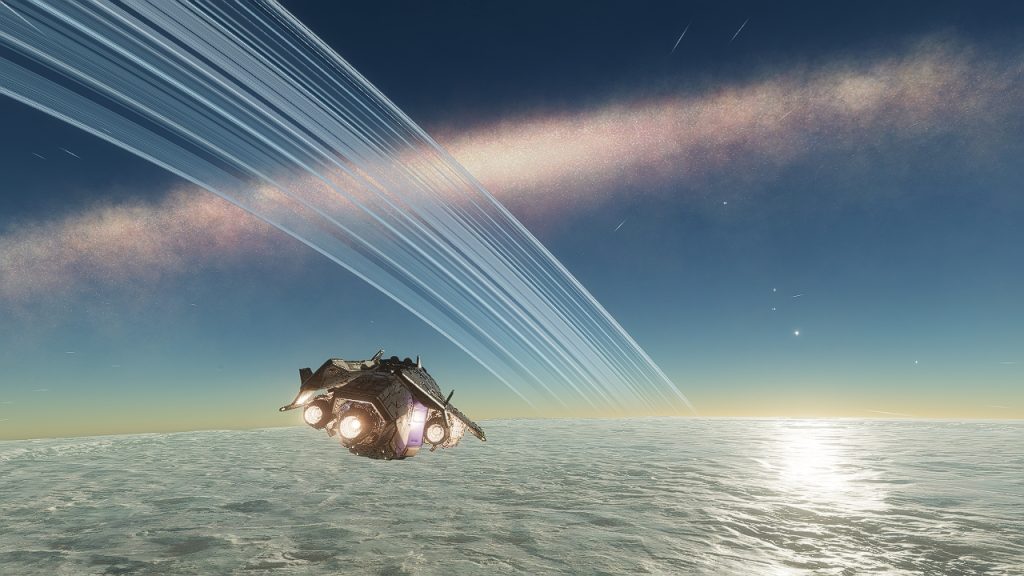 | | | |
| --- | --- | --- |
| Position | Crew Member | CMDR Name |
| Head of Health and Safety | Ben Moss-Woodward | Eid LeWeise |
| Chief Archivist | Colin Ford | Phoenix_Dfire |
| (in)Human Resources Director | Shan | Shan |
| | Mack Winstone | Mack Winstone |
| Tech Sloth | Jan Chlupacek | Poutnik Santiago |
Download the episode directly from here.
Development News – what have the devs said this week?
The Valentines Day Hot Fix. – the 4.10.3 patch was released. Que huge debate about what's a hot-fix and was is a patch It was quite big on my machine, 1.3 GB but as we all know size isn't everything (Allegedly)
Job advert. – Fdev did advertise for a game designer role, specifically for Elite Dangerous. Does this mean they want to
Fdev Target for take over?

"The spree seems set to continue, with more UK firms in the crosshairs. AIM-listed Frontier Developments, whose games include the Jurassic Park franchise, is thought by some to be a target due to its successful gaming IPs and a fall in the share price. The stock is down 34 per cent in six months. Tencent has been mulled as a potential buyer."
In-Game Events – what's happened this week?
9th Feb – Arissa Rescued from Year-Long Captivity
10th Feb – Colonia Bridge Project Enters Final Phase
11th Feb – New Thargoid Assaults in Three Systems
14th Feb – ACT Exposes the Lords of Restoration
15th Feb – Federation Divided by Hudson's Proposal
Operation IDA – They have completed Evangelis but are waiting on the next busted station.
AXI – the Three systems targeted for defence are ;-

HIP 12314
Lembass
Coalsack Sector VU-O b6-6
Newsletter (every second show) [link]
We do have a store alert of the Lunar new year skins and in-cockpit lanterns)


Main discussion
How would we enrich the in game narratives to make it more engaging?
Community Corner
Elite Dangerous Exobiology Ranks Animated – The High Wake

The High Wake explains Exobiology Ranks

Rosencrantz JR (The guy that forced me into an adder for two weeks) has let me know about Commander HeliMeli's world's first Cobra MK III Hydra Solo kill at https://youtu.be/mtJQI5J8504 while humble bragging about his ow 1st Hydra Asp Scout Kill. 😉
Ghost Giraffe has returned with a massive 3 hour stream.
The Buckyball Racing Club Presents: Back to Pareco (Magic 8-Ball Championship, Race 1).

Obsidian And has done a review of the nine years of development since the kickstarter was launched.
Thanks to Paul Deckard, Alexander Corben and Karrde for their kind youtube comments.
Any other business
Polaris Dawn (polarisprogram.com)

Jared Isaacman (from the SpaceX Inspiration 4 Mission) is going back to Space again as Part of "Polaris Dawn". A 5 day mission to

Test new Space X EVA Suits (this will also include the 1st commercial space walk) They are aiming this to be at ~ 500 km
Fly over 1300 km in altitude, deliberately travelling through portions of the Van Allen Belt
Testing Starlink's Laser based communication network
A variety of medical experiments using themselves as guinea pigs!

Red Dwarf 34 years old TODAY! Smoke Me a Kipper!
Shoutouts
Our sister station, Hutton Orbital Radio, Broadcasts on Thursdays from 20:30. You can tune in at twitch.tv/huttonorbitaltruckers or, for just the audio, at radio.forthemug.com/.
For the discerning Commander who likes a bit of CQC action, check out the CQC Discord at "discord.me/elitedangerouscqc".
We're also giving a shout outs to the following Elite Dangerous podcasts which have appeared over the last year or are standard regular contributors;-

Algorab AM: An Elite Dangerous Podcast
Black Sky Legion (who also do other space sims as well as 'RL' science and tech bits)
Cannon Podcast
For Spanish Speakers there is the Elite Cast
The Guard Frequency (who do other space sims)

For those who want a literary discussion about Sci-fi and fantasy books. Please subscribe to the Dataslate podcast created by station commander Allen Stroud.
Following this we have the latest Galnet News Digest as provided by Cmdr Wotherspoon and Cmdr BeatleJude.
Thanks to those who have chipped in on Twitch chat and in-game commanders
Special Thanks to Cmdr ToCoSo, Jn Tracks and Allen Stroud who created the music used on the Show.