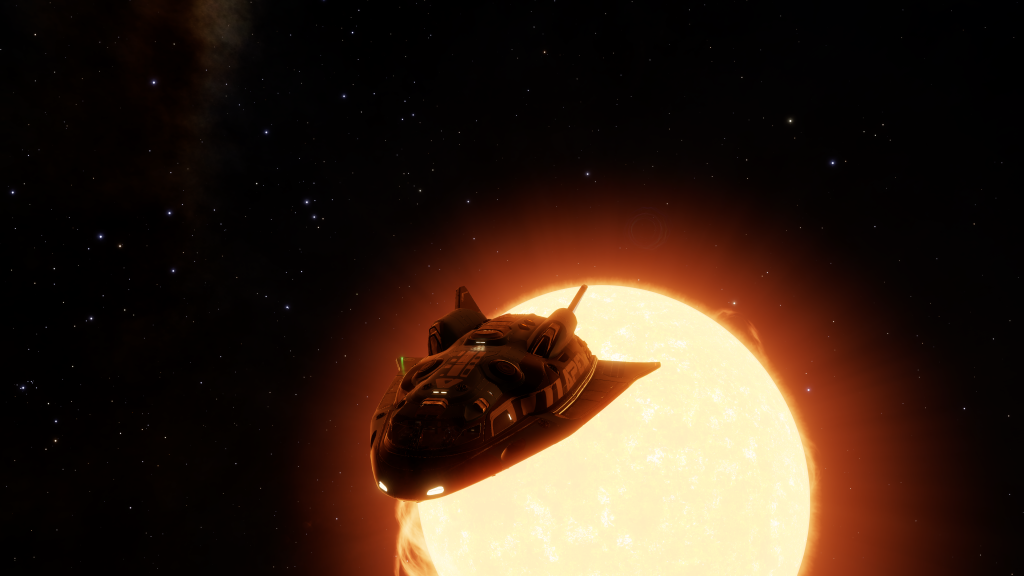 | | | |
| --- | --- | --- |
| Position | Crew Member | CMDR Name |
| Head of Health and Safety | Ben Moss-Woodward | Eid LeWeise |
| Staff Liaison Officer | Clare Good | Psykit |
| Chief Archivist | Colin Ford | Phoenix_Dfire |
| (in)Human Resources Director | Shan | Shan |
| | | |
| Tech Gibbon | Chris Mk IV | Newell Turner |
Download the episode directly from here.
Development News – what have the devs said this week?
Update 8…. Which has been delayed to next week
Last Thursday – CQC Night. With Bruce and Zac
Tuesday – Supercruise News

Zac & Principal programmer Dominic Corner walked through a settlement power-up mission path

Working on missions

Dan (Designer) + Conv with narrative team
Dom
Mike

A 'crumb' of combined on foot and ship mission elements coming in update 8
AI Fleeing – Target will get spooked and run to a ship and take off. Mission fails when they fly away.
Hunting Ships – If you commit crimes on foot, bounty hunters may be sent after you (if in your own ship not apex)
NPC Item Collection/delivery – Delivery and collection missions will now also include to/from NPC's. Foundation for more gameplay involving on foot NPCs

Engineers coming to Colonia
Yi Shen = Hybrid engineer with the 'unique' unlocks the bubble engineers have.
Showed video demo of point emote & tagging

We can keybind them

Megaship interiors
All station services possible incl frontline & apex. + A bar
Escape pods that will return you to your last 'safe' location. ie. if you have no ship and there's no apex it will return you to a star port to stop you being stranded.
In-Game Events – what's happened this week?
Newsletter (every second show) [link]
Store Alert! Via twitter. (Added by Chris Mk IV who added the Mamba paint jobs to last weeks show notes and accepts no responsibility for the likeability of the paintjobs)
Overdrive also available in 'Hawaiian Shirt' Pink and Green
Currently 30% Fleet Carrier customisations
Main discussion
There are a lot of complaints about Elite:Dangerous being a M.V.P. with unfinished bits all over the place. However, what does Elite Dangerous Do that feels complete?
Community Corner
AXI have done it again. HOw to kill a Hydra in an unengineered ship https://youtu.be/UtV6pVZtIoI , Heck they killed a Medusa in an E-rated Chieftain too https://www.youtube.com/watch?v=8_3FxqDdGjY
After our Multi-crew discussion last week. Ascorbius from the Brocast decided to do a muti-crew meet up. With as many Multi-crew ships they could find. See how they did at :- https://www.twitch.tv/cmdrascorbius
FFED3DAJ – updated. To v 1.17beta4. For those of you who don't know what that is, it is the Frontier's First Encounters update for modern Machines. I.E. it will make FFE work on any PC after 2008, uses updated 3D Models and effects using DX9. It's based on the JJFFE mod so there are lateral thrusters as well which really improves the full newtonian combat. You can find out how to install it and further discussion head over to https://forums.frontier.co.uk/threads/the-ffed3daj-thread.12734/
Mostly Clueless
Shan – The docking slot is usually facing the planet, you can make it easier to get into a docking position by aligning the holographic image of the targeted station so that the slot is facing forwards. That way you'll emerge facing the slot.
Shoutouts
Dockers is doing a Charity Christmas Special

I know it's only September and good taste dictates that Christmas should never be mentioned until long after Halloween, but in the world of entertainment Christmas has to be prepared well in advance. When you think about preparing for Christmas, you're probably thinking about the dinner. Will it be turkey? Beef? How about an enormous cock?

Yes, the Dockers are coming back this year with a Christmas special and they have set up a kickstarter on justgiving. Yes that's right, a kickstarter on Just Giving. I don't think they quite understand that all the money will be going to charity.

If you haven't heard of it before Dockers is a mockumentary podcast about the ordinary folk of the Galaxy from the lowly toilet attendants to famous wildlife documentary makers. It's been going for a few years and usually does a live show at Lavecon, late at night, well after the watershed because it's very, very naughty

If they meet their target they will put on the Christmas show, (though to be honest they will put it on regardless.) They have some rewards in their charity kickstarter. If you ever fancied being the subject of a documentary there are a few options to get your name in the show. Some of them are pretty unsavory.
| | | |
| --- | --- | --- |
| Tier | Amount | Reward |
| 1 | £5.00 | Listen to the Christmas special in the comfort of your own home for no additional cost! |
| 2 | £10.00 | Listen to the Christmas special in the comfort of your own home for a small additional cost! |
| 3 | £20.00 | Have your name read out by the Narrator at the end of the show with the credits. |
| 4 | £30.00 | Listen to the Christmas special in the comfort of your own home for a substantial additional cost! |
| 5 | £40.00 | A lifetime supply of Gnosis Avian Cheese**While stocks last (10 available). Only one block per lifetime, believe me that is enough. No refunds. First come first serve. After ten blocks are allocated reward will be downgraded to tier 3 |
| 6 | £50.00 | A sketch featuring you written and performed by members of the cast of dockers.* To be clear when we say members we don't mean penises. The segment will be up to 5 minutes long. |
| 7 | £200.00 | A character of our choice will perform a sex act on you during the show**This will be a dramatisation not an actual act you sicko |
| 8 | £500.00 | A character of our choice will perform an enjoyable sex act on you during the show**This will be a dramatisation not an actual act you sicko. Enjoyment is not guaranteed. |
| 9 | £1000.00 | We will have your ears surgically removed so that you never have to listen to the show again.*Need I tell you that this is satire and not a cure for body dysmorphia? |
| 10 | £10,000.00 | The episode will be set in the Star Citizen Universe |
| 11 | £11,000,000 | Are you a pharma-bro? We will record a 40 minute episode exclusively for you. Nobody else will be able to listen to it unless you let them. |
https://www.justgiving.com/team/BeyondDockers
Our sister station, Hutton Orbital Radio, Broadcasts on Thursdays from 20:30. You can tune in at twitch.tv/huttonorbitaltruckers or, for just the audio, at radio.forthemug.com/.
For the discerning Commander who likes a bit of CQC action, check out the CQC Discord at "discord.me/elitedangerouscqc".
We're also giving a shout outs to the following Elite Dangerous podcasts which have appeared over the last year or are standard regular contributors;-

Algorab AM: An Elite Dangerous Podcast
Black Sky Legion (who also do other space sims as well as 'RL' science and tech bits)
Cannon Podcast
For Spanish Speakers there is the Elite Cast
The Guard Frequency (who do other space sims)
New Worlds: Zero Prep – Eid, Kai and Souv talk about all the stuff we can't talk about on our primary creative outlets.

For those who want a literary discussion about Sci-fi and fantasy books. Please subscribe to the Dataslate podcast created by station commander Allen Stroud.
Following this we have the latest Galnet News Digest as provided by Cmdr Wotherspoon and Cmdr BeatleJude.
Thanks to those who have chipped in on Twitch chat and in-game commanders
Special Thanks to Cmdr ToCoSo who created the music for the Introduction of the Show