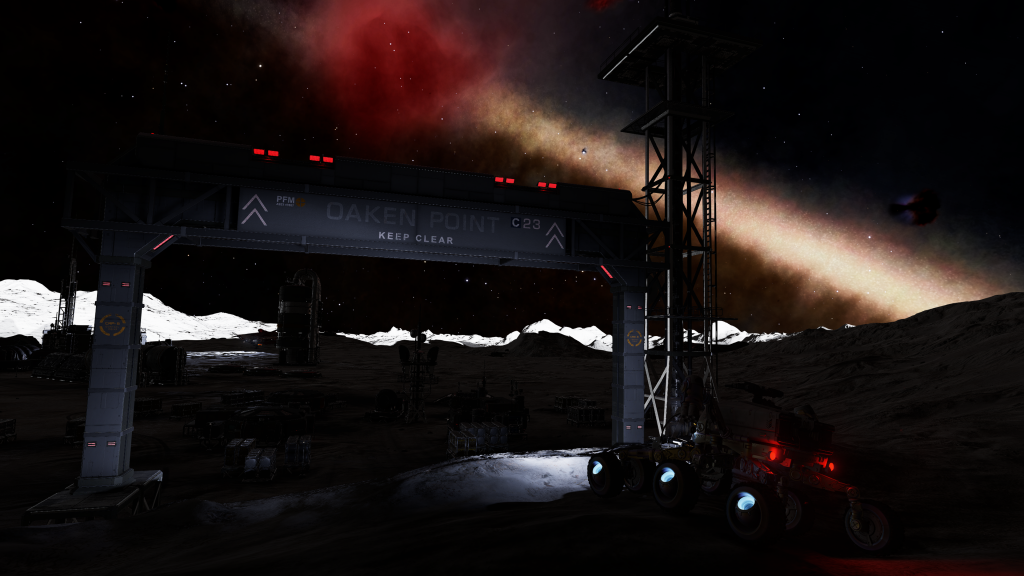 | | | |
| --- | --- | --- |
| Position | Crew Member | CMDR Name |
| Head of Health and Safety | Ben Moss-Woodward | Eid LeWeise |
| Staff Liaison Officer | Clare Good | Psykit |
| Chief Archivist | Colin Ford | Phoenix_Dfire |
| (in)Human Resources Director | Shan | Shan |
| Tech Gibbon | Chris Mk IV | Newell Turner |
Download the episode directly from here.
Development News – what have the devs said this week?
Last week supercruise news, Anti vehicle turrets, Rocket Launcher Troops (Marauders) and NPC ships coming to conflict zones in update 7.

Update to Bookmarks and Stored Modules from 120 – ~200
"Lick of paint" for station interiors (lights and colours)

Took part in the CTF a couple of weeks ago.
Turret Video :- https://www.youtube.com/watch?v=73VaFZbqK9w
Developer Update 3 – August :- https://forums.frontier.co.uk/threads/developer-update-3-august.589045/

Station Interior Lighting

Tuesday Stream Development Update Breakdown Stream

Update 7 will come within the next 2 weeks
Apex changes – ok so by making taxi rides more enjoyable they meant being able to re-direct and NOT to play minigames en route 🙂
Megeship Social spaces DOES NOT MEAN Fleet Carriers – Frontier say they are 'very aware' of the desire for Fleet Carrier Social Spaces.
In-Game Events – what's happened this week?
The big one this week has been the Hyford Crash Mystery, which has led to some interesting new plot and lore (Spoilers Warning for everyone else). https://forums.frontier.co.uk/threads/the-black-flight-mystery.588777/

The Trail (after Colonia) HIP 26176 right now, where CMDR hyford's cache said to go to
Store Alert!
Chieftain Pirate Skin :- https://twitter.com/i/status/1431322670814138376
For your inner Antman :-
Manticore Pistol :- https://twitter.com/i/status/1431667197236162562
Mostly Clueless
From The manure Man. :- Remember Decontamination limpets also work as repair limpets! if there's no caustic substance on your ship , they will start to repair , and to use them don't select any target they will automatically repair our hulls!
Community News.
Alec turner shows off how to get cannisters/ balls into the concourse (as originally discovered by Ghost Giraffe and Maas)
I've got to A rate an adder because thanks to Rosencrantz JR https://youtu.be/wlpz5yzo3is
Rootsrat Interviews Zac Cockrain as a part of his 24 hour charity stream

Zac's early intro to elite, he 1st started playing several years ago and got into ED because of the CGs
Passion for Elite Community, i.e. mass jumps
Loads of other things, nice frank, fun discussion
Just Giving page Przemek Malacha is fundraising for SpecialEffect (justgiving.com)
Shoutouts
Our sister station, Hutton Orbital Radio, Broadcasts on Thursdays from 20:30. You can tune in at twitch.tv/huttonorbitaltruckers or, for just the audio, at radio.forthemug.com/.
For the discerning Commander who likes a bit of CQC action, check out the CQC Discord at "discord.me/elitedangerouscqc".
We're also giving a shout outs to the following Elite Dangerous podcasts which have appeared over the last year or are standard regular contributors;-

Algorab AM: An Elite Dangerous Podcast
Black Sky Legion (who also do other space sims as well as 'RL' science and tech bits)
Cannon Podcast
For Spanish Speakers there is the Elite Cast
The Guard Frequency (who do other space sims)
Loose Screws – Special Shout out to the Hilbilly elite podcast(!) because they've just completed 2 years and over 100 shows. Stay Cheesy everyone and if it's not kraft singles, then f**k you!
Zero Prep – a new show, that will be starting at 7 pm UTC on Sunday. Kai, Souv and Eid talk about all things geek culture over on the Black Sky Legion's You Tube stream.

For those who want a literary discussion about Sci-fi and fantasy books. Please subscribe to the Dataslate podcast created by station commander Allen Stroud.
Following this we have the latest Galnet News Digest as provided by Cmdr Wotherspoon and Cmdr BeatleJude.
Thanks to those who have chipped in on Twitch chat and in-game commanders
Special Thanks to Cmdr ToCoSo who created the music for the Introduction of the Show