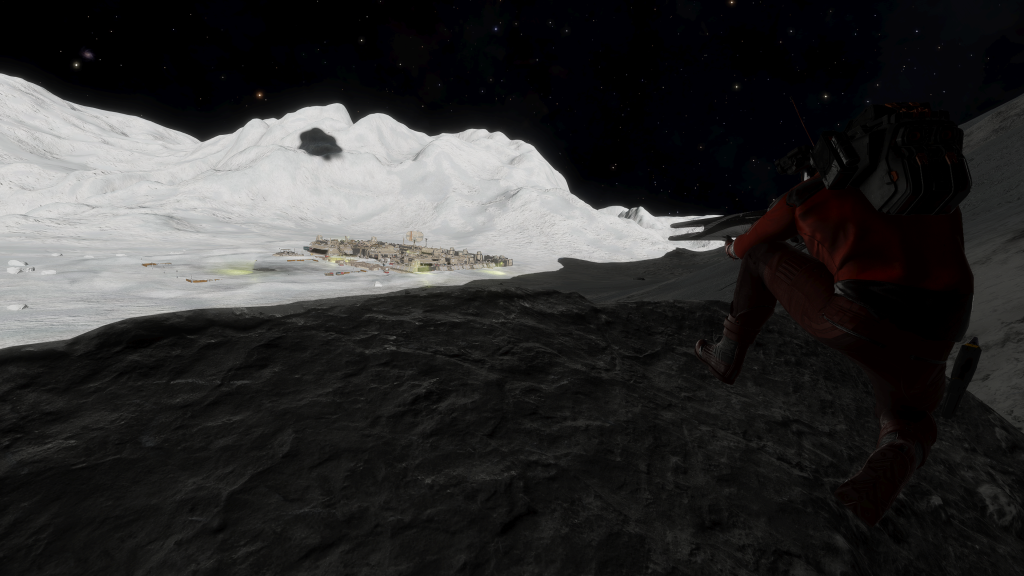 | | | |
| --- | --- | --- |
| Position | Crew Member | CMDR Name |
| SRV Banksy | Alec Turner | Alec Turner |
| Head of Health and Safety | Ben Moss-Woodward | Eid LeWeise |
| Staff Liaison Officer | Clare Good | Psykit |
| Chief Archivist | Colin Ford | Phoenix_Dfire |
| | | |
| Tech Gibbon | Chris Mk IV | Newell Turner |
| | | |
| Guests | | |
| | Sally Morgan Moore | |
| | Arthur Tolmie | |
Download the episode directly from here.
Tonight's activity in-game
Ben goes and looks at the new Restore Power Mission with Thargoids and Revenant's scouting the area. Chris tries to join him, but is cursed by the networking gods and then dies multiple times whilst en route to Ben.
Development News – what have the devs said this week?
Probably/hopefully irrelevant by showtime but: Update 15 Deployment Day Schedule

Approximate Build Size 10GB/16GB

New update 15 news dropped via ED Partners

New previously teased Thargoid is a Hunter variant called 'Glaive'
New AX Settlement Restoration missions
Pulse Field Neutralizer will require: unclassified relics, massive energy surge analytics, plus other things as yet untold.
Community news – what is the community up to??
London Science Museum Event – Psykit and Alec tell us the gossip
New video from The High Wake: Expedition

To celebrate the 1st anniversary of the Galactic Exploration Catalog part of ED Astro

Operation Ida have launched their own leaderboards for the Thargoid War Effort. Plus you can rank up in certain elements of the war effort (Hauling, Evacuation, AX Combat)
Commander Exorcist has posted a new episode Out There (Season 05) – Episode 11
Buckyball Race: Thargoid Structure Scramble, currently ongoing

The Shiny Sidey is back. I've managed to transfer my x-box commander to the PC, but I'm playing 4.0 (Live) on the xbox thanks to Geforce Now. It took about three hours to do and the steps to replicate it is at https://forums.frontier.co.uk/threads/well-i-managed-it-horizons-live-4-0-working-on-my-xbox-via-geforce-now.615950/
16 Tickets are still available for ECM!
In-Game Events – what's happened this week?
Tue 9th – [CG Result] THARGOID PULSE NEUTRALISER BECOMES AVAILABLE [1 unclassified relic, 5 massive energy surge analytics, 5 propulsion elements, 5 sensor fragments] – not a 1-time unlock
Store Alert
Merch store sale! Get up to 20% off selected Elite Dangerous merchandise until 11 May! (shipping of things like triple elite mugs to UK seems like it might be sorted too)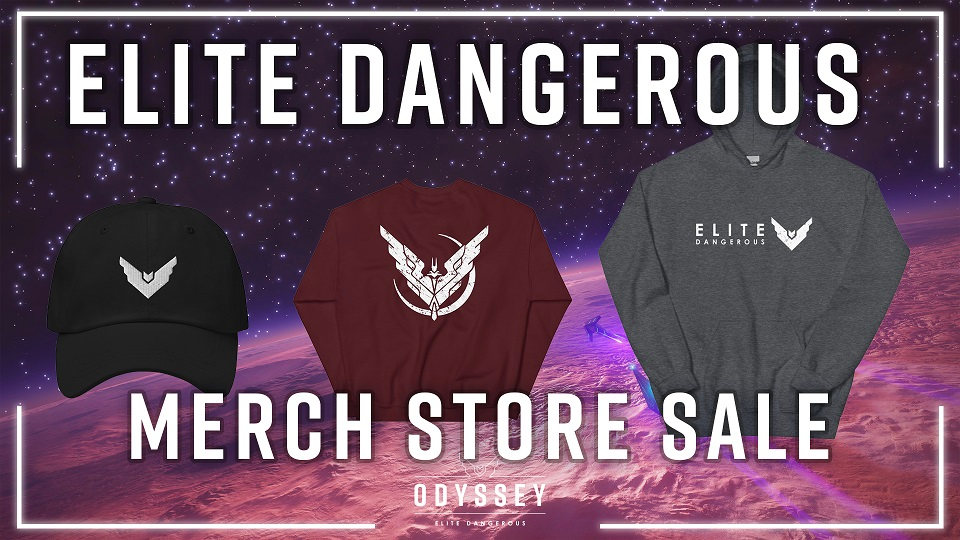 Aegis CG Reward Paintjobs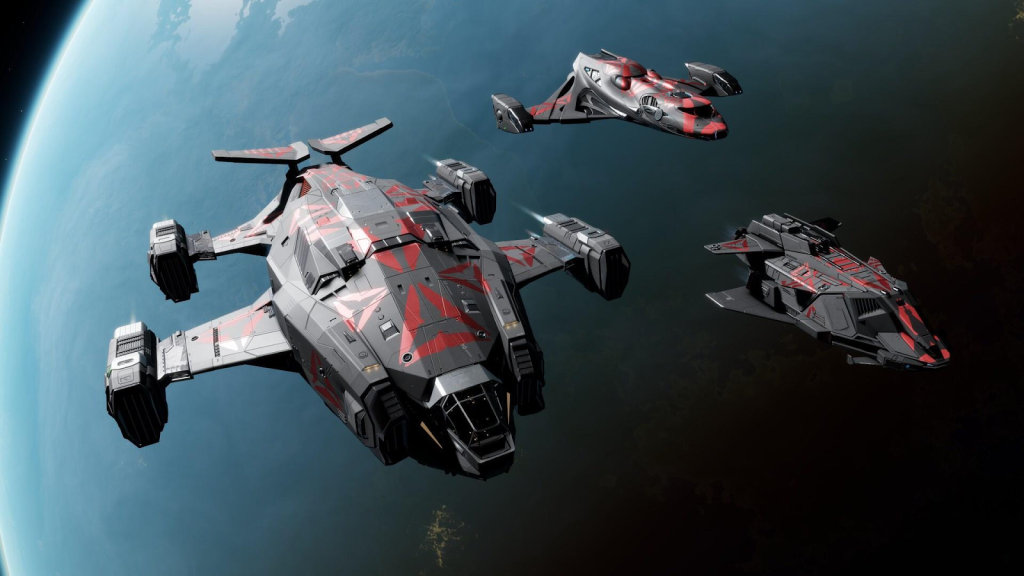 Mostly Clueless
Here's something Colin didn't realise. If you are in a mega ship or an outpost with limited landing pads. Don't wait for long periods in the hanger because apparently you're still blocking the pad. So if you're waiting a period of time for a module or a ship to arrive, either go on foot or switch to pvt mode so you can let other commanders land. Apologies to all those who were waiting outside the medical shop while I was AFK due to medical issues.
Also – PSA – the tip on last week's show about station services being in planet services is now wrong, it's no longer in station services
Questions
Results of our twitter poll: Should new Lore drops (like new voice logs etc) in #EliteDangerous be locked to Odyssey only?

@ElvisKremmen
There needs to come a time in the games progression that new content is EDO focussed the same as what happened when EDH released.
@MWeeble
I think, some on foot and some "not on foot".
If everything is forced to be backwardly compatible it's going to make progress progressively slow.
@Dantechnik
Yeah for sure. Content is locked behind DLCs all the time. It's part of what you are paying for. In the goodness of time the lore gets recorded in various places to read, we need to progress with the game too. Also, BUY ODYSSEY it's great fun!
@Epaphus
I see no problem with it being Odyssey.
Back before the base game and Horizons merged, if you didn't have Horizons you missed out all of the planet based logs and of course the Thargoid and Guardian bases and related lore.
@ubermick
Time to move forward for god's sake. It can't progress if it constantly has to keep one foot in the past to appease those who moan about Odyssey. It's been (more or less) sorted now, and is often available dirt cheap on sale. No excuses for not upgrading anymore other than salt.
@Kaytianna
We need to see more odyssey only content. The game needs to move forward with the DLC.
@Ernie4UK
The DLC has more advanced game mechanics and systems. Let's make the most of that and get some kick ass lore while we're at it.
@HappyMoonMonkey
FDev needs to be less timid with is updates and content. e.g. I've loved exploring the abandoned settlements and finding the lost explorers. Odyssey content and surprises in these locations and new locations would be more than welcome.
Any other business
A tweet from VKBsim that says just one word … "Soon!", could the TECS throttle finally be about to launch?
A mailshot from GameGlass has gone out teasing "re-designed E:D Shards are coming soon!"

Re-designed from the ground up for Odyssey and fully compatible with the Forge, our new Elite Dangerous Shards bring the game to life in immersive new ways.

They include new interactions for throttle control, targeting, weapon manipulation, and much, much more.

By popular request brand new Shards for FPS, SLF / SRV and Carrier gameplay will be included.

They're almost ready, and will be free for all Glass Pass members.
 The Dex Legacy, Kickstarter for Season 2 Click here

Shoutouts
Our sister station, Hutton Orbital Radio, Broadcasts on Thursdays from 20:30. You can tune in at twitch.tv/huttonorbitaltruckers or, for just the audio, at radio.forthemug.com/.
For the discerning Commander who likes a bit of CQC action, check out the CQC Discord at "discord.me/elitedangerouscqc".
We're also giving a shout outs to the following Elite Dangerous podcasts which have appeared over the last year or are standard regular contributors;-

The Guard Frequency (who do other space games )

Following this we have the latest Galnet News Digest as provided by Cmdr Wotherspoon and Cmdr BeetleJude.
Thanks to those who have chipped in on Twitch chat and in-game commanders
Special Thanks to Cmdr ToCoSo, Jn Tracks and Allen Stroud who created the music used on the Show.