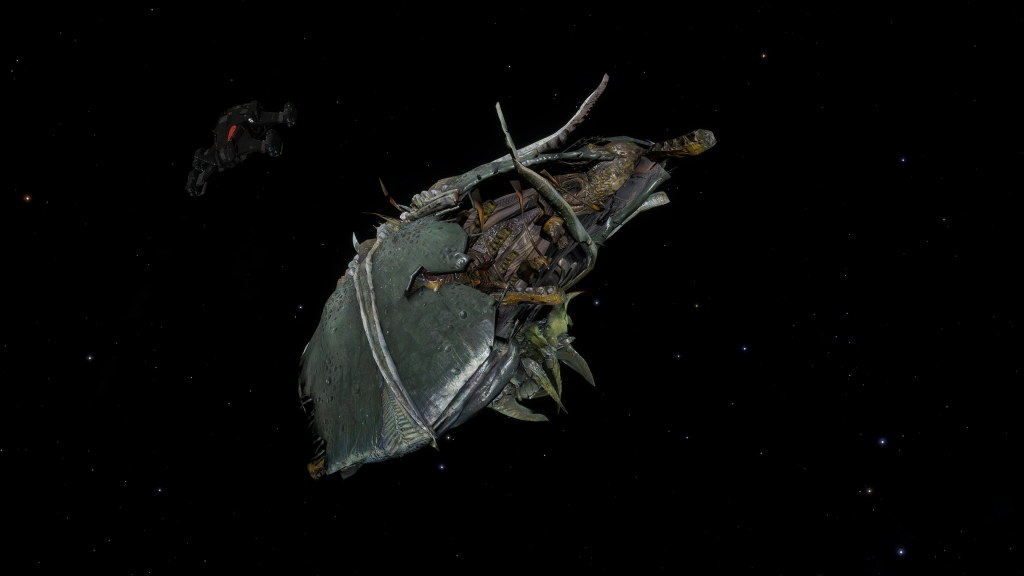 | | | |
| --- | --- | --- |
| Position | Crew Member | CMDR Name |
| Head of Health and Safety | Ben Moss-Woodward | Eid LeWeise |
| Staff Liaison Officer | Clare Good | Psykit |
| Chief Archivist | Colin Ford | Phoenix_Dfire |
| Apprentice Stunt Diver | Alec Turner | Alec Turner |
| | | |
| Tech Gibbon | Chris Mk IV | Newell Turner |
Download the episode directly from here.
Development News – what have the devs said this week?
Frameshift Live #24
A. Derin – "shooting the aliens where they will be rather than where they are"
B. Derin – stuff about Thargoid defence getting diluted as more Stargoids arrived and as they expand (Alec: I find the implications of the reverse very intriguing)
In-Game Events – what's happened this week?
Thursday 26th – Experimental Weapons Stabiliser Becomes Available

The class 3 experimental weapon stabiliser is now available following Azimuth Biotech's delivery initiative in LHS 1163.
The class 5 variant of the stabiliser, which permits two additional AX weapons, is scheduled to reach the market next week."

Friday 27th – Delaine Vows to Defend California Nebula
Friday 27th – Xeno Scanner Upgrade

Prof Palin gives us the tools we've been looking for!

Monday 30th – Admiral Tanner Withdraws from Federal Navy

"To any Thargoids who may be listening: you haven't seen the last of me yet."

Tuesday 31st (today) – EMPEROR APPROVES AISLING'S PLAN FOR AEGIS

Insiders claim that Princess Aisling has already requested members for her delegation including Senator Caspian Leopold, Vice Admiral Skylar Anderson and xenological specialist Ivano Colombera. She has also tasked the Imperial Diplomatic Corps with re-opening diplomatic channels to the Alliance and Federation, specifically to share information about Alba Tesreau's respective proposals for a reformed Aegis.

Thargoid war update.

Controlled by Thargoids – 605
In Alert State – 66
In Invasion State – 33
Liberated – 5
In Recovery – 23
The Thargoids now control almost 3% of the human bubble and at current projections will take approximately 4 years to destroy humanity.
Store Alert
Krait Crossfire
Main discussion
Update 14.02 Patch Notes

Features Of Note

Restoring power to each of the settlements in a
recovering system now reduces the time taken to fully recover the system by 1 week.
This will be reflected in that system's recovery complete time shortly after the final settlement has had power restored.
Missions to restore power to settlements are now available in Recovering systems.
Humanity is attempting to reclaim systems controlled by the Thargoid forces!
Conflict Zones and other scenarios can now be found within Thargoid-controlled systems near the frontlines of the invasion.
Salvaging and then safely recovering Black Boxes and Escape Pods, obtaining and delivering Tissue Samples now all contribute towards the progress bar and resist the invasion in the location they were collected, when handed in to a rescue megaship.
Recovering systems that can no longer have their recovery efforts accelerated by player actions will now show 100% completion on the progress bar so that it's clearer where to place recovery efforts.
'Thargoid War' panel now shows the top 5 most progressed (but not completed) systems in each Thargoid state.

Other Highlights

Thargoid Interceptors will no longer stray far from settlement conflict zones – (Uh oh…Good news, bad news? Hard to tell) – Last night we had an interceptor 20 + km away. Is that too far?
Community Corner
Special shout out goes to youtuber JimPlaysGames, a youtuber who's famous in the elite community for his frontier fundamentals (https://www.youtube.com/watch?v=LqhP_e855C4) series.He was showing off his brand new Anaconda to his stream audience, which he bought after returning from years in the black, but didn't realise that he was racking up damage and fines in the docking port until BOOM! I shouldn't laugh (But I did), (https://www.youtube.com/watch?v=y7ySRXO689g&t=6062s)
OPERATION HALCYON – KINGFISHER XENO PEACE MEGASHIP REPAIR INITIATIVE.

Dates: 04 FEB 2023 to 11 FEB 2023 || Start Time: 5:00:00 GMT || End Tlime: 5:00:00 GMT
Location: Hyades Sector YO-Q b5-1, planet B 1, The Kingfisher
Eligibility: Everyone! (Experienced Pilots, Novice Pilots, Beginners, Search & Rescue, etc)
Information Summary: To All Independent Pilots, In conjunction with the Thargoid Advocacy Project, Human-Xeno Connections, Reforge AEGIS, and McCoy Spaceways, YKE Technologies is requesting support for Operation Halcyon, a multilateral repair initiative for the Kingfisher Xeno Peace Megaship
Full Details via the Community Calendar at: www.elitedangerous.com/community/events?event=145

Operation IDA have successfully repelled the Invasion of Dao Tzu: their next target is Pathamon.