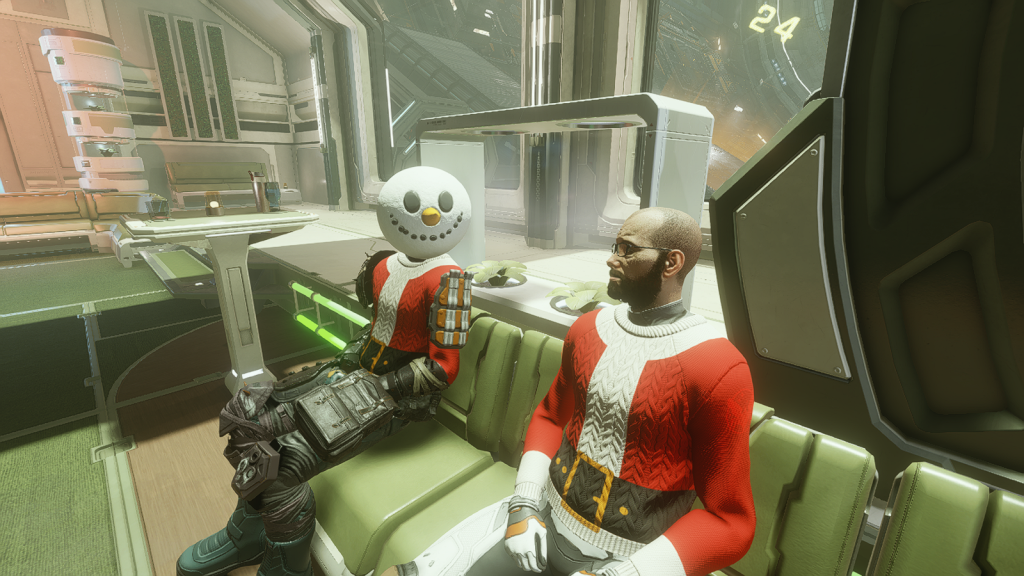 | | | |
| --- | --- | --- |
| Position | Crew Member | CMDR Name |
| 2nd Technician | Chris Forrester | Fozza |
| Chief Bar Steward | Grant Woolcott | Psykokow |
| SRV Banksy | Alec Turner | Alec Turner |
| | | |
| Tech Monkey | Norman MacArthur | Ventura_ |
| Tech (Stunt) Gibbon | Chris Mk IV | Newell Turner |
Download the episode directly from here.
Development News – what have the devs said this week?
In-Game Events – what's happened this week?
15th Dec – Corrs Toy Emporium Calls for Help

15th Dec – Enhanced AX Weapon Update
16th December was Elite Dangerous' 8th Birthday
16th Dec – Final Maelstroms Advance Thargoid Occupation
Store Alert [Store Alert theme]
FESTIVE COUNTDOWN!​

It's back! Our annual Elite Dangerous Festive Countdown begins Tuesday 13 December.

For those not familiar with the Festive Countdown, we have a daily series of Elite Dangerous goodies, from ARX login rewards to special cosmetic releases, shared across our social channels (Twitter and Facebook).

Speaking of login rewards…

Seasons greeting gestures of ARX login rewards will be available daily from December 13, as part of the Elite Dangerous festive countdown!
Festive Countdown 'Daily Login ARX Bonus' Information:
Only available via the Live (4.0) Galaxy. Rewards are not available on Legacy (3.x).
Players must load into a Game Session ('Open Play'/'Private Group'/'Solo').
Players do not have to have logged in on previous days to receive the current day's reward.
Chrome and gold Skins (Including the Adder Skin 🙂)

Main Discussion
What's new in the game for the returning commander
Community Corner
Elite Dangerous: When you have a high access level – The Highwake knocks it out of the park again!
Cmdr LCU has updated his Screenshot addon for the excellent Elite Dangerous Market Connector.
Any other business
Thargaid – https://www.justgiving.com/page/thargaid
The Dex Legacy News – Congratulation to Emily Inkpen and the Team behind The Dex legacy for reaching 25k Downloads
Good Luck to Principal Community Lead Arf and best wishes ahead of his wedding tomorrow.
Shoutouts
While the team on Dex Island take a well earned break before their series 2 return, there's plenty of material to fill the void. Point your auto assistant to your favourite podcast app – including Spotify and audible – and search The Dex Legacy. There you'll find bonus edition interviews with cast members and with the writer, Emily Inkpen! There's also plenty of bonus materials and merch at www.thedexlegacy.com! All proceeds go towards the making of season 2!
Our sister station, Hutton Orbital Radio, Broadcasts on Thursdays from 20:30. You can tune in at twitch.tv/huttonorbitaltruckers or, for just the audio, at radio.forthemug.com/.
For the discerning Commander who likes a bit of CQC action, check out the CQC Discord at "discord.me/elitedangerouscqc".
We're also giving a shout outs to the following Elite Dangerous podcasts which have appeared over the last year or are standard regular contributors;-

The Guard Frequency (who do other space games )

Following this we have the latest Galnet News Digest as provided by Cmdr Wotherspoon and Cmdr BeatleJude.
Thanks to those who have chipped in on Twitch chat and in-game commanders
Special Thanks to Cmdr ToCoSo, Jn Tracks and Allen Stroud who created the music used on the Show.