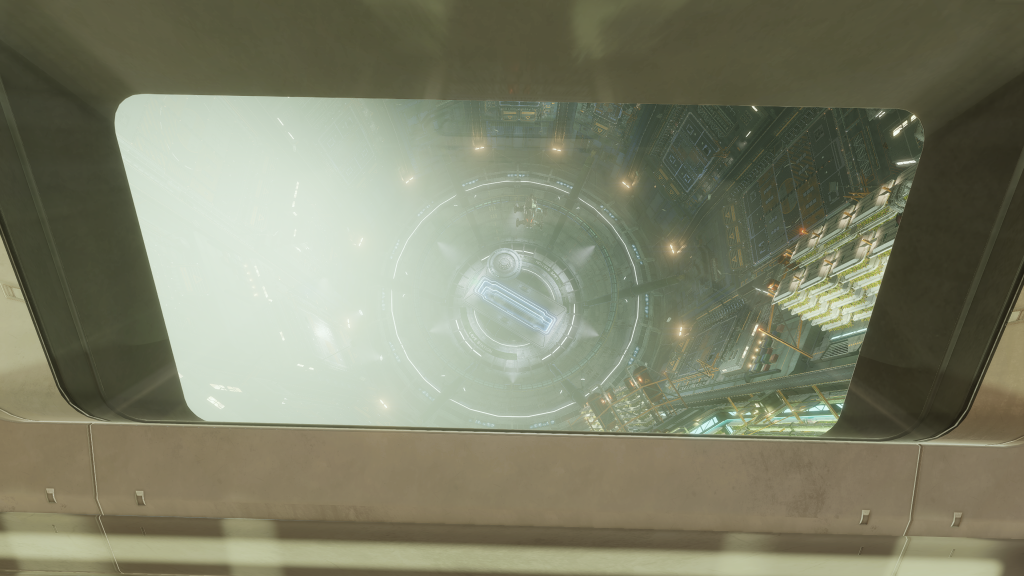 | | | |
| --- | --- | --- |
| Position | Crew Member | CMDR Name |
| Head of Health and Safety | Ben Moss-Woodward | Eid LeWeise |
| Staff Liaison Officer | Clare Good | Psykit |
| Chief Archivist | Colin Ford | Phoenix_Dfire |
| Banksy Stunt Diver | Alec Turner | Alec Turner |
| | | |
| Tech Gibbon | Chris Mk IV | Newell Turner |
| | | |
| Alumni | | |
| 2nd Technician | Chris Forrester | Fozza |
Download the episode directly from here.
In-Game Events – what's happened this week?
15th Dec – Enhanced AX Weapon Update
CG Completed – Independent pilots have been tasked with establishing a manufacturing base at select locations in the core systems. Thanks to these focused efforts, the following weapons are now available for purchase:

Enhanced AX Multi-cannon (Turreted)
Enhanced AX Missile Rack (Turreted)
Enhanced AX Multi-cannon (Fixed)

These modules are offered at all rescue megaships, which can be found using the Galaxy Map filter. Ships looking to engage Thargoid forces are advised to equip these weapons, particularly in Maelstrom systems where Guardian-based technology has proven ineffective.
19th Dec – The Supercruise Factor – Thargoids now pulling Cmds from in system Supercruise as well as from Hyperspace. Begin to fire immediately.
20th Dec – The Voice of the Empire – Crowds starting to protest about Thargoids – Emperor Arissa Lavigny-Duval appears , gives speech calms them down.
26th Dec – Winters: 'Federation Must Protect Independents' – Shadow President Felicia Winters Says to protect the independents is to protect ourselves. Each Independant system we leave to fall brings that Thargoid threat one step closer to our own doorstep.
27th Dec – The Time for Aegis? – Call for Aegis to be brought back by the super powers. Federation and Alliance faction seem up for it but Empire are still being Isolationist. Even two super powers backing Aegis would be better than what is currently occurring.
28th Dec – It's not in Galnet Website but FD know about it!

In the first of a three-part series of articles, the historian Sima Kalhana reviews the key events of the past year.

"3308 began with the announcement that the Alliance and Sirius Corporation had agreed an anti-xeno strategic defence pact. This controversial decision would face many challenges before it was ratified, including armed rebellion in the Reorte system."

"One of the pact's driving forces was the loss of Aegis, disbanded following the publication of the Baumann Report. Even the rediscovery of the lost megaship Alexandria could not prevent Aegis's shutdown, despite evidence that it had been raided by agents with ties to Azimuth Biochemicals."

"The superpowers began establishing their own anti-xeno taskforces and research projects. But their focus was on the mysterious scientist named Salvation, who was developing a superweapon that promised great victories against the Thargoids."

"In February, the atrocities of the Neo-Marlinist Liberation Army (NMLA) were finally halted. A cabal of Imperial senators named the Lords of Restoration were exposed as its masterminds, planning to oust the Duvals and grant executive power to the Senate."

"This came with the shock discovery that Emperor Arissa Lavigny-Duval had been abducted by the Lords of Restoration over a year ago, replaced by a virtual doppelganger communicating via Imperial Intelligence channels. The private military firm Darkwater lnc, which had trained the terrorists, was wiped out in the Battle of Summerland. This victory was notable for ending the NMLA threat and returning Arissa to the throne."

"There was also drama within the Federation, as President Zachary Hudson proposed to remove the fixed term limit for presidents. This would allow him to stand for re-election in 3309. The Hudson Contravention brought public unrest, which only calmed when Congress decided to postpone their vote. It remains an outstanding issue, even as a presidential election year approaches."

"March saw the completion of the Colonia Bridge, after several multi-stage initiatives. Starports and stationary megaships now formed a permanent travel corridor from the core systems to the distant Colonia region."

"The Thargoids emerged again in April with the invasion of the Didio, Novas and Sosong systems. This brought an opportunity for the superpowers to work together with Salvation. Interviews with Jade Sanderlyn provided insights into each superpower's approach. Within mere months, their reliance on Salvation would lead to an event that altered the course of history."

30th Dec – A Retrospective of 3308 (Part Two)
3rd Jan – A Retrospective of 3308 (Part Three)
3rd Jan – AZIMUTH CONDUCTS AX WEAPONS RESEARCH
The corporation Azimuth Biotech has outlined its plans to support the war effort against the Thargoids by improving ship anti-xeno firepower.
CEO Torben Rademaker was interviewed and explained that the biggest limiting factor of AX weapons is the number you can install on your ship, suggesting that new improvements will see this being rectified.
War Progress!

329 systems are now lost to thargoid control (Up from 245)
28 are currently in invasion state.
51 are in an alert state.
The AXI have manages to save HIP -28866 from thargoid invasion, with possibly Gabia and Nahil being saved by thursday. Sythica seems impossible to save at the moment and Phoenix_dfire's Efforts in HIP 20719 doesn't look as if it's going to make it either.
Operation IDA have been researching the post Thargoid recovery and aren't too happy about it. We can jump the calculations but it's there for completeness

Hypothesis:

The progress bar for Post-Thargoid Recovery is automatic.
The system is designed with preset intervals of time so that the bar is filled by the end of the full 4-week timer.
The speed at which the bar is filled is not impacted by the number of repair missions completed or supplies delivered.

Explanation for hypothesis:

50 total "chevrons" in progress bar
Total recovery timer: 4 weeks
4 * 7 days = 28 days
28 * 24 hours = 672 hours
672 / 50 chevrons = 13.44 hours per chevron

Evidence:*

Consistent period of time (≈13 hours) documented between chevron increases with <100 tons of mission cargo delivered.
Consistent period of time (≈13 hours) documented between chevron increases with >150,000 tons of mission cargo delivered.
Consistent period of time (≈13 hours) documented between chevron increases with >1,000,000 tons delivered and >2,800 repair missions completed since begining of recovery state.
8 additional recovery systems, added at the start of the second week, all progressing concurrently at the same rate of time.**

Theory:

A chevron should appear every 13.44 hours (13 hours, 26 minutes, and 24 seconds), regardless of level of work completed.
All data compiled from tracking done in HIP 23716. See the Data and Screenshots tabs on linked spreadsheet for further evidence.
Timing may vary from math provided above due to initial progress bar on each system starting with 1 chevron instead of 0.
Store Alert
Say goodbye to the Christmas skins…. (Did anybody buy any?)
Main discussion (Stolen by Alec verbatim from the Buur Pit)
release date.
February – still very quiet, Buckyball Magic 8-Ball championship starts
March – update 11, fleet carrier interiors (and jump sequence), announcement of console cancellation for Odyssey
April – renewed comm's from Frontier, twitch drops, Zac's community event calendar launched
May – FD "roadmap" incl. schedule for updates 12-14 + revamp to existing key game feature in early 2023, console account transfer described
June – update 12 (illegal settlement defence mission + doing stuff while remaining seated + last big look at performance optimisations), Wych Hunt anti-Salvation community CG initiative to wipe Azimuth off the map
July – Wych Hunt made lore, LAVECON!!!, HIP 22460 gets interesting with permit locks, etc (including Disembowled Ego SRV yeet)
August – update 13, Proteus Wave cut scene + HIP 22460 transformation, Salvation dead? DBOBE steps down as FD CEO, a stargoid is born
September – more stargoids, end of Magic 8-Ball
October – spooky season, CM's "kidnapped" on livestream, treasure hunt to solve the mystery, even more stargoids
November – 10th anniversary of kickstarter, update 14 and the arrival of Taranis, it's WAR!
December – more WAR! 7 more stargoids
Future updates of 15 and 16.
Community Corner
Thargaid – Flee from Sol

The Canonn council are delighted to have three members and Dr Arcanonn himself participate in a Christmas musical number this year to raise money for a wonderful charity, Special Effect. Please visit the link below and donate generously. – Currently £2,351
The Music was arranged by Cmdr ToCoSo (Toe Coe Soe) & the video was composed by LCU No Fool
Mostly Clueless
If you type /help in the chat window, it will tell you all the short cuts to
Any other business
Kerbal Space Program and Shadow Tactics – Aiko's Choice Free On the Epic Store from 5th Jan to 12 Jan
Shoutouts
While the team on Dex Island take a well earned break before their series 2 return, there's plenty of material to fill the void. Point your auto assistant to your favourite podcast app – including Spotify and audible – and search The Dex Legacy. There you'll find bonus edition interviews with cast members and with the writer, Emily Inkpen! There's also plenty of bonus materials and merch at www.thedexlegacy.com! All proceeds go towards the making of season 2!
Our sister station, Hutton Orbital Radio, Broadcasts on Thursdays from 20:30. You can tune in at twitch.tv/huttonorbitaltruckers or, for just the audio, at radio.forthemug.com/.
For the discerning Commander who likes a bit of CQC action, check out the CQC Discord at "discord.me/elitedangerouscqc".
We're also giving a shout outs to the following Elite Dangerous podcasts which have appeared over the last year or are standard regular contributors;-

The Guard Frequency (who do other space games )

Following this we have the latest Galnet News Digest as provided by Cmdr Wotherspoon and Cmdr BeatleJude.

No we don't we have Flee From Sol by LCU No Fool Like One and ToCoSo, and Fair wind blows by ToCoSo ( Too Co Sooo?)

Thanks to those who have chipped in on Twitch chat and in-game commanders
Special Thanks to Cmdr ToCoSo, Jn Tracks and Allen Stroud who created the music used on the Show.