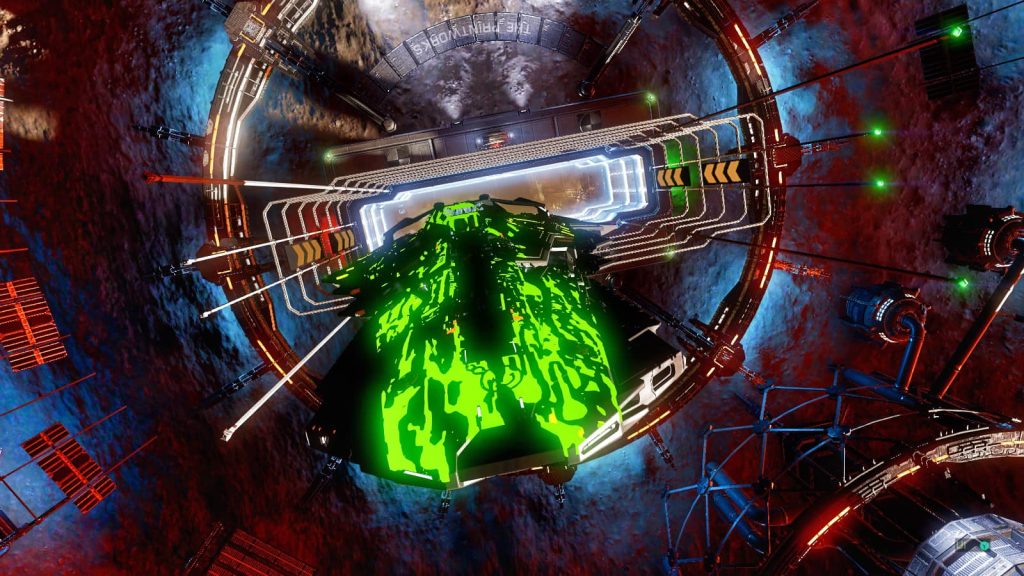 | | | |
| --- | --- | --- |
| Position | Crew Member | CMDR Name |
| Staff Liaison Officer | Clare Good | Psykit |
| Chief Archivist | Colin Ford | Phoenix_Dfire |
| Apprentice Stunt Diver | Alec Turner | Alec Turner |
| | | |
| Tech Gibbon | Chris Mk IV | Newell Turner |
| | | |
| Guests | | |
| Chief Test Pilot | Cmdr kerrash | Cmdr Kerrash |
Download the episode directly from here.
Development News – what have the devs said this week?
https://twitter.com/Zacerhy/status/1576873137634885632
Delighted to say that I'm now a Junior Product Manager here at
@frontierdev working on @F1Manager!

Super excited to get to work with and learn from the brilliant team already on the project and keep moving forwards!
Discovery Scanner – https://www.elitedangerous.com/news/discovery-scanner-03102022
Frameshift Live 18 This Wednesday
Join us on Wednesday at 17:15 BST for a brand new episode of Frameshift Live!
Steam Numbers continue to rise, we're seeing the highest number since February.
One thing we did miss in last week's discussion is that CQC 4.0 Horizons and Odyssey players CAN instance together (apparently it was something they slipped in at the last moment).
In-Game Events – what's happened this week?
28 SEP 3308 – Tesreau Announces Bid to Reform Aegis
29 SEP 3308 – Thargoids Retreat from Three Systems
29 SEP 3308 – Federal Forces Target the True Chapters
29 SEP 3308 – Delivery Campaign Helps Fund Imperial Charity
30 SEP 3308 – Militaries Prepare for Further Thargoid Strikes
30 SEP 3308 – FSS Upgrade to Track Anomalous Signals
03 OCT 3308 – Making the Case for AEGIS
04 OCT 3308 – Gatecrash Drama at Aegis Event
Stargoid update
Store Alert (every second show) [link]
Show the True Chapter cultists you mean business with the Federal Assault Ship Operator paint job! https://twitter.com/EliteDangerous/status/1576616520192598018

Federal Assault Ship Operator Blue
Federal Assault Ship Operator Gold
Federal Assault Ship Operator Green
Federal Assault Ship Operator Pink
Federal Assault Ship Operator Red
Federal Assault Ship Operator Teal
Main discussion
Old ships – do they have a place in Elite Dangerous? Pt II
As someone on the forums pointed out, it is now 4 years since we last had a new ship. So we're going to look over the old ships and see if any of them are relevant or has their original role already been taken by existing ships-

Alec's forum questionnaire – If Frontier were to add a new ship, give three attributes of that ship (and they can be anything from aesthetics to specific ship stat's) that you'd like to see in that new ship.

Northpin response to that: It seems to me that you want a B-Wing the size of a Panther Clipper… or at least Beluga sized.
Angusmadmac1: A decent medium imperial ship, Speed and shields for general sneakyness ? Or a modular ship like thunderbird 2 or like space 1999 eagles ?
EdsUp: Me personally I would love all the "Ships of Elite" which basically equates to Elite 1-3 ships in ED, yeah I know its a huge undertaking but I do believe that the new ships would make the game so varied that it would give everyone something to play the game again for.
Community Corner
Flight Assist taking an indefinite hiatus.
The Ballad of Gnosis Gin by the Buurs and Cannon

To be read during the intro music in a Cowboy accent
"a Stranger in a bar recounts his tail of woe"

Buckyball results

Last Gasp results – https://forums.frontier.co.uk/threads/608364/page-10#post-9961993
8-Ball championship results – https://forums.frontier.co.uk/threads/596981/page-6#post-9962824

New chapter in the Sanctimonious Stories :- https://forums.frontier.co.uk/threads/sanctimonious-ongoing-3306.559152/post-9946098
CQC- Discord have a couple of regular events;-

The Plasma-Challange every Tuesday from 18:00-20:00 UTC (so it's just before our show). Taking advantage of the 4.0/Odyssey crossplay in CQC.
Tactical-Thursday on (surprise surprise) every thursday between 18:00 and 20:00 UTC, also in 4.0/Odyssey crossplay.

The AXI have started Operation Blot – i.e. Take out those thargoid loving hippies in the Far God cultists
Any other business
D-2 information released by Teserau – Project Seraph Victim Seeks Revenge
Shoutouts
While the team on Dex Island take a well earned break before their series 2 return, there's plenty of material to fill the void. Point your auto assistant to your favourite podcast app – including Spotify and audible – and search The Dex Legacy. There you'll find bonus edition interviews with cast members and with the writer, Emily Inkpen! There's also plenty of bonus materials and merch at www.thedexlegacy.com! All proceeds go towards the making of season 2!
Our sister station, Hutton Orbital Radio, Broadcasts on Thursdays from 20:30. You can tune in at twitch.tv/huttonorbitaltruckers or, for just the audio, at radio.forthemug.com/.
For the discerning Commander who likes a bit of CQC action, check out the CQC Discord at "discord.me/elitedangerouscqc".
We're also giving a shout outs to the following Elite Dangerous podcasts which have appeared over the last year or are standard regular contributors;-

The Guard Frequency (who do other space games )

Following this we have the latest Galnet News Digest as provided by Cmdr Wotherspoon and Cmdr BeetleJude.
Thanks to those who have chipped in on Twitch chat and in-game commanders
Special Thanks to Cmdr ToCoSo, Jn Tracks and Allen Stroud who created the music used on the Show.