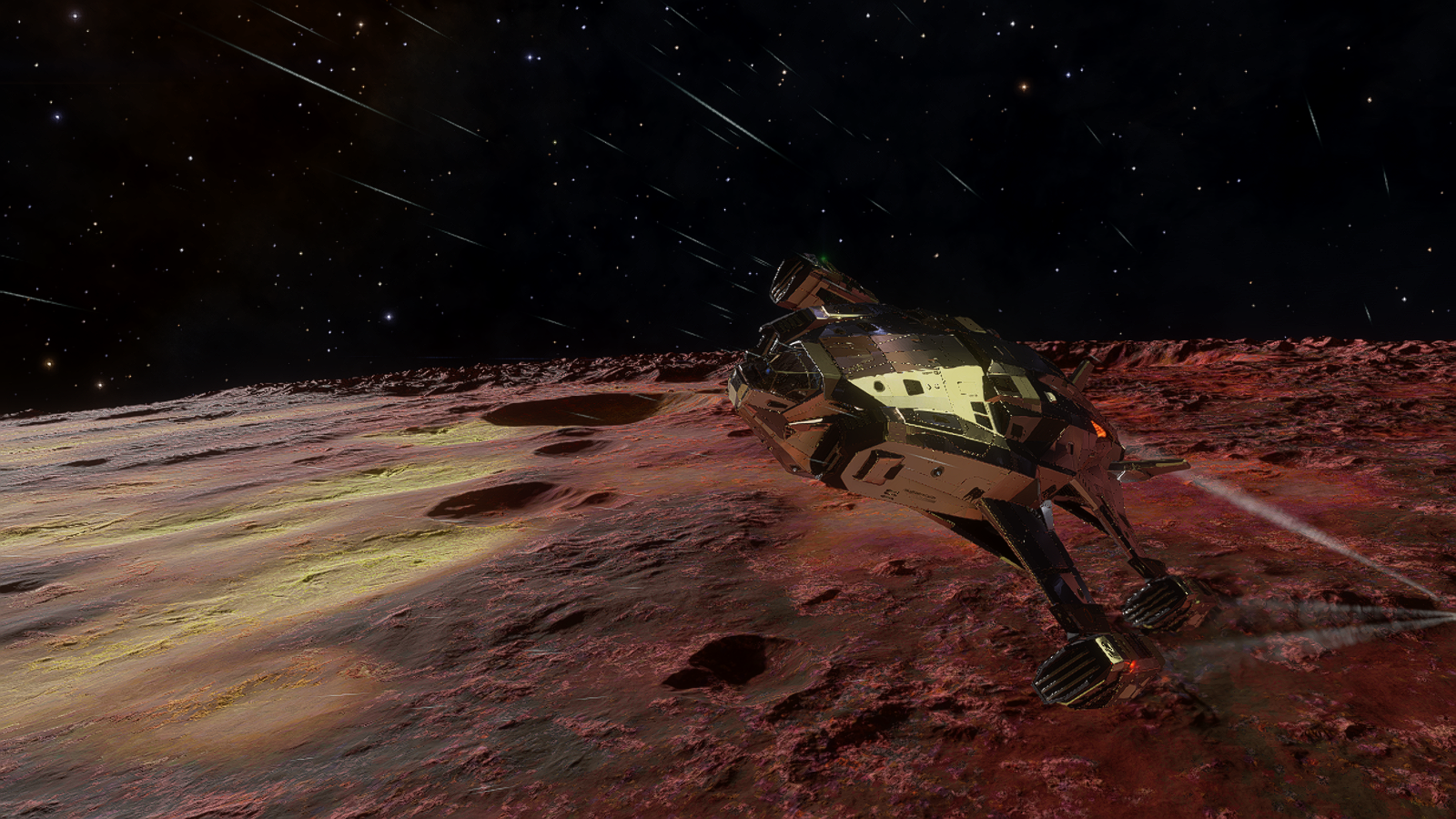 | | | |
| --- | --- | --- |
| Position | Crew Member | CMDR Name |
| Head of Health and Safety | Ben Moss-Woodward | Eid LeWeise |
| Staff Liaison Officer | Clare Good | Psykit |
| Chief Archivist | Colin Ford | Phoenix_Dfire |
| (in)Human Resources Director | Shan | Shan |
| | | |
| Tech Sloth | Jan Chlupacek | Poutnik Santiago |

Download the episode directly from here.
Development News – what have the devs said this week?
In-Game Events – what's happened this week?
1st June 3308 – The Plot to Depose Archon Delaine
2nd June 3308 – Relaunching the Golconda – CGs
3rd June 3308 – Aegis: 'Arrest Salvation for Murder'
AXI – All thargoid sites have been cleared.
Operation IDA – Finished all Repairs.
Spoiler Alert. – Extra Plot – Quarantine Site UC-001
Store Alert (every second show) [link]
Mamba Crossfire skins :- Red, Green, Blue, Grey, Brown and black.

Community Corner
Buckball this week?
Ghost Giraffe and Burrs have been running the CG.
Top Shift was trying to get a Billion Credits in an hour.
Flight Assist pride merch drop for ILGA World – https://flight-assist.creator-spring.com/
Elite Dangerous: Secret Chat – The High Wake
Mostly Clueless
In Odyssey, Interstellar factors work slightly differently from Horizons.
Any other business
The Kickstarter for Spidermind Games' 3rd Instalment of Legendary Kingdoms goes live next Tuesday (14th June 2022), you can get a sample of book Three called "Pirates on the Splintered Isles" by visiting https://kickstarter.spidermindgames.com/signup/
Introversion Software who made Prison Architect are making a new game called "The Last Starship"
Shoutouts
The next episode Of The Dex Legacy – Episode 3 – The Firm, will Premier on Lave Radio next week (14/06/2022) at 20:00. For more information on The Dex Legacy goto thedexlegacy.com
Our sister station, Hutton Orbital Radio, Broadcasts on Thursdays from 20:30. You can tune in at twitch.tv/huttonorbitaltruckers or, for just the audio, at radio.forthemug.com/.
For the discerning Commander who likes a bit of CQC action, check out the CQC Discord at "discord.me/elitedangerouscqc".
We're also giving a shout outs to the following Elite Dangerous podcasts which have appeared over the last year or are standard regular contributors;-

Algorab AM: An Elite Dangerous Podcast
Cannon Podcast
For Spanish Speakers there is the Elite Cast
The Guard Frequency (who do other space sims)

For those who want a literary discussion about Sci-fi and fantasy books. Please subscribe to the Dataslate podcast created by station commander Allen Stroud.
Following this we have the latest Galnet News Digest as provided by Cmdr Wotherspoon and Cmdr BeatleJude.
Thanks to those who have chipped in on Twitch chat and in-game commanders
Special Thanks to Cmdr ToCoSo, Jn Tracks and Allen Stroud who created the music used on the Show.