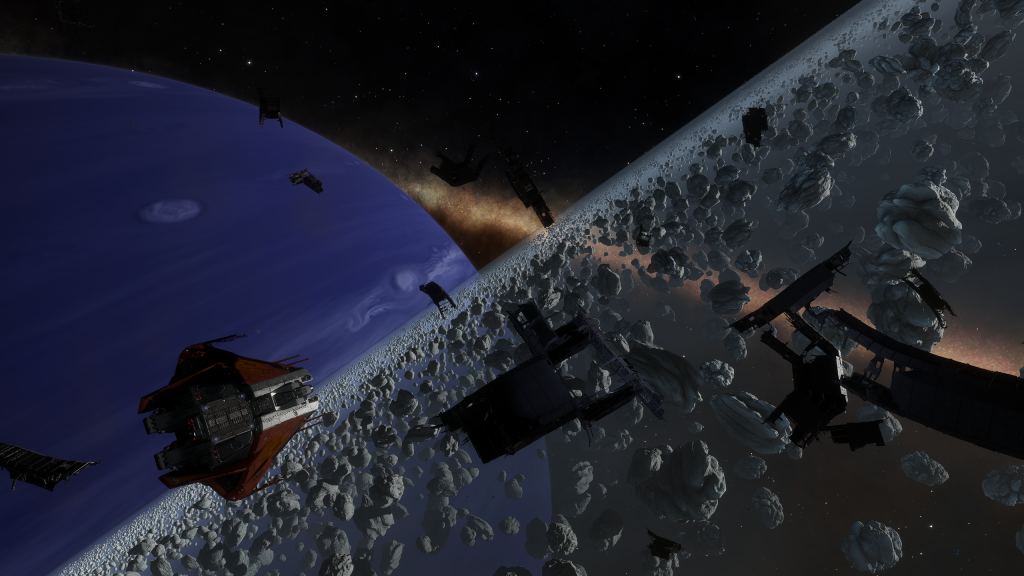 | | | |
| --- | --- | --- |
| Position | Crew Member | CMDR Name |
| Head of Health and Safety | Ben Moss-Woodward | Eid LeWeise |
| Chief Archivist | Colin Ford | Phoenix_Dfire |
| (in)Human Resources Director | Shan | Shan |
| Moral Officer | John Virgo | Kerrash |
| Tech Gibbon | Chris Mk IV | Newell Turner |
Download the episode directly from here.
Development News – what have the devs said this week?
0.05% of the galaxy explored so far
⭐ Explored Star systems: 222,083,678
Milky Way Approximately 0.05% of the galaxy explored so far.

Monday – Update 10 coming on Tuesday

We can appreciate the waters feel pretty still right now but we are here – promise – we've just had quite an eventful few weeks so far getting the Galaxy aligned, ready for the year ahead.
For those with questions regarding the release of the latest, much anticipated FSD reward from that awesome result of a Community Goal, we'll have solid news on it very shortly, here in the Forums.

Update 10 – Odyssey and Horizons

An issue when running with the cutting tools was fixed. Although, our mothers still advise against it – Ben
[Twitch: cmdrTerekhov] So Update 10 from a rats perspective – Navlock bug stated as fixed but not, Limpet restock bug seems fixed, now there seems to be bug with Friend requests in Ody generating Yellow adders!!!
In-Game Events – what's happened this week?
The wreck of the Alexandria has been found in the system: Wregoe TC-X b29-0 (dd 500 ly from Lave)

The Ghost of Captain Morales?
Wregoe TC-X b29-0 AB 2 A
Newsletter (every second show) [link]
No newsletter but if you want some bee/wasp like pythons, they're there for the taking!
Main discussion
Why Players Quit MMOs Part 2

Anything else on the new player experience and potential griefing?
reputation – well that's taken a serious hit over the last seven months.
For the long term players – running out of things to do.

Update 10
Community Corner
Shoutouts
Our sister station, Hutton Orbital Radio, Broadcasts on Thursdays from 20:30. You can tune in at twitch.tv/huttonorbitaltruckers or, for just the audio, at radio.forthemug.com/.
For the discerning Commander who likes a bit of CQC action, check out the CQC Discord at "discord.me/elitedangerouscqc".
We're also giving a shout outs to the following Elite Dangerous podcasts which have appeared over the last year or are standard regular contributors;-

Algorab AM: An Elite Dangerous Podcast
Black Sky Legion (who also do other space sims as well as 'RL' science and tech bits)
Cannon Podcast
For Spanish Speakers there is the Elite Cast
The Guard Frequency (who do other space sims)

For those who want a literary discussion about Sci-fi and fantasy books. Please subscribe to the Dataslate podcast created by station commander Allen Stroud.
Following this we have the latest Galnet News Digest as provided by Cmdr Wotherspoon and Cmdr BeatleJude.
Thanks to those who have chipped in on Twitch chat and in-game commanders
Special Thanks to Cmdr ToCoSo, Jn Tracks and Allen Stroud who created the music used on the Show.