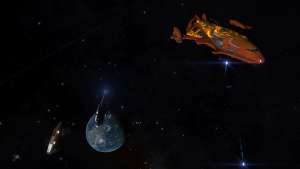 Rolling a Natural 6 after penalties
Aired 3 Jul 2018
Audio versions
Download the episode directly from here.
---
Crew Members
Head of health and safety : Ben Moss-Woodward – Cmdr Eid LeWeise
Head of Entertainment : Chris Jarvis – Cmdr Thane
Chief Archivist : Colin Ford – Cmdr phoenix_dfire
Chief Bar Steward : Grant Woolcott – Cmdr Psykokow
(In)Human Resources Director : Shan – Cmdr Shanaeri
Lavian Space Program Director : Andy Barnes – Cmdr Kurgol
The Mind of the Spiders : Jon Lunn – Shocken-Orr
Show Notes
Development News

In Game Events

IDA reports the repair bug which has been plaguing their efforts in the Pleiades has been fixed and so are redoubling their efforts to take repair.
Anti-Xeno-League and Cannon have reported that the Eagle Eye Network is pointing at Deciat, Large amount of Non Human USS's have been spotted in the system. However, the AGEIS Megaships are nowhere near it, so the High Paying Thargoid Massacre missions won't count in the defense of Deciat. If we lose this system, do we lose the Engineer as well as the station?

Main Discussion

3.1 Initial Impressions?
Bugs and Issues – Bedding in Period.
Three new types of Thargoid Scouts in 3.1; –

Berserker Blood Red Colour- Emits a pulse that gives a dmg buff to nearby scouts
Regenerator Cyan- Emits a pulse that heals near by scouts
Inciter Another shade of red!!! – coordinates simultaneous caustic missile strikes

New ground installations to do with plot;-

Dominic's Corner (Aegis base?) – Pleiades Sector GW-W c1-15 – 12 a
Scrump Landing – Pleiades Sector JN-S b4-3 – 2
Site 94    – HIP 19284 – A 2 d
Sharpe Works – Pleiades Sector IC-U b3-1 – 1
Betterton Outpost – HIP 19792 – C 2
Comms Facility 89563 – HR 1172 – A 5 b
Penal Colony BV-2259 (Warning: Turrets!) – HIP 16217 – AB 1 a
Research Base LV 8 – HIP 17403 – A 4 a
Research Base KG-3362 – Pleiades Sector HR-W d1-17 – 1 a

However some Planetary Installations are suffering from Bugs and have been temporarily removed;-

Military Installation LFT 926
Security Installation Izanagi
Military Installation Gridge
Security Installation Mandhrithar
Military Installation Coeus
Military Installation Los
Military Installation Randgnid
Colonia Bastion Colonia
Skulmoor Keep HIP 33368
The Golkonda Polevnic
The Sentinel Pleiades Sector IR-W d1-55

Community Corner
Shoutouts

EDWTRB – Elite Dangerous Website for those who are Looking for a Wing, A Role Play Group, Someone to trade rare goods with or someone to set a bounty on.
Cmdr Drakins from the East India Company for helping us stockpile Lavian Brandy on Monday whilst LRN was between Lockdown and Civil Unrest.

"Certain Alliance factions" who don't like LRN having Lave are actively murdering our ships which is causing these states. We're doing what we can to counter it, but they seem to be insisting on locking Lave Station down, removing the brandy and stopping ppl from unlocking Didi Vatermann in Leesti.
On Monday as we were between states we helped to resupply the EIC and if listeners need brandy to unlock the engineer whilst supplies are low then contact Cmdr Eid LeWeise or Cmdr Whoeva in game and we can help you out.
EIC have asked us to let commanders know that most trades will take place within 24-48 hours depending on the availability of the goods and our traders.