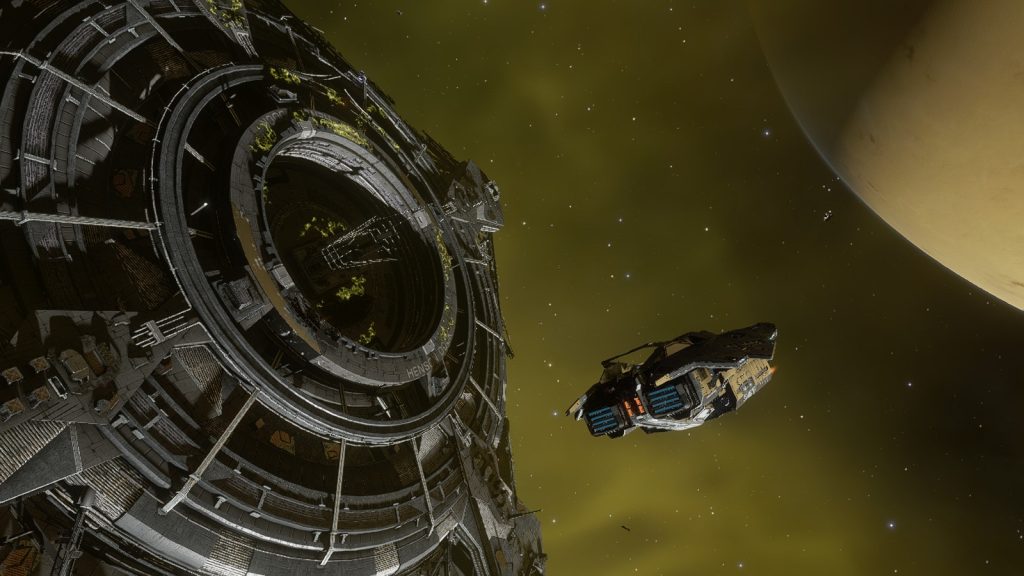 | | | |
| --- | --- | --- |
| Position | Crew Member | CMDR Name |
| Head of Health and Safety | Ben Moss-Woodward | Eid LeWeise |
| Staff Liaison Officer | Clare Good | Psykit |
| Chief Archivist | Colin Ford | Phoenix_Dfire |
| Apprentice Stunt Diver | Alec Turner | Alec Turner |
| | | |
| Tech Monkey | Norman MacArthur | Ventura_ |
| | | |
| Guests | | |
| Creative God | Tom Cook | Cmdr ToCoSo |
Download the episode directly from here.
Tonight's activity in-game
Ben – will try to be in Hyades Sector FB-N b7-6 … but it sounds scary and dangerous
Development News – what have the devs said this week?
In-Game Events – what's happened this week?
Wed 23rd Nov – PRAISE FOR THE PRO-PEACE PROJECT

Heimar Borichev (deputy editor of The Sovereign newsfeed) has "fallen ill unexpectedly" So… no Congressman Dalton Chase or Heimar on the Kingfisher and it's just "volunteers"…
Thursday 24th Nov – KINGFISHER MEGASHIP VANISHES

Video showing the logs (4m30)

Friday 25th Nov – XENO-PEACE SUPPORTERS KILLED BY THARGOIDS
Monday 28th Nov – MILITARIES ON ALERT AS TARANIS APPROACHES
Tuesday 29th Nov – Vista Genomics Boosts Biodata Payouts
Store Alert
Midnight Black

Scorpion
Mamba
Chieftain
Fed Fighter
Clipper
Courier
Imp Fighter
Taipan
Type 10
Beluga
Scarab
Anaconda
Fed Corvette
Imp Cutter
Stygian Blue, Brass, Green, Purple, Red and Tungsten for all ships
Main discussion
New System States

Thargoid Alert
Thargoid Invasion
Thargoid Controlled
Thargoid Maelstrom
Post Thargoid Recovery
Thargoid Scanning ship "Orthrus" comes and sniffs about, if you piss it off grasses on you…

Orthrus "a two-headed dog who guarded Geryon's cattle and was killed by Heracles. He was the offspring of the monsters Echidna and Typhon, and the brother of Cerberus, who was also a multi-headed guard dog.
Community Corner
Any other business
Ben: https://mapoftheuniverse.net/

It's a map of the (visible) universe (as we currently know it) duh 🙂

ToCoSo is doing "a thing"
Star Wars squadrons is free on the epic store.
Shoutouts
While the team on Dex Island take a well earned break before their series 2 return, there's plenty of material to fill the void. Point your auto assistant to your favourite podcast app – including Spotify and audible – and search The Dex Legacy. There you'll find bonus edition interviews with cast members and with the writer, Emily Inkpen! There's also plenty of bonus materials and merch at www.thedexlegacy.com! All proceeds go towards the making of season 2!
Our sister station, Hutton Orbital Radio, Broadcasts on Thursdays from 20:30. You can tune in at twitch.tv/huttonorbitaltruckers or, for just the audio, at radio.forthemug.com/.
For the discerning Commander who likes a bit of CQC action, check out the CQC Discord at "discord.me/elitedangerouscqc".
We're also giving a shout outs to the following Elite Dangerous podcasts which have appeared over the last year or are standard regular contributors;-

The Guard Frequency (who do other space games )

Following this we have the latest Galnet News Digest as provided by Cmdr Wotherspoon and Cmdr BeatleJude.
Thanks to those who have chipped in on Twitch chat and in-game commanders
Special Thanks to Cmdr ToCoSo, Jn Tracks and Allen Stroud who created the music used on the Show.