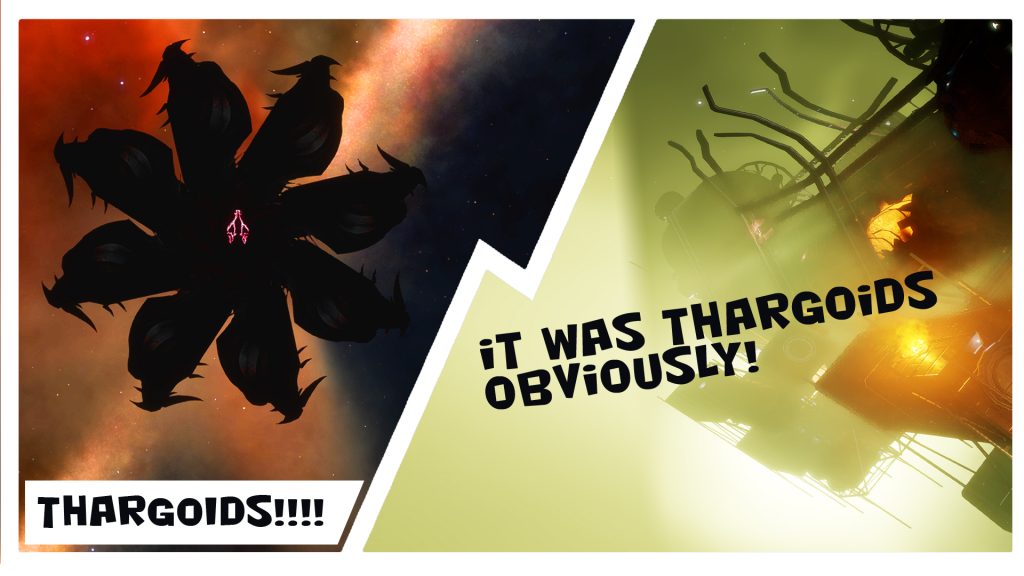 | | | |
| --- | --- | --- |
| Position | Crew Member | CMDR Name |
| Head of Health and Safety | Ben Moss-Woodward | Eid LeWeise |
| Apprentice Stunt Diver | Alec Turner | Alec Turner |
| Station Commander | Allen Stroud | Heldaban Kel |
| Squee in Chief | John Virgo | Cmdr Kerrash |
| | | |
| Tech Monkey | Norman MacArthur | Ventura_ |
Download the episode directly from here.
Development News – what have the devs said this week?
Thursday show Arf and Sally with all the usual and some great chats with LCU No Fool Like One and Grinning Crow
Saturday – 10 year Anniversary of Elite Dangerous Kickstarter!

https://www.bbc.co.uk/news/technology-20165344

Ben's favourite comment "Raxxla" by Jools Day 😀

Monday – Discovery Scanner

On Saturday afternoon (UTC), some Commanders attempting to enter the Galaxy via Steam were facing an issue whereby their Steam login was replaced with the 'purchase/redeem'.

We are aware that this issue has been encountered sporadically before and primarily advise that, should it happen again in the future, that you do not take action against your account linking in order to independently fix the issue but await further information via official Elite Dangerous channels, as to when communication between Steam and the Galaxy has been restored.

Update 14 is still marked for release at the end of November. We would like to reassure you that there is no further change to this schedule as of this week and hope to release a formal date for your diary soon.
In-Game Events – what's happened this week?
Store Alert
Day of the Dead Bobbleheads and Lights
Story of the sugar skulls: https://forums.frontier.co.uk/threads/the-story-behind-each-sugar-skull-bobblehead.610052/
SUGAR SKULL WHITE BOBBLEHEAD

SUGAR SKULL RED BOBBLEHEAD
SUGAR SKULL BLUE BOBBLEHEAD

COCKPIT LIGHTS – SUGAR SKULLS
Main discussion
Alien Round Table

Thargoids – could they become our friends?

Any lore behind their anatomy?
How would they have reacted to the mycoid virus?

Obviously it didn't wipe them all out, so who DID we wipe out?
Are there really factions of Thargoids? Do they care about each other?

Guardians – have they really gone?

What about their AI?

"Classic Aliens" where have they gone?
Community Corner
The High Wake : Elite Dangerous: Explorer Ranks Animated
New Buckyball race (The Trouble With Triples) starts Saturday!
Beetlejude "did a thing" – "The Tharg Star"
Mostly Clueless
Thargoid Ground bases need probes etc to open them… Alec's tip is to drop your probe on the floor…. It might keep the door open and then you can get your SLF into the Thargoid Base
Shoutouts
While the team on Dex Island take a well earned break before their series 2 return, there's plenty of material to fill the void. Point your auto assistant to your favourite podcast app – including Spotify and audible – and search The Dex Legacy. There you'll find bonus edition interviews with cast members and with the writer, Emily Inkpen! There's also plenty of bonus materials and merch at www.thedexlegacy.com! All proceeds go towards the making of season 2!
Our sister station, Hutton Orbital Radio, Broadcasts on Thursdays from 20:30. You can tune in at twitch.tv/huttonorbitaltruckers or, for just the audio, at radio.forthemug.com/.
For the discerning Commander who likes a bit of CQC action, check out the CQC Discord at "discord.me/elitedangerouscqc".
We're also giving a shout outs to the following Elite Dangerous podcasts which have appeared over the last year or are standard regular contributors;-

The Guard Frequency (who do other space games )

Following this we have the latest Galnet News Digest as provided by Cmdr Wotherspoon and Cmdr BeatleJude.
Thanks to those who have chipped in on Twitch chat and in-game commanders
Special Thanks to Cmdr ToCoSo, Jn Tracks and Allen Stroud who created the music used on the Show.