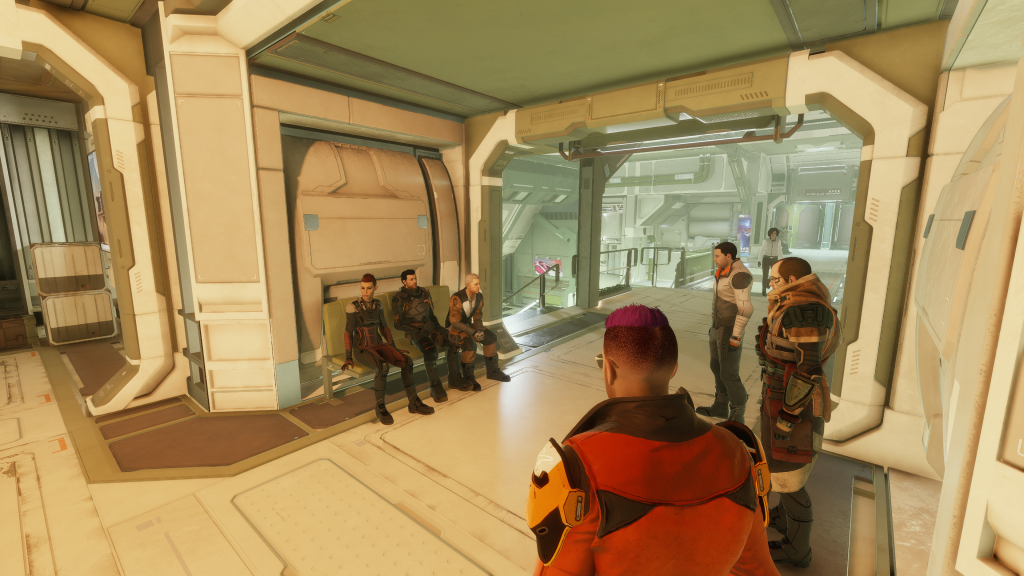 | | | |
| --- | --- | --- |
| Position | Crew Member | CMDR Name |
| Active Crew | | |
| Head of Health and Safety | Ben Moss-Woodward | Eid LeWeise |
| Staff Liaison Officer | Clare Good | Psykit |
| Chief Archivist | Cologne Fjord | Phoenix_Dfire |
| Wanna Be Imp | Mack Winston | Alec Turner |
| Tech Monkey | Norman MacArthur | Ventura_ |
Download the episode directly from here.
Development News – what have the devs said this week?
17th Oct – DISCOVERY SCANNER – 17/10/2022
Update 14 and the end of November (We all lost!)
In-Game Events – what's happened this week?
13th Oct – Thargoids Repulsed by Operation Tyndareus
17th Oct – Emperor Celebrates Imperial Strength
Number of Stargoids up to 6 (Cue Emperor's Kackle!)
Store Alert (store adjacent)

Join Arthur, Bruce and Sally this Thursday on Twitch from 16:00 BST, for a Frameshift Live 'Halloween Special', to collect these extra eerie paint job drops!
Main discussion
We've spent like three weeks looking at old ships and bringing them back into the game. But given a blank canvas, what sort of ships would you like to see in the game? ie. are the roles that you would like to see filled, is there something missing that something other than a panther clipper would be able to fill?

Allen – I'd like to see a suite of Alliance ships that fit with the background. They should be repurposed and recommissioned 'uglies'. Would really like to see a modular ship system that allowed people to assemble their own.

Wotherspoon – Alliance megaships are repurposed freighters with guns strapped to the hull. At least a nod to the lore there.
Community Corner
Space Oddity by LCU No Fool Like One and Cannon

Space Oddity: Commander Klassic destroys Canonn's newest Anaconda on its maiden voyake and tries to put the put the blame on LCU No Fool Like One who was entirely blameless for all of this.
With apologies to the estate of David Bowie for butchering Space Oddity
With thanks to Beetlejude and Wotherspoon from Galnet News Digest for some additional footage

On Foot pvp-cz-tournament
CQC Tournaments

Tuesday 18:00-20:00 GMT Plasma Only Fed Fighters
Thurday 18:00-20:00 GMT CTF Night.

Psykit and CrispyTaytortot Charity Stream this Saturday (22nd) raising money for Gamer's Outreach.
Solidarity with Seo – supporters of ReForging Aegis are hosting a gathering to show solidarity with Seo Jin-ae
Mostly Clueless
Card 0:07 second approach, as you get close, watch the speed/distance indicator in the bottom left pane of your HUD. Once the "Speed" indicator is in the blue region, you can forget about the time to target indicator and you can increase your throttle to get there more quickly (as long as your speed remains in the blue area).

Follow up from Shouty – You can also travel at 0:06 secs and save more time…
Shoutouts
While the team on Dex Island take a well earned break before their series 2 return, there's plenty of material to fill the void. Point your auto assistant to your favourite podcast app – including Spotify and audible – and search The Dex Legacy. There you'll find bonus edition interviews with cast members and with the writer, Emily Inkpen! There's also plenty of bonus materials and merch at www.thedexlegacy.com! All proceeds go towards the making of season 2!
Our sister station, Hutton Orbital Radio, Broadcasts on Thursdays from 20:30. You can tune in at twitch.tv/huttonorbitaltruckers or, for just the audio, at radio.forthemug.com/.
For the discerning Commander who likes a bit of CQC action, check out the CQC Discord at "discord.me/elitedangerouscqc".
We're also giving a shout outs to the following Elite Dangerous podcasts which have appeared over the last year or are standard regular contributors;-

The Guard Frequency (who do other space games )

Following this we have the latest Galnet News Digest as provided by Cmdr Wotherspoon and Cmdr BeatleJude.
Thanks to those who have chipped in on Twitch chat and in-game commanders
Special Thanks to Cmdr ToCoSo, Jn Tracks and Allen Stroud who created the music used on the Show.