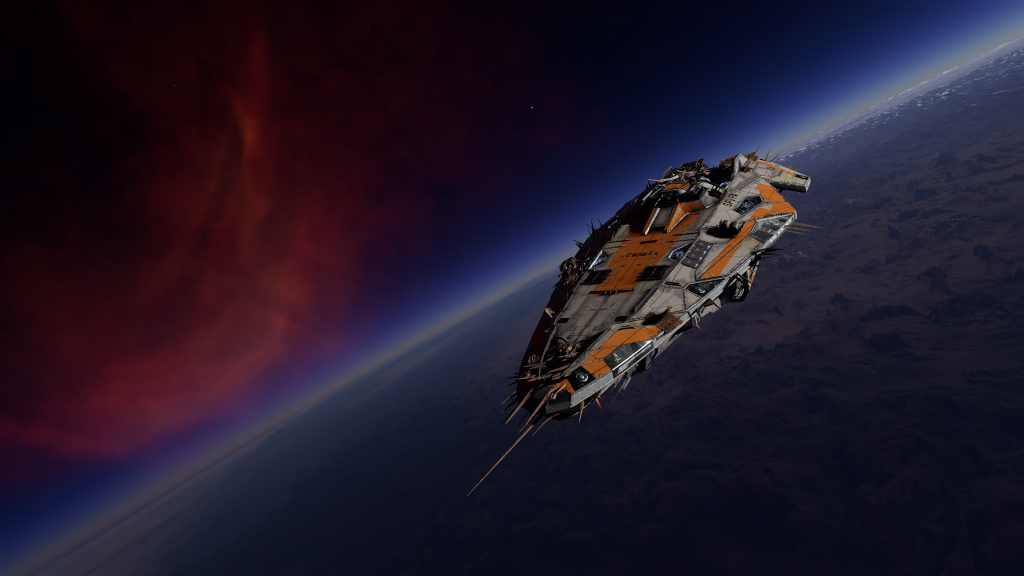 | | | |
| --- | --- | --- |
| Position | Crew Member | CMDR Name |
| Head of Health and Safety | Ben Moss-Woodward | Eid LeWeise |
| Staff Liaison Officer | Clare Good | Psykit |
| Chief Archivist | Colin Ford | Phoenix_Dfire |
| (in)Human Resources Director | Shan | Shan |
| | | |
| Tech Gibbon | Chris Mk IV | Newell Turner |
| | | |
| Special Guests | | |
| | | OrangePheonix |
Development News – what have the devs said this week?
Thursday – Frameshift Live #3

Ben – I loved how FD called the Sirius Supporters the "Sellout Group"
FD are still looking into migrating console into PC

Friday – Elite Dangerous on Twitter: "🎨 Other Commanders won't believe their eyes when you fly by with the new Inconceivable paint jobs! Available now for the Type-8, Krait MKV and the Porpoise!
Monday – Discovery Scanner
In-Game Events – what's happened this week?
Main discussion
Last week we talked about hidden gems, and I thought that this week we should talk about the unsung heroes of Elite – either the 3rd party applications or folks in game that are consistent assets in making our galaxy much more dynamic.

No Brainers

ToCoSo – Thank you for the music!
Beetlejude – Thank you for all the images and generally being a voice of lovely positivity!
Vingetun from the truckers – but also does a lot of work for HCS Voice Packs
Alec Turner

Community Groups

Operation IDA
Hull Seals
Fuel Rats
Rock Rats
Buckyballers
Elite Racers
King Fishers
AXI
Cannon

3rd Party Apps / sites

Slopey's infamous tool
CMDR Garud EliteBGS
Community Corner
Lavecon!

HWS is happy to announce that Lavecon 2022 is taking place on July 16/17th at Kents Hill Park, Milton Keynes.
There are some small changes to the hotel costs, which we need to factor in and the venue itself is quite a different layout. We will be letting you all know the details as soon as we can.
Next steps:

Update the website & social media with details including venue information, maps and access.
Email everyone with a rolled over ticket or previous booking that has not been refunded with details/options.
Email everyone on the HWS mailing list.
Open for new ticket bookings on the website.
We would ask people to be patient while we do all these things, we will get the information out as soon as possible. Please do not email us asking when booking will open or what is happening with your previous booking, we will put out that information when we can.
We will be taking bookings for hotel rooms on the Friday/Sunday nights. Please do not book rooms via our website for this.
Please do email us with any concerns that you think we are not likely to address, but please be patient for a response. If it is being answered publicly we may not give you an individual response. Please do read our website for updates.

Listener Hidden Gems

Cmdr Happy Moon Monkey
Dr Kay's Soul (OrangePheonix)
World of Death (OrangePheonix)
NSP's (OrangePheonix)
Venus in Sunset (OrangePheonix)

Friday – April 1st

Saturday 9th 9:00AM – Sunday 10th 9:00 AM On foot PvP Day – join the discord to find out more https://discord.gg/sg32WJ54wY
Cmdr Yanick

Between this September to November, I shall be organising an epic expedition in #EliteDangerous . It's called the Passage to Andromeda Expedition. Starting in Lave and ending at the closest point to the Andromeda Galaxy – the mysterious Star One…more to come soon!

Elite Dangerous Trade Ranks Animated

The Highwake does it again

How to catch an SRV (plus outtakes)

Alec Turner shows us how to catch an SRV…
Shoutouts
Our sister station, Hutton Orbital Radio, Broadcasts on Thursdays from 20:30. You can tune in at twitch.tv/huttonorbitaltruckers or, for just the audio, at radio.forthemug.com/.
For the discerning Commander who likes a bit of CQC action, check out the CQC Discord at "discord.me/elitedangerouscqc".
We're also giving a shout outs to the following Elite Dangerous podcasts which have appeared over the last year or are standard regular contributors;-

Algorab AM: An Elite Dangerous Podcast
Black Sky Legion (who also do other space sims as well as 'RL' science and tech bits)
Cannon Podcast
For Spanish Speakers there is the Elite Cast
The Guard Frequency (who do other space sims)

For those who want a literary discussion about Sci-fi and fantasy books. Please subscribe to the Dataslate podcast created by station commander Allen Stroud.
Following this we have the latest Galnet News Digest as provided by Cmdr Wotherspoon and Cmdr BeatleJude.
Thanks to those who have chipped in on Twitch chat and in-game commanders
Special Thanks to Cmdr ToCoSo, Jn Tracks and Allen Stroud who created the music used on the Show.