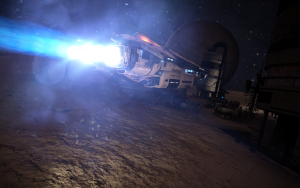 The ships graveyard
Aired 17 Oct 2017
Audio versions
Download the episode directly from here.
---
Crew Members
Director of Pest Control : Ashley Devine – DrToxic
Head of health and safety : Ben Moss-Woodward – Cmdr Eid LeWeise
Chief Archivist : Colin Ford – Cmdr phoenix_dfire
Chief Bar Steward : Grant Woolcott – Cmdr Psykokow
(In)Human Resources Director : Shan – Cmdr Shanaeri
Show Notes
Development News

Main Discussion

Community Corner

INRA Base Mega Thread – Stay away from the file dipping controversy. Also players have found what looks like the remains of a Thargoid scout at the base where maybe the Mycoid virus was used to test . base is Klatt Enterprises at Alnath A2 AA 4.0167 133.54
Obsidian Ant hits 100K subs
Dave Hughes RPG – Elite Encounters Has been APPROVED. It will be released soon (It also means that a version of Colin's Miniatures Has been Approved!!)
Overlay ANYTHING onto elite? Ok, Done! (Windows only, win 95 up to win 10)

DeskPins is an open source application that allows you to "pin" a window so that it remains "on top" of your Elite any full-screen borderless window (does not work with true-full screen)… Perfect for that trip to Hutton Orbital!

In Game Events

Distant worlds 2. Coming Winter 2018 (Director of Pest Control is going exploring again!) Erimus and Dr Kali Arranging a new expedition
Thargoids are evolving again. – Seems they're getting more maneuverable and now have a shut down attack, rendering you immobile while it beats a hasty retreat. (They are learning!!!)
New Weapons – Remote Flak Launcher, Anti Shutdown device coming (See previous point).

Last set of AX upgrades for now.

Shoutouts

L

avecon 2018 – weekend of the 5th June. – Tickets will soon be available.
Game Music Packs .com have teamed up with Obsidian Ant to bring you a very unique music system for Voice Attack providing voice controlled music content for Elite Dangerous.