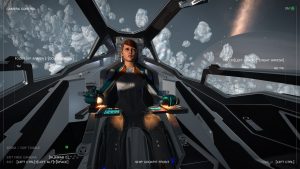 Ed Lewis and Eddie Symons show us some in-game footage from 2.3 The Commanders.
https://www.youtube.com/user/FrontierDevelopments/live
Stream Notes 16th February – Multicrew
Are we looking forward for Multicrew yet?
Stream is live..
Sandro Sammarco, Ed, Sr Designer Barry Clark and Adam Woods
8400 ppl!
Old School Beta – FD are asking us to really get stuck in and give the tires a kick etc
Multicrew

There is a ship name – "Rancorous Bison"
Want to make it accessable for ppl to play together
Want it to be fun

Drop in, drop out
Let's have a mess around in a ship
Extended a lot of 'periphery' features too

Comms Panel – has faces and colours. looks like a text. Also looks like some audio (speculation!)

DM Yello, Wing Blue, White?

Friends list has changes

Icons
Multicrew panel, roles, benefits

Find a crew

Bounty Hunting
Piracy
Mentoring a Player
Can be easily updated by FD
There are rules associated with the roles… i.e. if you choose BH and commit a crime and you will get a warning

Join another ship

Same ideas as above also display availability I.E. 10 ppm are looking for BH

Can directly invite friends
History tab (only avail from in cockpit), shows what you did and with who, can block and make friends from here too.

Show off more of the camera with Sandy's Cmdr
Landing page

Shows you your activity, law, ship name, ship type and want roles your doing

Your Holo-Me gets 'assembled' into the chair

You see a streamlined hud
Extra pip. Can NOT go over the max of 4 pips
Can tab to get the scanner

The Captain is the master of the ship,

power distro
fixed and gimbleed weapons
modules
synthasis
travel, hyperspace, etc
Control over NPC pilot
all star port services
Some restrictions too, i.e. can't sell a turret that someone is in!

Fighter

Can deploy a fighter as in 2.2
Same as fighters
Helm can also launch his fighter so 2 fighters or Gunner can also go in a fighter instead

Can the helm go in a fighter and the crew man fly your main ship???

Gunner

Roles / Gunner
Control over turrets, launchers, defensive modules from the fire groups (does not affect helms)
Essentially two other fire buttons, blue and orange Q
Dynamic camera that shows you all around
Your camera is locked to the world and NOT the ship
Target Markers in the hud
Instant Scanning of targets! Shared with helm and fighter
Can lock someone
Missiles can fire behind you
Same for KWS and Cargo Scanner
Turretted Mining lasers
Zoom
Colors on ship to indicate what guns can see what,

Multicrew session report in the transactions tab
Dolphin is getting some 'abilities' tweaks
Corvette ship kit spotted!
Data link.. .we didn't see that guvner! Says Sandy
No splitting of bounties and kills. This will be carried across to wings too
You can't have multi crews and wings
More changes to SCBs need testing on this too
Stream Notes 14th February – Holo-Me, Camera Suite, The Dolphin and Fisher's Rest
Stream starts in two minutes… The hype train is growing
> 7100 ppl watching!
Ed is asking us to "CALM the hype :D"
They're in an FDL cockpit
Talking about creating your commander "Holo-Me"

Can't access it in Fighters or SRV. Can in FSD
Status Panel – Holo-Me
Can change whenever you want!
Your Holo-Me is in your current ship's cockpit
Everything we see is based off the same base head
Age, Ethnicity, Gender, Hair, Beards, Scars
Looks like we can have a bunch of blemishes
Asymmetry, makes things more 'believable' not "too" beautiful
Lots of hair styles, but no hair is "too long" since we're all pilots in zero g!

A wide, but not infinite selection of hair colours

Eddie gave her a scar over her eye… we can change individual eyes!
Body, Complexion, Hair, Face, Head, Cosmetics are the tabs

SOOOO much choice – we could spend hours doing this!
Looks like we can do more than say Fallout or Skyrim!
Random buttons for sections too if we want!

Make up and Tattoos
We can undo changes
We have the "Ed Lewis" Preset!!!!
Helmets, Always on, Opaque and Transparent
Patches, Left and Right Shoulders, Different (custom) colour flight suits
We can buy custom suits patterns from the FD store 'later'
All this is in 2.3 beta

Camera Suite

Ctrl Alt Space takes to Camera Suit
We can move a loooooong way from the ship
Much smoother than debug cam!
Can show / hide hud
You can lock to your ship and then ship control!
Zoom, Change Focal Distance, Blur effects
Change the camera speed
Defaults

Ship Back
Ship Low
Cockpit Front
Cockpit Back
Cmdr
Co-Pilot

Eddie is flying and shooting his guns whilst in camera! Looks like it is FULL game control!

The Dolphin comes!
MOAR – Notes from Mike Brookes

A "Mega Ship" – Not flyable but we can interact with them
Docking
Emergency Projects
Can be used as a carrier
Fisher's Rest

Multi crew will be demoed on Thursday
Thanks for reading!