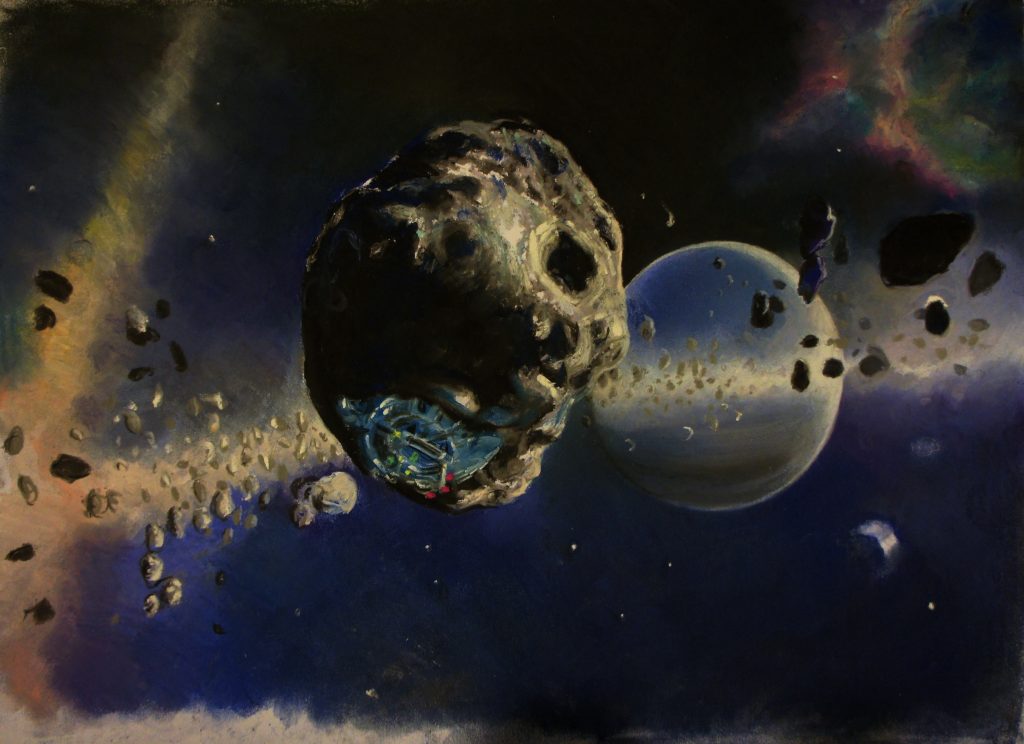 | | | |
| --- | --- | --- |
| Position | Crew Member | CMDR Name |
| Head of Health and Safety | Ben Moss-Woodward | Eid LeWeise |
| Chief Archivist | Colin Ford | Phoenix_Dfire |
| Chief Bar Steward | Grant Woolcott | Psykokow |
| (in)Human Resources Director | Shan | Shan |
| Lavian Space Program Director | Andy Barnes | Kurgol |
| Deputy Trade Attaché | Souv | Souvarine |
| Inflatable Tech Monkey | Norman MacArthur | Ventura |
| Queen of the Con | Karen Fishwick | Polo |

Download the episode directly from here.
Development News – what have the devs said this week?
Monday 16 December 5th anniversary livestream, jam-packed with developer guests, giveaways and the best Elite Dangerous content from the last five years!
Festive Countdown 2019

To show our appreciation, commanders who log in between 13 – 25 December will receive a number of free ARX each day, and the amount will increase the closer it gets to 25 December.
These ARX will be in addition to your weekly cap

Year's End Festivities in Reorte

Bulk Trade : fish, fruit and vegetables, animal meat and beer
Rare Trade : Lavian Brandy, Anduliga Fire Works and Eranin Pearl Whiskey – Was finished on Sunday.
Bounty Hunting
Ends on the 18th
Cobra Mk III Iridescent Gleam Paint Job!

Main Discussion
Review of the year.
Lavecon
Review of the Year

3.4 – People start using the new exploration mechanics in anger with loads of stuff being discovered. Void Opals were discovered to be THE way to make money. Big Boom in the 'Roids!
3.5 – Newbie Area, Advanced Docking Computer, Supercruise Assistant
3.6 – Tutorial, Arx. – Oops!!
3.7 – Beta
Interstellar Initiatives.
Everyone's thoughts on 2019.
Community Corner
Shoutouts
Just a reminder that Loose Screws are having an end of the year Discord party/show. On December 27th at 7:30CST (this is 01:30 on the 28th GMT) They're doing a live stream and show and inviting all listeners and friends of the show. Feel free to drop in and say howdy to everyone.

Discord Server https://discord.io/loosescrewsed

Our sister station, Hutton Orbital Radio, Broadcasts on Thursdays from 20:30. You can tune in at tv.forthemug.com/ or, for just the audio, at radio.forthemug.com/.
For the discerning Commander who likes a bit of CQC action, check out the CQC Discord at "discord.me/elitedangerouscqc".