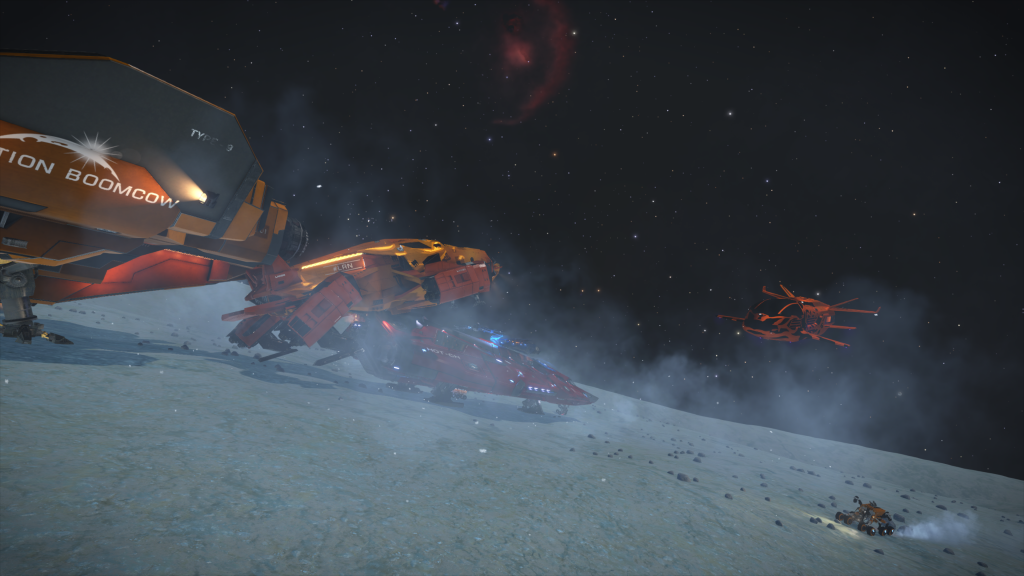 | | | |
| --- | --- | --- |
| Head of Health and Safety | Ben Moss-Woodward | CMDR Eid LeWeise |
| 2nd Technician | Chris Forrester | CMDR Fozza |
| Chief Archivist | Colin Ford | CMDR Phoenix_Dfire |
| (in)Human Resources Director | Shan | CMDR Shan |
| Deputy Trade Attaché | Souv | Cmdr Souvarine |
| Tech Monkey | | Cmdr Ventura |
| Lavecon Minty Goodness | Karen | Minty Polo |

Download the episode directly from here.
Tonight's Lave Radio Network activity in game
Development News
Main Discussion
We have five to maybe seven smaller updates until 2020. Speculation on what they could be.
Community Corner
Sarah Cmdr Symyoulater has a plan to raise awareness for Trans issues through participation in iRacing Leagues. This is the most respected Simulation for motorsports and includes drivers such as Max Verstappen and Lando Norris. She needs your donations to help her to bring her story to a wider audience and break some stereotypes along the way.
Full Stream

On Sunday 2nd June Cmdr Nick Naylor in a Beluga called "The Community of Elite" protested cheats in Elite Dangerous, and the lack of apparent action by Frontier. By… cheating.
Protest Started about 20:00 BST
~ 21:45 he was pushed out of the mailslot by a determined Commander in an Imperial Cutter
21:49 he did a cheat, insta-high-wake from right next to the mailslot to another system (Nuenets)
At no point did he take offensive action against players.
He has turned on invulnerability and other things and is wedged inside the mailslot of Jameson Memorial in Shinrata Dhezra. He's getting shot by players AND the station with no effect…
After the protest, he agreed to voice comms with Cmdr Plater

Sounds very humble
Fully accepts the loss of his Cmdr in to which he's invested > 2000 hrs of game play

Aftermath… CMDR Exigeous & CelticSpartan01

UPDATE: Nick will be joining CMDR Exigeous on stream Tuesday June 4th at 8 PM GMT (Midnight GMT)

For those that didn't see yesterday CMDR Nick Naylor, a vetran player of 2000+ hours put his account on the line by staging a protest yesterday. CMDR Plater streamed this – he used the hacks to block the mail slot of a station with a Beluga. Frontier has, appropriately, banned him – yet his first action resulted in a permanent where others get 3 days first, 1 month second and then permanent. The inconsistency should infuriate ALL players – WELL DONE TO NICK FOR TAKING THIS STEP!

Cannon Does some Science on the Advanced Multi Cannons

A two-component damage model was used to estimate the damage partitioning of the newly developed AMCs. It was found that, when configured with AX ammunition, the AMCs deal 100% AX damage. That fact was leveraged to get a handle on the AX resistance of human technology. It was found that human shields have an AX resistance of 95% and human armor plating has a resistance of 90%. By corollary, other facts about about the AMC were confirmed, such as damage per shot and Armor Piercing.
The Pilot has done another awesome video, this time on the Python

The last one he did (and we covered) was the Sidewinder.
Shoutouts