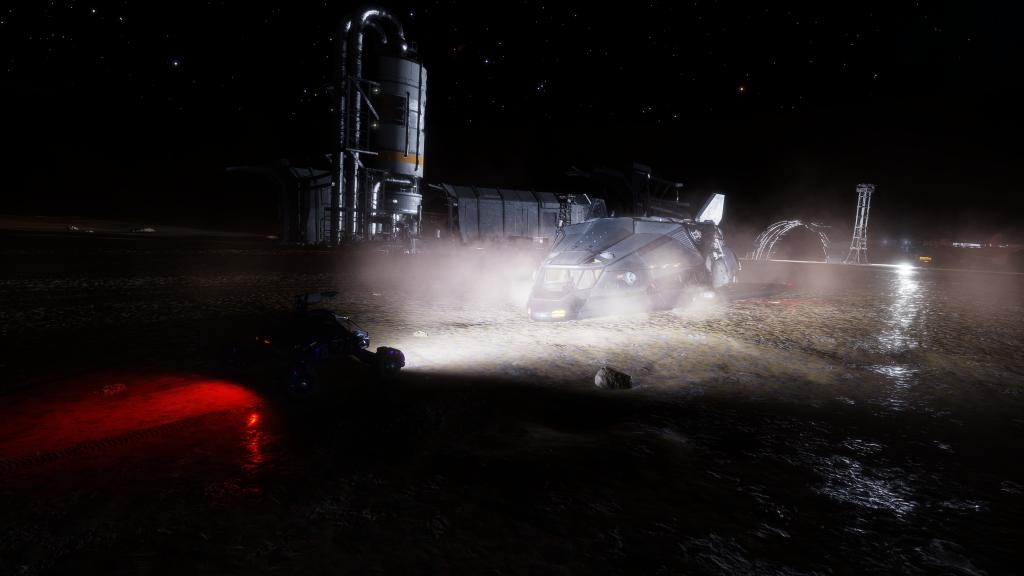 Download the episode directly from here.
| | | |
| --- | --- | --- |
| Position | Crew Member | CMDR Name |
| SRV Banksy | Alec Turner | Alec Turner |
| Head of Health and Safety | Ben Moss-Woodward | Eid LeWeise |
| Staff Liaison Officer | Clare Good | Psykit |
| Chief Archivist | Colin Ford | Phoenix_Dfire |
| | | |
| Tech Gibbon | Chris Mk IV | Newell Turner |
Development News – what have the devs said this week?
Frameshift Live #33

Hackers "dealt with" … PERMANENTLY!
Lave Radio shoutout!
Joined by Max
Talking about the Scythe
Community news – what is the community up to??
If you have a community event taking place soon and would like for us to shout about it across the airwaves tweet the crew @laveradio or email info@laveradio.com
Question of the week
Do you know of something in Elite that often gets missed by people?

Be it a piece of Lore, a really out of the way voice log, or a secret tip that you know to make galaxy life easier, we want to know!

OrangePheonix
The camera default position is set to a slight fish eye. If you do an adjustment to the zoom before taking pictures planets and objects of to the side will not appear warped or egg shaped.
Alec Turner
1) As long as you have pips set the way you want you can turn off your power distributor to save power.
2) The SRV thrusters reverse direction when you're upside down. This can be used to push your wheels against vertical walls and drive straight up them.
Derin Halil
I've been killed off in two voice logs…
In fact, the names of many people 'killed' in Horizons logs will match up with names of designers you'll find in the credits.
[psykit has found these logs "Halil won't make it through the night" – Generation ship Phobos and Chief Warden Halil freezes to death at Penal Colony BV-2259]
Niamh Kaminari
For the Odyssey engineers that require "sell x something to bartenders" that also counts selling to fleet carrier bars, and even if you're just buying and selling the same 1 item back and forth 10 times, it counts as 10 sales.
Stargoid
There's a function(keybind) in DSS mode that lets you see the back side of the planet. It's crazy how many people aren't aware of it.
Saphaia
This reminds me of: Use keyboard/mouse for FSS if you can. No matter how many other control devices you use, it's the quickest, easiest and most precise by far.
CMDR Indigo
If you have to fly around a planet, there's a blue range on the pitch indicator between +/- 10 degrees. If you're in that range, you will accelerate a LOT faster than otherwise. Maybe simulating the gravitational slingshot effect, a bit?
Epaphus
A loop of shame is often quicker than the rule of 6.
Obviously if you overshoot by a week it won't be.
Cylus Resi – Colin
You get sent to Raxxla if you hit "alt-f4". Also using ship board night vision during the day to help with exobiology searches.
RimeNZ – Alec
Not a lore thing, but recently discovered that the compass will point to your landing pad when your inside a station and trying to land
LittleBigYin
Do some passenger sightseeing missions, not the ones that are stupid distances but it's a nice way to get some lore as well as some exploration ranking done.
Chebs Will
The BGS is really good, pretty much anything you do changes it and in smaller population systems that has a bigger effect. Even going to signal sources changes things. The background economy is good, do a few big runs to an outpost and the prices change, if you take a mixed cargo run it'll have more effect on the BGS than just pilling in the bigger profit runs.
also the background starfield is generated properly from what is around you, the first time i realised this i thought wow this game is big!
Psykit
Any other business
Cyberpunk twitch drops and other things info
Shoutouts
Our sister station, Hutton Orbital Radio, Broadcasts on Thursdays from 20:30. You can tune in at twitch.tv/huttonorbitaltruckers or, for just the audio, at radio.forthemug.com/.
For the discerning Commander who likes a bit of CQC action, check out the CQC Discord at "discord.me/elitedangerouscqc".
We're also giving a shout outs to the following Elite Dangerous podcasts which have appeared over the last year or are standard regular contributors;-

The Guard Frequency (who do other space games )

Following this we have the latest Galnet News Digest as provided by Cmdr Wotherspoon and Cmdr BeetleJude.
Thanks to those who have chipped in on Twitch chat and in-game commanders
Special Thanks to Cmdr ToCoSo, Jn Tracks and Allen Stroud who created the music used on the Show.