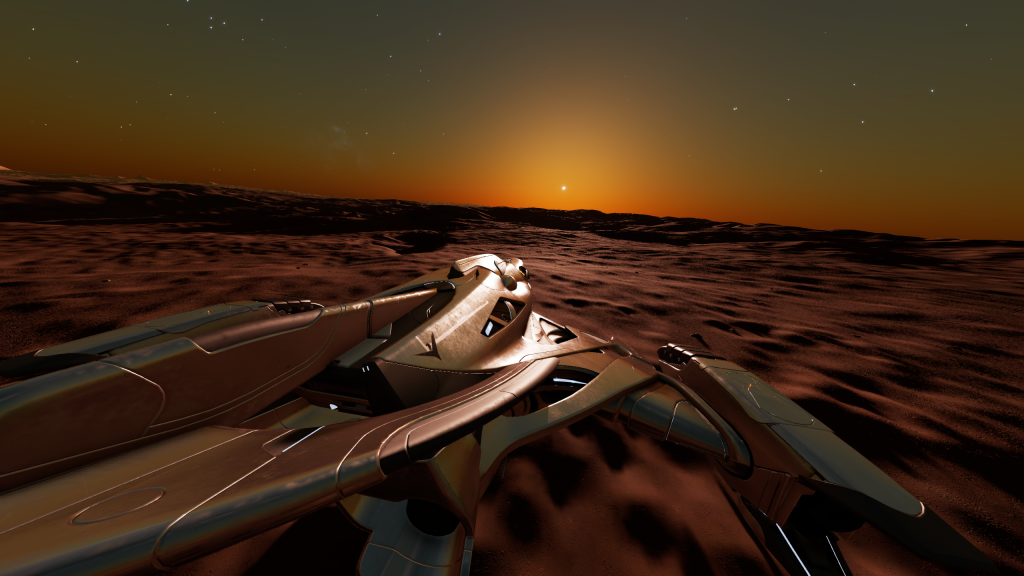 | | | |
| --- | --- | --- |
| Position | Crew Member | CMDR Name |
| SRV Banksy | Alec Turner | Alec Turner |
| Head of Health and Safety | Ben Moss-Woodward | Eid LeWeise |
| Staff Liaison Officer | Clare Good | Psykit |
| Chief Archivist | Colin Ford | Phoenix_Dfire |
| | | |
| Tech Gibbon | Newell Turner | Chris Mk IV |
| | | |
| Station Commander | Allen Stroud | Heldaban Kel |
Download the episode directly from here.
Development News – what have the devs said this week?
FSL 32

u16 jul 31st
RedactedStuff go explore
u17 in the works maybe teaser next show
next week launcher update
Going to pitcon
Going to ECM
Guests

Robin lead audio designer
Max Graduate gameplay programmer
Kurse? Designer on Elite

Important Information Regarding New Gimballed AX Multi-Cannon CG Reward

Please be aware that last week's CG text incorrectly stated that the module would have modified Armor Piercing and Distributor Draw.
The module is in fact using an altered Overcharged modification, which modifies Damage and Power Draw.

The launcher updated on Monday.
Community news – what is the community up to??
Elite Dangerous – Free Bird (video) – Cmdr Reggit
Rootsrat finds outpost in an asteroid belt cluster (something he hadn't seen in 5k hours of playing)
Star Citizen player (FoxyloxyX) makes video series about trying Elite: Dangerous for the very first time. "Finally I Am Giving Elite Dangerous A Try"
Thanks to Helmut Grokenberger for pointing this out.
Silencer 555's amazing anaconda 3D model, now with added LEDs https://twitter.com/Silencer_555/status/1683749238826582019?s=20
"Double Trouble" Buckyball – update from Alec. I could do a live run.
https://forums.frontier.co.uk/threads/the-buckyball-racing-club-presents-double-trouble-swift-16-championship-race-4.618478/
In-Game Events – what's happened this week?
Thu 20th July – AZIMUTH RELEASES NEW AX WEAPON
Thu 20th July – THE HUNT FOR THE DEDICANT
Store Alert
New Drops are available

Solar Burst for Streamers

There's the Solar Beam skins available from the show
Community question
QOTW – What are your predictions for update 16

CMDR KAITIFF
I'd like to see some non-combat / thargoid updates. Like an advanced exobiology scanner that can hold multiple plants' samples.
I'd also like to see a ship launched fighter (or flyer at least) that can land. Something I can use for landing in tough areas for exobiology 🙂
CMDR Rotten
Something new or QOL for exploration.
Sampling tool that lets you sample multiple plants at the same time. I always find the plants I don't need and then I have to remember where I saw them and follow my own tracks backwards 😀
More focus on non-combat gameplay in general! O7

This was echoed by CMDR KAITIFF who adds:
Totally agree. Like a specialization slot for the Artemis suit that allows for an "advanced" scanner or something.
Also a ship launched fighter with landing gear 🙂
Imagine skimming across the surface, landing almost anywhere while the mothership lingers above.
And Orange Pheonix, who adds
I was discussing this idea on my stream recently and thought perhaps a form of engineering involving the creation of storage for 3 separate bio types at once or extra storage canisters that could be switched out on the fly.

Freya Crescent
Hints of a new, sinister player in the war. The Guardian AI, directed by our dear old disembodied friend…
Salvation.
CMDR Greybeard Seawolf
The ability to explore deep under the Guardian structures. Open the Bunker doors and explore on foot the subterranean tunnels with a decryption tool to decode the glyphs while dealing with ancient AI defence systems, new Guardian tech and blueprints to discover.
Angus
Like to see: Thargoid infantry and exobiology given some player agency.
Expect to see: Less than that.
RangersGSTQ
The introduction of thargoid bases so we can take the attack to them. That and an adder mkII.
LittleBigYin
More performance improvements, fix the missions where the crate merges into the surface of a planet so you can't complete the mission, same for the massacre on foot missions where your murderising doesn't count until you zoom to orbit and back down. I'd love to see something interactive with the decedent or whatever it was called. Oh the ability to buy engineering mats (non on foot ones )
Chebs Will
I would like to see ship interiors but prob not happening….
Predictions. A new ship or three, unlocking of one of the permit locked bubbles in the galaxy, new thargoids, raxxla!, oh and a barman or barmaid in the game that actually sells booze 😉
Cmdr indigo
Imagine if they retooled Crime and Punishment, then used that as a justification to nerf INF in solo.
More realistically, Revenant Massacre missions or even ground CZs
Chris Mk IV : Player Agency – Let us vote in the Federal Election.
Shoutouts
Our sister station, Hutton Orbital Radio, Broadcasts on Thursdays from 20:30. You can tune in at twitch.tv/huttonorbitaltruckers or, for just the audio, at radio.forthemug.com/.
For the discerning Commander who likes a bit of CQC action, check out the CQC Discord at "discord.me/elitedangerouscqc".
We're also giving a shout outs to the following Elite Dangerous podcasts which have appeared over the last year or are standard regular contributors;-

The Guard Frequency (who do other space games )

Following this we have the latest Galnet News Digest as provided by Cmdr Wotherspoon and Cmdr BeetleJude.
Thanks to those who have chipped in on Twitch chat and in-game commanders
Special Thanks to Cmdr ToCoSo, Jn Tracks and Allen Stroud who created the music used on the Show.