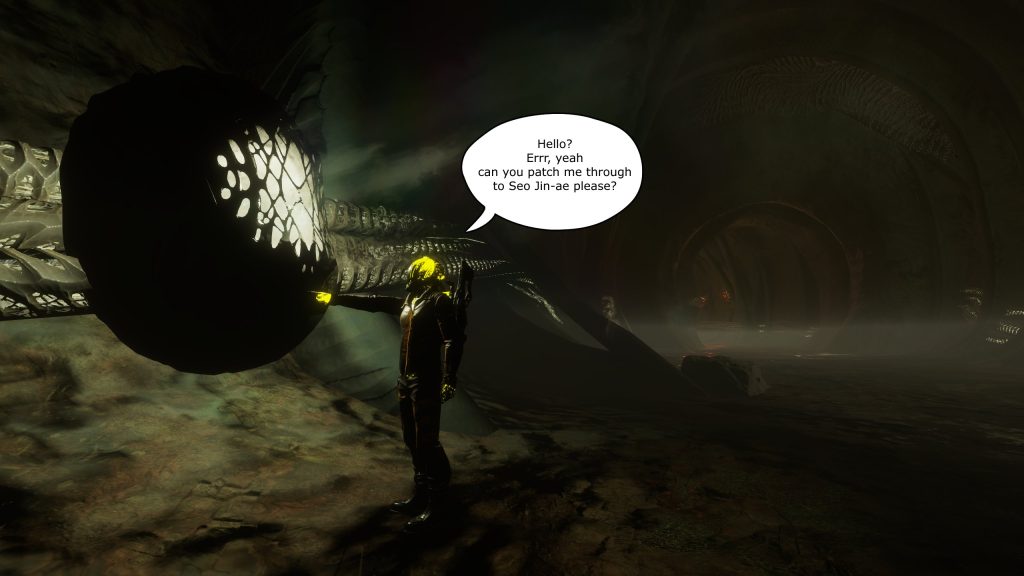 | | | |
| --- | --- | --- |
| Position | Crew Member | CMDR Name |
| Apprentice Stunt Driver | Alec Turner | Alec Turner |
| Staff Liaison Officer | Clare Good | Psykit |
| Chief Archivist | Colin Ford | Phoenix_Dfire |
| | | |
| Tech backup Monkey | Norman MacArthur | Ventura_ |
| Tech Gibbon | Chris Mk IV | Newell Turner |
Download the episode directly from here.
Development News – what have the devs said this week?
Thursday tick – Thargoid behaviour changes

Previously unpopulated systems that are now under Thargoid Control or Alert states will be easier to push back.
Thargoids will deprioritize expanding into unpopulated systems.
Also See news on the 16th

17th March 2023 – GalNet News Round Up – 17 March 3309
20th March 2023 – Discovery Scanner – 20.03.2023
In-Game Events – what's happened this week?
16th March 2023 – Aegis Recommends Preventative Anti-Xeno Tactic
16th March 2023 – Ammonia World Survey Concludes
20th March 2023 – Rumours Circulate Around Seo Jin-ae
21st March 2023 – CONGRESS VOTES AGAINST HUDSON CONTRAVENTION
Thargoid War update:-

There are 40 systems under alert
66 Systems being invaded.
5 systems have been recaptured (Is that also stopping an invasion?)
21 systems are in recovery.
However, the thargoids control 1070 systems (over 5% of the bubble), with projections still being approximately 4 years till the death of humanity
Almost 16 Billion people either killed or displaced and with approximately 5 million Thargoid ships destroyed.
Store Alert
PSA – ships kits attract caustic damage!
Main discussion
Alec's listen back over the very first episodes of Lave Radio and what originally planned/discussed features never made it into the game or turned out significantly different (for better or worse).
Ep 2 – 0:30 mis jumps (and occasionally appearing "somewhere else"?)

0:42 creditors and repayment missions
0:46 speculation on owning up to 3 ships 😆
0:49 iron man and having to manually launch escape pod

Ep 3 – 0:13 religion

0:30 independent systems and the dangerousness thereof
0:59 becoming Elite based on wealth, combat/kills, knowledge (acquisition of data), influence – status to be hidden from public!
Community Corner
Any other business
From gaming with your eyes to coding with AI: New frontiers for accessibility · GitHub

Lovely article about a girl born with quadriplegic cerebral palsy, who worked with Special Effect to be able to game (and of course play Minecraft!) and then caught the development bug and via the use of many open source tools like like OptikeyCoder which is a fork of Optikey now studies applied computing at the University of Dundee.

Ty, from the Loose Screws Podcast's Daughter is doing a social science project involving Farming and Space. She's asking for as many people in the US as possible to fill out this small survey.https://tinyurl.com/SpaceFarmingSurvey
Shoutouts
Our sister station, Hutton Orbital Radio, Broadcasts on Thursdays from 20:30. You can tune in at twitch.tv/huttonorbitaltruckers or, for just the audio, at radio.forthemug.com/.
For the discerning Commander who likes a bit of CQC action, check out the CQC Discord at "discord.me/elitedangerouscqc".
We're also giving a shout outs to the following Elite Dangerous podcasts which have appeared over the last year or are standard regular contributors;-

The Guard Frequency (who do other space games )

Following this we have the latest Galnet News Digest as provided by Cmdr Wotherspoon and Cmdr BeetleJude.
Thanks to those who have chipped in on Twitch chat and in-game commanders
Special Thanks to Cmdr ToCoSo, Jn Tracks and Allen Stroud who created the music used on the Show.