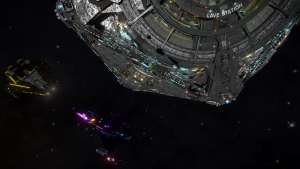 The BIGGLYIEST Show this side of Diso
Aired 4 September 2018
Audio versions
Download the episode directly from here.
---
Crew Members
Head of health and safety : Ben Moss-Woodward – Cmdr Eid LeWeise
Chief Bar Steward : Grant Woolcott – Cmdr Psykokow
(In)Human Resources Director : Shan – Cmdr Shanaeri
Lavian Space Program Director : Andy Barnes – Cmdr Kurgol
Show Notes
Development News

Contest: Engineers in Colonia

Want to win a Hyper X headset and mouse mat, as well as some in-game goodies? Take a screenshot of your ship at one of the new Engineer bases and email it to us at community@frontier.co.uk with the subject line 'Contest: Engineers in Colonia', to be entered in to the prize draw.
Competition starts 29th August and ends 28th September at 4PM BST

Newsletter 242

Main Discussion

Important Community Update

"WE are going to build a great expansion, the Best expansion. It's going to be tremendous, better than anything anyone else has ever expanded. And when I say expanded I mean…whew, swoooshsss! Soo BIG. It's going to be bigly, just fantastic.

And the content, WOW, such great content. I've seen it you know, of course I can't talk about it, but if I could you'd be so very happy with the content. And the colors, fantastic colors, the Best you've seen, believe me.

So much so that I can't say what it is yet. YOu know, because of the stuff, the lawyers tell me. I don't know, but truth. You're going to love it, trust me. Believe me, tremendous things are going to be expanded on.

Anyday now really, you'll see soon. Sooner than you think too. Wonderful stuff, so tremendous, and so soon. And tremendously bigly."
Graphics overhaul of ice planets and fleet carries won't come in Chapter 4
The next major milestone has gone into full production. No words on what this major milestone exactly is.
The are alluding to a massive graphics overhaul, not just the shader thing that was announced earlier. No confirmation or details
Paid content for Lifetime pass owners has been pushed back along with ice planets and carries, but there's still something coming this year
More info about chapter 4 to be released in the coming weeks

Community Corner

Shoutouts

Lavecon 2019 is 4th – 7th July.
In-Game Cmdrs
Twitch Chat
Kurgol will be running a pre-retrolave stream of Star Wars Galaxies on the Lave Radio Twitch channel this friday night.