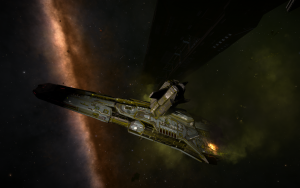 All Aboard Thomas the Speculation Train
Aired 13 June 2017
Audio versions

Download the episode directly from here.
---
Crew Members
Head of health and safety : Ben Moss-Woodward – Cmdr Eid LeWeise
Chief Archivist : Colin Ford – Cmdr phoenix_dfire
Chief Bar Steward : Grant Woolcott – Cmdr Psykokow
Show Notes
Development News

Monday E3 Live Stream
Tuesday Stream

HIP 17044.Go to planet 2. Look at Asterope and fly 11k ls
The Return

Q3 2017
Story Based spread over a period of time
The Thargoids

We can interact with them
This does not just mean shooting them!
Mention that they have "different weapons" "different weapons" "different tactics"

Trip to Frontier
Thrustmaster T-Flight One

Please note this is a new Instagram account though it is linked to by their Facebook page…

Lavecon 2017 is Sponsored by ED:RPG and ED Tracker!