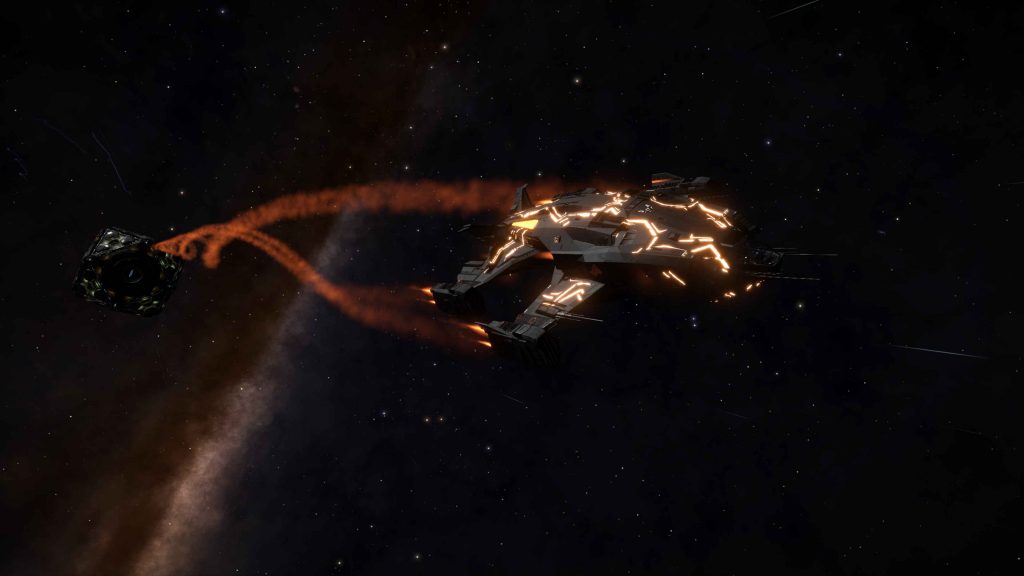 | | | |
| --- | --- | --- |
| Position | Crew Member | CMDR Name |
| Head of Health and Safety | Ben Moss-Woodward | Eid LeWeise |
| Chief Archivist | Colin Ford | Phoenix_Dfire |
| (in)Human Resources Director | Shan | Shan |
| Tech Monkey | Norman MacArthur | Ventura_ |
| Tech Gibbon | Chris Mk IV | Newell Turner |
| Inflatable Pipe Cleaner | Mark Wangstone | Mack Winston |

Download the episode directly from here.
Development News – what have the devs said this week?
Free Horizon Day – We'd just like to welcome all the (2) million or so commanders who can now join us planetside. Who's for a SRV Race. (This message sponsored by the Buckyball Racing Club). They've released the Horizons Trailer.
Stephen and Bruce in CQC. A certain Cmdr PhoenixDfire kicked Stephen's Bahookie all over the map.
Tuesday's Stream did not happen. (See above!)
"Mystery Binary Images on Instagram"


https://www.reddit.com/r/EliteDangerous/comments/jicry1/they_posted_this_on_there_instagram_it_looks_like/
Possible links to Lawd 26?

Galnet Post from 25 FEB 3301 Metal Madness Strikes in LAWD 26

Fake Metal Rush from a dead sidewinder belonging to "Commander Hank Stone"
In-Game Events – what's happened this week?
Completed Thargoid CG. All Systems are saved.
2 new Federal CGs – Support the Marlainist Refugees, Secure the trade routes against pirates.
The Marlonist Terrorists have just wounded Hadrien Duval in an assaination attempt. They intend to wipe out the 'Hydra' that is the Duval family.
Newsletter 304
Main discussion
It's now a month since the last Dev Diary. What do you think is in the Next one? Is there something you'd like them to cover?
Community Corner
New expedition "Space Adaptation – The search for Life" expedition,

There is a lot of life in the Universe, from tiny micro-organisms to complex fusion and symbiosis of viable organisms. It is a wonder how all this exists in the universe around us.

To experience these phenomena first hand, the expedition "Space Adaptation – the Search for Life" will visit all manner of life forms out there in the dangerous void relatively close to the Bubble. Join a group of like-minded explorers and admire 11 different alien life forms, including objects created by them, and append these exciting new discoveries to your Codex. The expedition route has been optimized to enable more than 20 codex entries to be collected by visiting only 7 different systems within 15k ly from Sol.

For the enthusiast, there is also a modified route that includes some 20 further systems, containing an extra 20 variations of these life forms.

As a souvenir of your expedition, we aim to take group photographs at each of the phenomena, and collate these into a visual library of the trip.

This expedition presents a unique opportunity for you and your fellow explorers to study, with relative ease and speed, a significant section of life in our universe.

If you wish to join us on our adventure please follow these steps:

Sign up with the expedition on EDSM.

Congratulations to cmdr Thauma, who has managed to circumnavigate the galaxy with his fleet carrier, the FC Nanachi! Full details can be found here on Reddit.
Talking of Reddit. Chief head honcho Stuart GT over there is running a competition for Ship Skins here
Any Other Business?
According to steam charts, Star Wars Squadrons has now dropped under the Elite Dangerous player level. Now that people are getting used to the multiplayer modes, it seems that turretting (craft can turn quite fast at zero speed) has begun to ruin the multiplayer game.
Cyberpunk 2077 Delayed by 21 days to the 10th of December https://twitter.com/CyberpunkGame/status/1321128432370176002

TLDR Testing on all the platforms is hard.

Friend of the show, the twitch streamer HelloitsKolo has been nominated for a golden joystick award. So if you wish to support an Elite:Dangerous streamer (amongst other things), Vote Here, #voteginger!
Shoutouts
Our sister station, Hutton Orbital Radio, Broadcasts on Thursdays from 20:30. You can tune in at tv.forthemug.com/ or, for just the audio, at radio.forthemug.com/.
For the discerning Commander who likes a bit of CQC action, check out the CQC Discord at "discord.me/elitedangerouscqc".
Thanks to those who have chipped in on Twitch chat and in-game commanders