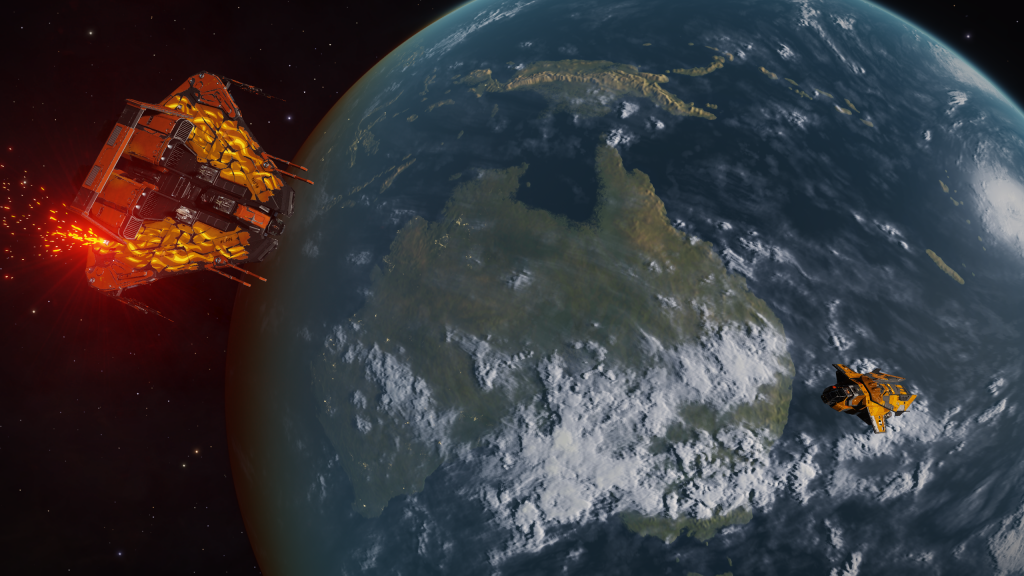 Download the episode directly from here.
| | | |
| --- | --- | --- |
| Position | Crew Member | CMDR Name |
| Head of Health and Safety | Ben Moss-Woodward | Eid LeWeise |
| Chief Bar Steward | Grant Woolcott | Psykokow |
| (in)Human Resources Director | Shan | Shan |
| Deputy Trade Attaché | Souv | Souvarine |
| Emergancy Blow Up Guest | Mark Winstone | Mack Winston |
In-Game Events – what's happened this week?
New CG: combat this time.

Destroy Scythe of Panem ships in the Quator system

Many, many griefers at last week's trade CG.
Main Discussion
Community Corner
Featured Commander: SAGI
Grats to Elite Aid: Bushfire for raising £2625 for Rural Fire Brigades Association for Queensland: http://bit.ly/EliteAidBushfire

Thanks to Shan, Kurgle and Zorba Dundee for joining me for my segment on Saturday Morning, as well as to Brenner Soriah, MadCat, Icarus Smith and again Zorba for joining us at the end of the Stream! Finally thanks to FD for supporting the event as well as donating two copies of ED:Horizons.

Dave's who is Traceport26 on Discord and is the RFBAQ Coordinator who chatted on the Elite Aid stream. Told us "It all adds up, trust me. $2625 will buy a dozen UHF Radios to improve a brigade's communication, maybe a couple of chainsaws, water tank and pump… List goes on. It'll be well spent.

The Hutton Truckers will be doing a Player-with-Player base assault on FDev's Thursday stream. Will will be in command. We have been advertising for participants in the Hutton Facebook group.
Feedback
CMDR Bolloxim: Interesting, after last weeks cqc focus podcast, I thought I would try again. Now i'm not saying this was coded but might be an arx bug side effect (coz why not) bit i played on ps4 got two wins. Which, gave me two death match trophies. Of which one was 25 wins. Good incentive for those ps4 trophy hunters to join cqc. Haven't tried team deathmatch or cap flag. Mainly coz no one ever joined
Shoutouts
Cmdr Thane Hey guys can I ask a favour? Harry (FragLANd) is doing a special Elite Dangerous LAN on the 15th-17th November at his place near Peterborough. The idea is to get a LAN together and do group/wing co-op stuff for the whole weekend. Limited places as he's max 16 people, but should be a great weekend if you can give it a shout out on the podcast and direct people to the Fragland Facebook page?
https://www.facebook.com/groups/fraglandUK
Cmdr_starion Can I get a shoutout at show's end for Cmdr Saber84, sqdn buddy of mine, who'll be getting married on 27 October?
Our sister station, Hutton Orbital Radio, Broadcasts on Thursdays from 20:30. You can tune in at tv.forthemug.com/ or, for just the audio, at radio.forthemug.com/.
For the discerning Commander who likes a bit of CQC action, check out the CQC Discord at "discord.me/elitedangerouscqc".