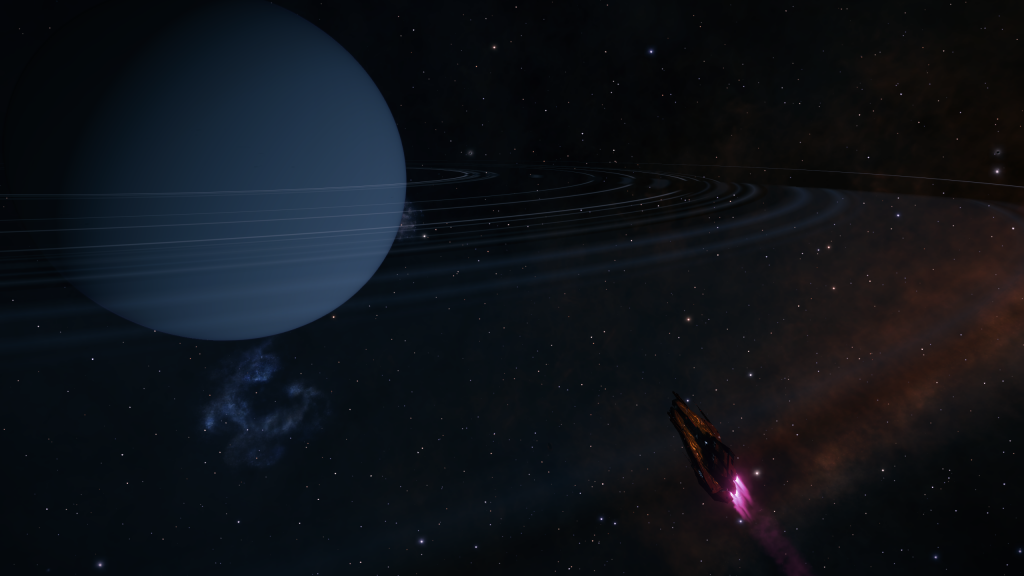 Download the episode directly from here.
| | | |
| --- | --- | --- |
| Position | Crew Member | CMDR Name |
| Station Commander | Allen Stroud | Heldaban Kel |
| Head of Health and Safety | Ben Moss-Woodward | Eid LeWeise |
| Chief Bar Steward | Grant Woolcott | Psykokow |
| Lavian Space Program Director | Andy Barnes | Kurgol |
| Deputy Trade Attaché | Souv | Souvarine |
| Eastern Indian | iMarc Winstone EIC | Mack Winston |
Development News – what have the devs said this week?
Patch 2 came in – Solved a few problems, caused a few more;-

Positive.

Changes to the store icon on the Station Menu Screen (less obtrusive and immersion breaking).
Fixed the clipper ship kit issues and lots of other soft locks.
Fixed a lot of Scarlet Kriat, Magenta Krait, Yellow Adder and Black Adder Errors.

Negative

Softlock Error on the Mission Board (Workaround issued)
Setting Module Power Priority (This appears to have gotten worse).

Voices from the Void Stream – Paige takes us through the process of how these scripts are created, inserted into the game and then performed (with a nice bit of improve at the end).
Possible Interstellar Initiative – Fresh Food has disappeared from the Agricultural Markets around the old worlds (Unknown if it's affecting all Agricultural worlds). Reidquat prices for the new fertiliser is skyrocketing (Soylent Green anyone)? What's caused the Harvest failure? Is it;-

some kind of virus that the cmdrs unknowingly have transferred between worlds?
A thargoid attack after we starved them out in the Witch Head's Nebula?
Some kind of Coordinated attack – For more information on how this could be done See Allen Stroud's most excellent Lave Revolution Book and Audio Book, just one click away on AMAZON.
TRUMBLES!!!!!!

Frontier Tweeted Happy Monday, Commanders! We're currently hard at work on Patch 03 for the September Update, which we expect to release for all platforms towards the end of this week! Check back later this week for the Patch Notes, confirmed date and estimated downtime.
Main discussion
Allen tells us about Fearless, getting published
In-Game Events – what's happened this week?
Update with regards to the petition mentioned on last weeks show from Ryan_m17 from SDC has contacted us (Ben) and has given us assurances that no personal data has been shared with the petition organisers.

Open Letter to the Petition Authors obvious Tongue in Cheek mail from Agony Aunt
Shoutouts
Congrats to Commander Roe Laren/transtechgirl for her expedition to Beagle point and beyond for Macmillan Cancer Support.
She was streaming from 8am Sunday -> 8am Monday (LR was hosting her too)

Find out how you can play your part and add to Commander Roe Laren's fundraising today. https://gameheroes.macmillan.org.uk/fundraising/transtechgirl
Join Roe's Discord by going to: https://discord.gg/7yYZAs
Forum thread congratulating her : https://forums.frontier.co.uk/threads/elite-dangerous-24-hour-charity-stream.525759/
Elite AID "Bushfire"

East India Company are proud to present Elite Aid. This is to be a 24 hour long event starting at 23:00 UTC on 10/18/2019. During the event we will host a continuous live stream staffed by members from a variety of gaming groups. All proceeds will be donated to support the ongoing efforts in the Queensland bushfire emergencies.

https://www.twitch.tv/elite_aid

Lave Radio has a slot from 08:00 – 10:00 UTC

Cmdr Icarus Smith who's been on the show's house was yards from being destroyed "my closest 5 neighbours are piles of ash"



https://www.mycause.com.au/page/214954/elite-aid-bushfire
Please note this is NOT JustGiving because myCause is a top crowd-funding site in Aus and the only one which has a direct donation link to the Queensland Volunteer Rural Fire Brigades Donation Fund.

The Rural Fire Service (RFS) is the volunteer arm of the QFES operating in rural, semi-rural and urban fringe areas where there is no urban fire service coverage. The RFS consists of approximately 35,000 volunteers from approximately 1,500 rural fire brigades across the state.
In Related news: Cmdr Gosht who's been on the show and is a core member of HIVE lost his house, his dog, Titus, and just about everything in an unexpected (but unrelated to the bushfires), house fire.

To help give him a slight smile, the Anti Xeno community will be meeting up at SYNUEFE KU-F B44-4 to collect some Ancient keys from the Guardian Beacon on Friday the 11th, at 21:00 UTC. An Hour later the fleet will head toward HIP 14909 Planet 2 A and use the Ancient Keys to spell out a message for Cmdr Gosht
Frontier are about to start a new series of "Full Throttle" livestreams dedicated to RACING!

To kick things off, this Thursday Alec Turner will be on the show with Will and Stephen to chat a bit about the Buckyball Racing club and to guide them around our new race "Full Throttle at Pareco". Full details of the race (which is on NOW) can be found here:https://forums.frontier.co.uk/threads/full-throttle-at-pareco-an-official-frontier-developments-race-in-conjunction-with-the-buckyball-racing-club.525795/