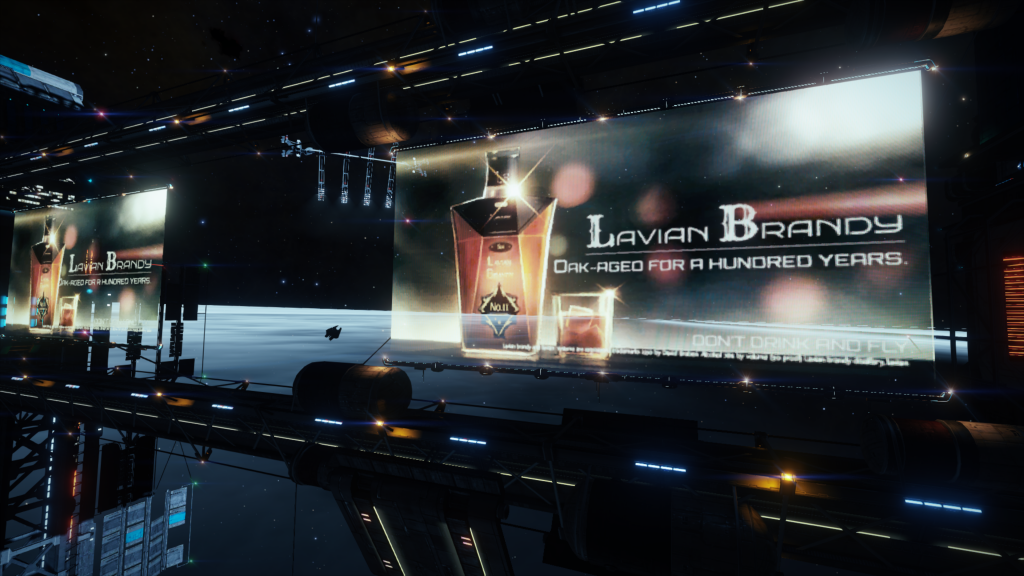 | | | |
| --- | --- | --- |
| Position | Crew Member | CMDR Name |
| Head of Health and Safety | Ben Moss-Woodward | Eid LeWeise |
| Chief Archivist | Colin Ford | Phoenix_Dfire |
| Chief Bar Steward | Grant Woolcott | Psykokow |
| (in)Human Resources Director | Shan | Shan |
| Station Commander | Allen Stroud | Heldaban Kel |
| | Kai Zen | Kai Zen |
Download the episode directly from here.
Development News – what have the devs said this week?
Life on a Fleet Carrier Competition Winners!

In the Other category, our winning commanders were as follows:

1st – a wonderful poem by Cmdr Thrashbarg placed between fantastic Fleet Carrier Artwork by CMDR Beetlejude
2nd – CMDR Aaron Chadd – a scene from an upcoming part of their Elite Dangerous theme animated series
3rd – CMDR Jett Brawndo

Video

1st – CMDR Darkhands – a hilarious first-person perspective of a mechanic aboard a Fleet Carrier. Aka, 'Mechanic Man' (LINK) on YouTube, CMDR Darkhands is also our overall winner who'll receive the top prize of an X52 Pro HOTAS controller!
2nd – CMDR Spatula 007 – creator of the Elite Dangus series, creates a short where the good detective struggles to navigate his way around the massive vessel.

Written

1st – CMDR Muna's – A Fleet Carrier owner wins over his crew.
2nd – CMDR Wetwire – child passenger, Avivit straps in for a Fleet Carrier jump.
3rd – CMDR Saturn5Rocket05 – a Commander orders his Fleet Carrier to make a jump.

Game Industry Biz interviews David Braben New Frontiers: From Self-published to Third-party Publisher
Fleet Carrier Post Beta Update

The Fleet Carrier Update will emerge from hyperspace and come to Elite Dangerous on 9 June!
The buttons used to increase or decrease both the bank and the commodity market will now scale, like other systems in-game, when depositing credits or adjusting commodity prices.
Tritium mining will receive adjustments before launch to make it more lucrative (particularly in relation to sub-surface mining).
A credit exploit involving selling modules in a Fleet Carrier's outfitting service has been fixed.
A bug that swapped the names of certain locations and markets in the game has also been fixed (with key examples such as Ceres Tarn receiving its original name once more!).
A bug preventing the transfer of commodities such as Thargoid Sensors, Guardian Urns and others on Fleet Carriers has been resolved.

David Braben's talk about Fdev moving to a third party publisher (a little Elite Stuff)
Another warning that once fleet carriers go in, the triple Ice Mining hotspot in Borann will go due to changes in the procedural generation thanks to tritium being added. Sorry guys!
In-Game Events – what's happened this week?
The AXI had a Bug hunt over the weekend
Operation IDA are working on Szilard Hub in Wakandini
Main discussion
Kai Zen – Turning the Wheel

Experiment: Test whether expanding The Dark Wheel non-player minor faction (TDW), either in general or targeted to key locations, would unlock any permit, or cause any change in the game (ie unlock missions or other clues).
Reasoning: I believe that TDW is the "obvious" lead that we are meant to do something with, and many have agreed with this thought and individually tried all sorts of things to follow that lead, but to the best of my knowledge there has been no concerted and successful efforts to expand the faction through the BGS to see if it would do anything.
Secondary Objective: To minimize adverse effects upon any player factions, and work diplomatically with any groups we interact with, to minimize any harm caused to them and try and avoid any poor relations.
Phase 1: To expand TDW to the Sol System.
Phase 2: To expand TDW to the Lave System.
Phase 3: To expand TDW to the Robigo System (as the closest possible system to Polaris).
Phase 4: To expand TDW to being present in 50 systems.
Community Corner
https://www.youtube.com/watch?v=wsAl7W8m6e8 – Top Shift 121 – Fleet Carrier's Beta Blowout
Alec Turner "Scaling the monolith – the Right Stuff" https://www.youtube.com/watch?v=zwpKoJp40I8
Cmdr Beetlejude is doing a giveaway on the twitch channel of brother Sabathius if anyone wants to watch that on sunday
The Code has started a campaign to return Reidquat to an Anarchy System (Arr!!)
The biggest Empire Organisation / squadron Lavigny's Legion has celebrated its fifth birthday
The latest Turjan's Travels is out (Number 53).- As the Starstone twins continue their search for galactic thief Lily Lavern, they manage to catch the eye of an old rival back in the bubble.
Can talk Lavecon. Have notes from Karen.
Shoutouts
Massive Shoutout to Ed's 38 who are trying to reclaim Dunker's Rest in Dubbuennel (Play Mp4)
Our sister station, Hutton Orbital Radio, Broadcasts on Thursdays from 20:30. You can tune in at tv.forthemug.com/ or, for just the audio, at radio.forthemug.com/.
For the discerning Commander who likes a bit of CQC action, check out the CQC Discord at "discord.me/elitedangerouscqc".
Thanks to those who have chipped in on Twitch chat and in-game commanders