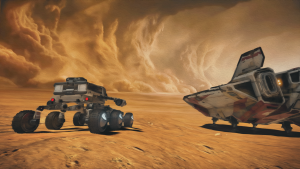 A Rolling Stone Gathers NULL Thargoids
Aired 18 July 2017
Audio versions
Download the episode directly from here.
---
Crew Members
Head of health and safety : Ben Moss-Woodward – Cmdr Eid LeWeise
Head of Entertainment : Chris Jarvis – Cmdr Thane
Chief Archivist : Colin Ford – Cmdr phoenix_dfire
Chief Bar Steward : Grant Woolcott – Cmdr Psykokow
Guest Crewman : Ian Norton
Show Notes
Development News

Community Corner

Congratulations to the EliteDangerous subreddit on reaching 100,000 subscribers!

In Game Events

LTT 4961 Building a Legacy (this week's CGs)

1st trade – FD cocked the numbers up and missed a decimal! Finished WAYYYY to Early 🙂
2nd Trade finished Monday
Bounty Hunting finished Sunday

Drama in Colonia

In recognition of their past work the meta group behind the "Jaunt to Jaques" and so on back when Colonia was just a nebula have been given a base.

System Name = Centralis
Station name = Phoenix Harbour
Faction name = Colonia Citizens Network
System  Assigned = EOL Prou LW-L C8-211

This has caused some consternation among groups in the Colonia Expansion Initiative who feel they did not "earn" their way to Colonia by delivering leaflets to the the masses…

CQC Discord Server (Managed to get a lot of games in on a Sunday Morning!!!) Invite Link

Shoutouts

Happy Birthday to KatoZee's wife Zee!!!