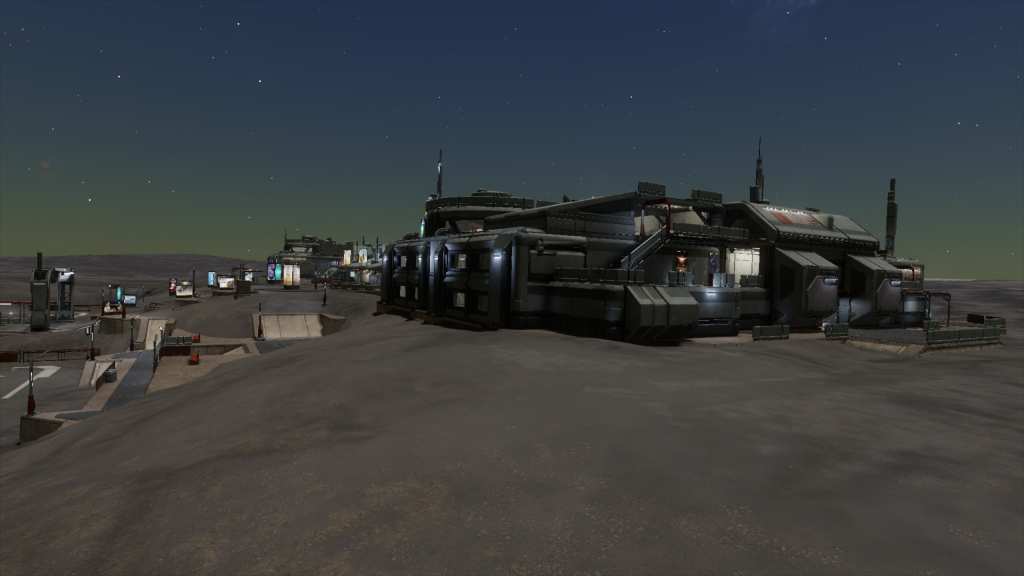 | | | |
| --- | --- | --- |
| Position | Crew Member | CMDR Name |
| Head of Health and Safety | Ben Moss-Woodward | Eid LeWeise |
| Staff Liaison Officer | Clare Good | Psykit |
| Chief Archivist | Colin Ford | Phoenix_Dfire |
| (in)Human Resources Director | Shan | Shan |
Download the episode directly from here.
Development News – what have the devs said this week?
Thursday – Elite Dangerous: Odyssey Update 1
Thursday pm – Elite Dangerous: Odyssey Update 1.1
Friday – #CommanderCreations – 28/05/2021
Tuesday – Supercruise News #35
Press

MassivelyOP's Review :- Stick and Rudder: Elite Dangerous Odyssey is not bad, but it is broken

According to Steam Charts, player numbers remain strong despite the complaints with it running at slightly under 20,000 average of the last week.
In-Game Events – what's happened this week?
27th May – Tritium Mining Marks Alliance Election Day
28th May – Mahon Wins Alliance Election
1st June – Aegis Megaship Prepares to Escape Thargoids
Community Corner
Lavecon Covid Update:
We are currently assuming the event will go ahead and planning for that.

However that relies on the covid restrictions being lifted in line with the government timeline.

If the government announces that will not be the case and the proposed date is after the event, then the event will not go ahead. We don't think it is practical for the event to take place with the current social distancing requirements in place.

If this is the case we will offer full refunds or the option to roll your tickets over to next year. We would also put in place a virtual event similar to last years

If the event is able to go ahead and has no mandatory covid requirements in place, we will be asking for attendees to voluntarily take sensible precautions. This includes taking the free lateral flow covid test before attending, wearing a face covering, hand washing and, where possible, giving each other space.
We will update you as soon as we have a definite way forward.
Thanks for your patience and understanding.
Questions
Email from Cmdr Valaryc (val-uh-rick) : "Toward the end of Episode 342, you guys mentioned the percentages of players that had unlocked certain chieves on the Xbox side of things. Please know that I've not seen a single thing that verifies these percentages are correct, and as an Xbox player since the inception of Xbox, it doesn't surprise me in the least that they'd be very inaccurate. So questioning the accuracy of said percentages of "people who've completed" 'such-and-such' in any game is a very reasonable and rightful thing to do. Do not take those numbers as absolute, or as any sort of measurable metric of any sort. I can all but guarantee they're wrong. Take care all.

-CMDR Valaryc (val-uh-rick) Q7"
Shoutouts
Our sister station, Hutton Orbital Radio, Broadcasts on Thursdays from 20:30. You can tune in at twitch.tv/huttonorbitaltruckers or, for just the audio, at radio.forthemug.com/.
For the discerning Commander who likes a bit of CQC action, check out the CQC Discord at "discord.me/elitedangerouscqc".
We're also giving a shout outs to the following Elite Dangerous podcasts which have appeared over the last year or are standard regular contributors;-

Loose Screws
Elite Week
Flight Assist
For Spanish Speakers there is the Elite Cast
Cannon Podcast
Fatherhood Podcast.
System Chat
The Guard Frequency (who do other space sims)
Algorab AM: An Elite Dangerous Podcast

For those who want a literary discussion about Sci-fi and fantasy books. Please subscribe to the Dataslate podcast created by station commander Allen Stroud.
Following this we have the latest Galnet News Digest as provided by Cmdr Wotherspoon and Cmdr BeatleJude.
Thanks to those who have chipped in on Twitch chat and in-game commanders
Special Thanks to Cmdr ToCoSo who created the music for the Introduction of the Show