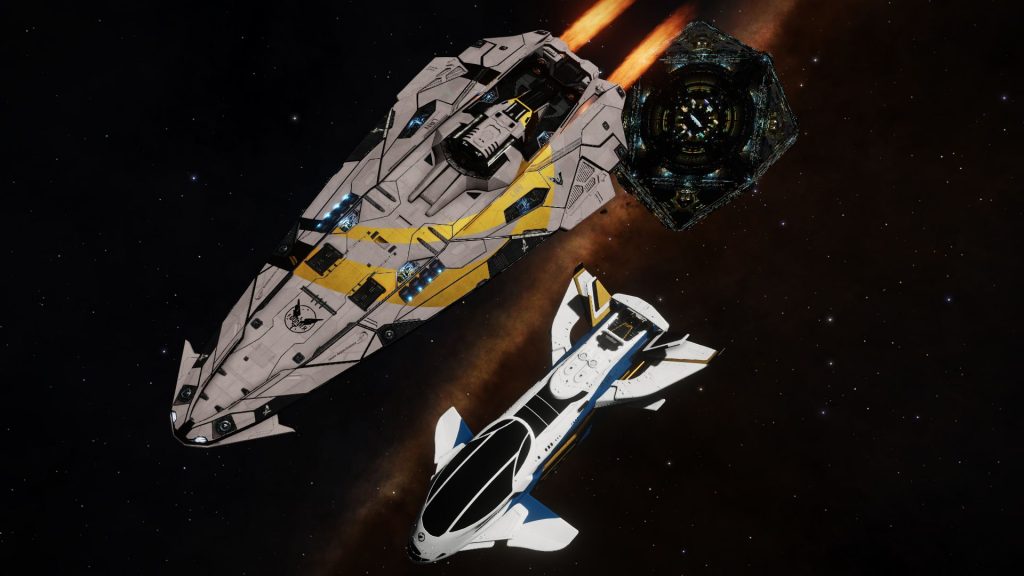 | | | |
| --- | --- | --- |
| Position | Crew Member | CMDR Name |
| Head of Health and Safety | Ben Moss-Woodward | Eid LeWeise |
| Chief Archivist | Colin Ford | Phoenix_Dfire |
| Chief Bar Steward | Grant Woolcott | Psykokow |
| (in)Human Resources Director | Shan | Shan |
| | | Atrus 5060 |

Download the episode directly from here.
Development News – what have the devs said this week?
PC Gaming "Show"

Interview with game director Piers Jackson – No new information

Piers used to work on Elite Dangerous as an Executive Producer, then for a while headed up Planet Zoo. He's back on Elite now and has a lot of FPS experience
https://www.mobygames.com/developer/sheet/view/developerId,61415/
Laurence is still on Elite, but is head of design for FD

Frontier Trading update

On 3 June 2020 we unveiled Elite Dangerous: Odyssey, which is our major new paid-for update for Elite Dangerous, coming in Q1 calendar 2021 (in FY21). Elite Dangerous: Odyssey marks the birth of a highly anticipated new era for the long running definitive space simulation, allowing players to touch down on countless new planets powered by stunning new tech, and explore with unrestricted freedom from a first person, feet-on-the-ground perspective, something we know many players are keen to see.

Steam player numbers break all records. Since the Fleet Carrier launch and the Odyssey trailer, Steam charts have recorded a record number of concurrent players – 21, 535, which is higher than launch numbers of 18,000 + at launch.
In-Game Events – what's happened this week?
Operation IDA is currently repairing Hennepin Prospect in Assinda with plenty of things to haul.
AXI – Even though there is no new Thargoid activity to report, the AXI have still been busy;-

The official AXI carrier will be arriving in HR-1185 soon. There are official AXI Carriers elsewhere in the pleiades with the prefix [AXI].
The founder of the AXI (Glutteny Fang) has announced his retirement. He has made the decision to step back to concentrate on School Work, So we all at Lave Radio wish him the best with that and thank him for setting up and running the major anti-thargoid faction in the game.
The notorious multi-player thargoid heart bug appears to be better than the previous version but there have been a few reports of it still happening. If you are in a wing, fighting thargoids and come across this bug, please report it to Frontier with a network log.

New Borann – A new triple LTD hotspot has been found at Col 285 Sector CC-K a38-2. The system is presently swamped with Fleet Carriers and there seems to be a debate whether it's more profitable than Borran.
Main discussion
Odyssey items confirmed so far, thanks to the short PC Gamer Interview;-

Upside:

New planet side tech.
Space Legs on planets and all the bits that comes with that.
Missions that could involve all three methods of transport legs, srvs and ships. Does this mean that we can have SRVs in Multi-crew now?
Some atmospheric planets, i.e. similar to Mars and Venus but no Earth Like Worlds.

Downside:

Nothing about Space Legs on ships or stations
Clarifications about VR?

Standard game and Horizons will still Support VR.
There is a debate about where the VR 'Cut Off' would be. Will it be cut when the Cmdr gets out of the seat or not in at all.

We know no Base Building (which was in the leak) but we could still have player owned Bases similar to Fleet Carriers.
Community Corner
Cmdr Alec Turner tells us that there's a new Buckyball Race called Engineers Canyon Mayhem starting next Saturday! It's details are shrouded in almost as much mystery as The Dark Wheel. It's co-hosted with the Elite Racers and has something to do with the engineers. Theoretically it will start this Saturday and runs until Sunday 28th.

TLDR – Something maybe happening – have a look on the forums and avoid the Sodium Chloride.


Down To Earth Astronomy has made a Fleet Carrier Calculator – https://cmdrs-toolbox.com/fleet-carrier-calculator
Print your own Credits with a Fleet Carrier

Go to RBS 1843
Go to "Nyberg Dock"
Fill cargo with tritium 5k @ each
Look for carrier called "Buying tritium 30k" 13Mn from station (orbiting same body)
Deliver tritium, 18mln per full type9.
After topping carrier it will move to system with stations that will buy tritium for 85k.
Carrier will sell 22 thousands of tritium for 60k each. Hauler will again get 85-60 = 25t profit.
Rinse and repeat.

Cmdr Holint_Casazr gives us a nice update on the Deep Space Support Array (DSSA)

Overall Status

24 Carriers Operational

CMDR Roe Laren [ISF]: Hey Commanders, hope it is ok for me to post this here! After the success of my last charity game stream where I raised money for Macmillan Cancer Support I am going to be running another charity stream on the 19th. During the last stream my aunt was fighting breast cancer, sadly she passed away last week and I feel the need to do something in her memory. ISF were already planning to be part of the DSSA, now we plan to deploy the fleet carrier Mandy's Rest to the Mare Somnia region of the galaxy in an epic 2 day livestream. If you want to take part please see more details on the links below:

ISF Events Discord: https://discord.gg/RFKRPb3

Sag A is released on Thursday the 18th of June
Shoutouts
Our sister station, Hutton Orbital Radio, Broadcasts on Thursdays from 20:30. You can tune in at tv.forthemug.com/ or, for just the audio, at radio.forthemug.com/.
For the discerning Commander who likes a bit of CQC action, check out the CQC Discord at "discord.me/elitedangerouscqc".
Thanks to those who have chipped in on Twitch chat and in-game commanders